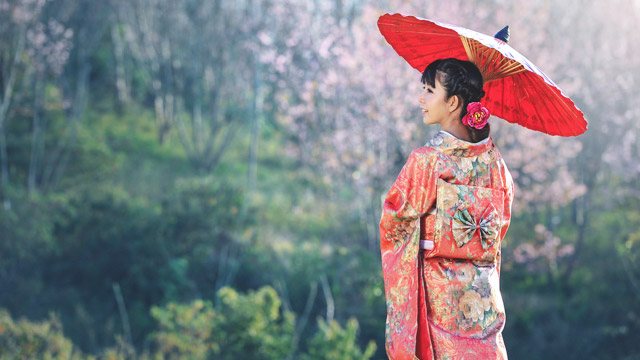 Whether it's for the enchanting sakura season or the exquisite local cuisine, Japan has made its way to the list of top tourist destinations today. Thanks to the relative ease of visa application and more airlines flying into major cities, Filipinos are some of the most frequent visitors to this Asian neighbor. These Pinay travelers share just how easy it is to make the trip:
ADVERTISEMENT - CONTINUE READING BELOW
9 Days in Kyoto-Osaka-Takayama-Tokyo: P50,000/person
Asia, 29, confesses that her trip to Japan was an impulse buy with her husband, but luckily, the last few days of a seat sale were still going on. "We got a one-week pass for the bullet train in order to do the nine-day trip from Osaka to Tokyo," shares Asia. "It comes out cheaper than spending on single trips to cities. We also took a special trip to Shirakawa-Go to Tokyo, which was super worth the side trip." Their daily budget amounted to P2,000 per person (minus transportation). Whenever they had extra cash at the end of the day, the couple would treat themselves to a couple of drinks at an izakaya.
CONTINUE READING BELOW
Recommended Videos
Plane Fare (for two): P25,000
Accommodations (per night):
Hostel Types in Kyoto, Osaka, Takayama – P1,000 to P1,500
AirBnB in Tokyo – P3,000
Food (per person, per meal): P200 to P600
Tickets to Museum and Shopping (per person): P5,000
ADVERTISEMENT - CONTINUE READING BELOW
Others: Bullet Train Pass (for two) – P25,000
6 Days in Hokkaido and Tokyo: approximately P65,000/person 
Twins Myca and Myta, 35, are frequent Japan travelers. From Manila, they caught a seat sale to Tokyo. From Tokyo to Hokkaido, they availed of a foreigner discount via ANA Air.  Their daily budgets each amounted to P4,500, including food, transportation, and random buys. "Get DIY Tours from the internet [to stay within your budget]," they shared, "Get a hotel with breakfast."
Plane Fare (per person): P20,000 to Japan and P10,000 from Tokyo to Hokkaido
Accommodations (per night): P4,500 to P5,500
Food (per person, per day): P3,000
Pasalubong (per person): P4,000
8 Days in Tokyo: P58,000/person
Erin, 29, and her boyfriend's first trip to Kansai was in December because she wanted to experience winter there, but since she found it too cold, they ended up taking another trip to Tokyo in the warmer months. She advises setting aside approximately P200 to P700 for admission to gardens or temples, but also notes that fancier art galleries and museums could cost more. "Do what we did and visit the Ueno Park museums during International Museum Day (mid-May) when many of them are free!"
ADVERTISEMENT - CONTINUE READING BELOW
Plane Fare (for two): P18,000 
Accommodations (per night): Hotel in Tokyo – P5,000
Food (per person, per day): P1,000 to P2,000
Shopping (per person, per day): P1,500 to P2,500
7 Days in Nagoya-Tokyo-Hiroshima-Kyoto-Osaka: P68,000/person
Kay, 27, has some expert advice on shopping in Japan: "Uniqlo is cheaper!" She budgets approximately P10,000 when she travels, picking up a loot comprised of clothes, makeup, skincare products, and even fruits. "If you're [shopping] at Uniqlo, GU, Matsumoto Kiyoshi, or Don Quijote, buy whatever you need to buy in bulk and not tingi-tingi so you can get them tax-free," she adds, "Eight percent din 'yon, sayang."
Research goes a long way for her, whether in the store policies or DIY tours and where certain tourist spots are free. She also books her flight way ahead of time, making the most of seat sales and off-peak seasons. "Most cities have one-day passes (for buses, local trains not covered by the JR pass, etc) so best to check those out," she advises, "Unli-rides for buses in Kyoto are Y500, which comes out cheaper than paying Y120 per ride."
ADVERTISEMENT - CONTINUE READING BELOW
Plane Fare: P8,000 
JR pass: P13,000
Miscellaneous Transportation: P3,000
Accommodations (per night): approximately P1,500 to P2,000
Food (per meal): P700 average 
Entrance Fees: P3,000
Shopping: P10,000
Miscellaneous Fees: P3,500
Contingency: P5,000
Comments
Load More Stories