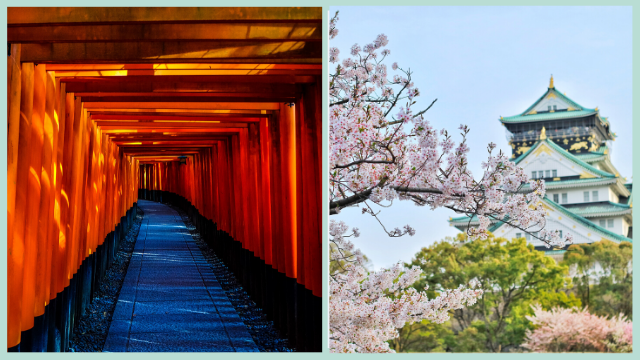 As one of the oldest countries in the world, just about every inch of Japan is rich with culture, beauty, and history. And there's plenty more to see beyond its capital of Tokyo. Don't get us wrong, Tokyo is amazing and all, but if you think you've seen all there is to see in Japan's capital (if that's even possible), then you should check out the country's many other cities.
ADVERTISEMENT - CONTINUE READING BELOW
One of the many great things about Japan is the transportation. The Shinkansen bullet train can take you to almost every corner of the country in hours. Really, there's no excuse for exploring the rest of Japan. Whether you're looking to see another busy city or spectacular scenery, these destinations are just waiting to be explored. Here, we've put together a list of the best cities to visit in Japan.
1. Sapporo
If you love snow and the activities related to it, then count Sapporo in the winter as a must-visit. The city has an annual snow festival, and has plenty of nearby ski resorts. Or, you know, drink beer and visit the Sapporo Beer Museum since this is where Sapporo, the oldest beer brand in Japan, was first brewed.
Book your trip here.
2. Kobe
When in Kobe, eat Kobe beef. And you can do just that in the middle of visiting the city's many attractions of hot spring resorts, museums, parks, gardens, and breweries.
Book your trip here. 
3. Fukuoka
At first glance, Fukuoka looks just like one of Japan's many bustling cities. In it, however, you'll find a thriving art scene. The latest streetwear labels and the biggest fashion brands are also flocking to the city, thanks to its laidback and charm. Once you've had enough of the building, you can easily travel to the city's beaches and mountains for some watersports and trekking.
ADVERTISEMENT - CONTINUE READING BELOW
Book your trip here. 
4. Osaka
Osaka is the second-largest metropolitan area in Japan, so it's pretty similar to Tokyo when it comes to nightlife and shopping. That doesn't mean, however, that it's any less interesting. The food in the city is enough proof of that. Plus, it's also where the famous Osaka Castle is located.
ADVERTISEMENT - CONTINUE READING BELOW
Book your trip here. 
5. Yokohama
Another city that is a must-visit is Yokohama. It's so close to Tokyo that it essentially feels like an extension of it, with the added bonus of new places to see, of course. Explore Japan's largest Chinatown, visit the hip Shimokitazawa neighborhood, or pop inside the Cup Noodles Museum.
ADVERTISEMENT - CONTINUE READING BELOW
Book your trip here. 
6. Kyoto
Kyoto has one of the world's largest collections of UNESCO World Heritage Sites. The city offers a different view of Japan because of the amazing scenery and gardens around. If you're a history buff that loves ancient temples and shrines, then it's a destination that should be a no-brainer. Make Gion, the geisha district, one of your first stops.
ADVERTISEMENT - CONTINUE READING BELOW
Book your trip here. 
7. Toyama
Toyama isn't a city you hear a lot about, but it's definitely one of the country's most picturesque destinations. It's the place to be one with nature as there's no shortage of breathtaking mountains and charming villages. The best time to visit is during fall when all the foliage turns bright orange and red.
ADVERTISEMENT - CONTINUE READING BELOW
Book your trip here. 
Load More Stories