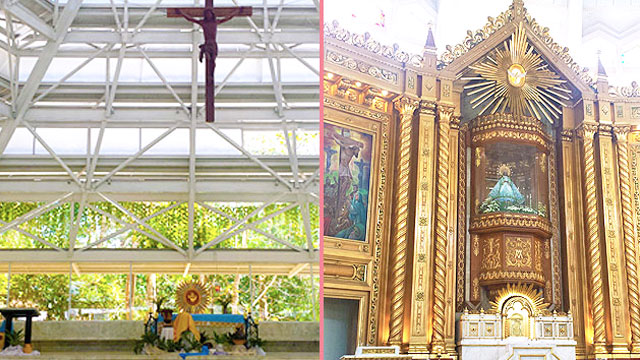 If you're game for a road trip with some fresh air, scenic sights, and relatively lighter traffic than many other destinations for Visita Iglesia, there are a lot of churches worth the experience in the East area. The scenic view and varied architecture are the real charms of visiting churches in the East—six in Antipolo City alone. 
ADVERTISEMENT - CONTINUE READING BELOW
Like many family travels, plan and write down your itinerary, complete with plotting down which churches to go first and next based on their locations. Start your Visita Iglesia early and if you can, go for the churches that are far from the city first while the breeze can still be soothing and the sun's rays, still not too hot. Here are the six Antipolo churches to include in your itinerary. 
1. St. Therese of the Child Jesus Diocesan Shrine
Located along Marcos Highway in Antipolo City, St. Therese of the Child Jesus doesn't have the scenic overlooking Antipolo view, but it's easily accessible. The church was renovated a few years back and now boasts of an impressive golden altar amidst modestly designed interiors.
2. San Isidro Labrador Parish
Located at Duhat and Atis Streets inside Antipolo Hills Subdivision, it's the church that is often referred to by Antipolo locals as the church on top of the hills. Like many other churches in Antipolo, the altar takes the spotlight when it comes to design. The church also features many stained-glass window decor. 
ADVERTISEMENT - CONTINUE READING BELOW
3. Nuestra Señora de la Annunciata Parish Church 
It's located at Sitio Old Boso-Boso in Barangay San Jose, in Antipolo City, which is why it's more popularly known as the Boso-Boso Church. This small stone church has a lot of history. It was first established by Franciscan priests in 1669 and turned into a mission church by Jesuits in 1741. The Boso-Boso Church has survived abandonment, an earthquake,  and a devastating fire before being restored in 1995 and becoming a parish only in 2004.
ADVERTISEMENT - CONTINUE READING BELOW
4. The Transfiguration Of Christ Parish Church
This 15-year-old church is located along Manuel L. Quezon Extension in Nayong Silangan, Antipolo. When you arrive, you'll be greeted by a large statue of the Transfiguration of Jesus Christ. Then you'll have to ascend a long staircase to get to the church's entrance. The sanctuary area is also the home of the miraculous painting of the Our Lady of Czestochowa, which was a gift from the National Shrine of Our Lady of Czestochowa in Jasna Gora, Poland. 
ADVERTISEMENT - CONTINUE READING BELOW
5. Parish of the Immaculate Heart of Mary
It's one of the must-visit churches in Antipolo City, located along Hinulugang Taktak Road. Due to its unique design, many couples have chosen this unique church as the venue for their hearts' union. The Parish of the Immaculate Heart of Mary boasts of an open and airy design, with white and wood interiors that make it seem like it's one with nature. Its serene atmosphere could be due to its location as well as it being relatively isolated from Antipolo's already busy metropolis.
ADVERTISEMENT - CONTINUE READING BELOW
6. The Antipolo Cathedral
It's hard to miss The Antipolo Cathedral when you do Visita Iglesia in the east. It's the most famous of all Antipolo churches, as it's also the seat of the Archdiocese of Antipolo which oversees all parish churches in Marikina City, Rizal province, and parts of Pasig City. The Antipolo Cathedral is also called the church of the Our Lady of Peace and Good Voyage. It is home to the miraculous 17th-century-old wooden image of the Virgin of Antipolo, also known as the Our Lady of Antipolo. Car owners usually travel here to have new vehicles blessed for safe travels. 
ADVERTISEMENT - CONTINUE READING BELOW
Parking here might be a problem since the place is in the middle of a busy town and the area will be packed as pilgrims and visitors flock to the church during Holy Week. The good news is that commercial establishments surrounding The Antipolo Cathedral will be open. 
Visita Iglesia is usually a visit to seven churches, and while Antipolo is one church short, there are many other impressive old churches in the nearby town of Rizal. You can visit St. Clement Parish in Angono, St. John the Baptist Parish in Taytay, Our Lady of Light Parish in Cainta, Sta. Ursula Parish in Binangonan, Sto. Rosario Parish in Cardona, St. Jerome Parish in Morong, St. Joseph Church in Baras, San Ildefonso del Toldeo Parish in Tanay, Our Lady of Aranzazu Church in San Mateo, and Sta. Rosa de Lima Church in Teresa. Note that some of these towns are next to each other but can still be quite a drive. 
ADVERTISEMENT - CONTINUE READING BELOW
The other option is to first visit San Antonio de Padua Parish Church, in Marikina City, on the way to Marcos Highway. It has a lovely view of the Marikina River, and can take you to the next church, St. Therese of the Child Jesus Diocesan Shrine, easily. Then, make your church visit in Antipolo City proper before going back to the city. Another option is to go for the Rizal churches in Cainta and Taytay, which will take you along Ortigas Avenue Extension, and back near the city's borders.   
Don't forget to pack a lot of snacks, hydrate, and enjoy! 
This story originally appeared on Smartparenting.com.ph.
* Minor edits have been made by the Femalenetwork.com editors.
Load More Stories