First, a confession: I haven't been to Baguio in ages. In fact, the last time I was there was more than a decade ago, and it was a crazy post-college balikan trip that smooshed all the ukay, the sight-seeing, and the eating in less than 24 hours. The recent TPLEX Culinary Adventure to Baguio done in partnership with San Miguel Culinary Center showed me that while a lot of things can change in 10 years, Baguio still has the same soul and vibe unique to the North.
ADVERTISEMENT - CONTINUE READING BELOW
So tama na ang drawing, rent a van, and get planning with your friends. Here's an itinerary you can replicate for your own Baguio food trip:
The drive north
Back in the day, it took six to eight hours to drive up Baguio, but the opening of TPLEX shaved it down to five if you're coming from Manila. Moreover, it also made available access points to different towns along the way that weren't initially accessible to the regular traffic of tourists.
One such destination is Nampicuan in Nueva Ecija. Once a quiet municipality, it has become a hub of pilgrims and worshippers visiting the Sanctuary of the Holy Face, where the only replica of the Sundarium of Oviedo, the sweat cloth used to cover Jesus' face before he was buried, has been enshrined. According parish priest Fr. Christian Magtalas, this replica is considered to be extremely special as it was the only one which has touched the original piece of cloth that Jesus used.
CONTINUE READING BELOW
Recommended Videos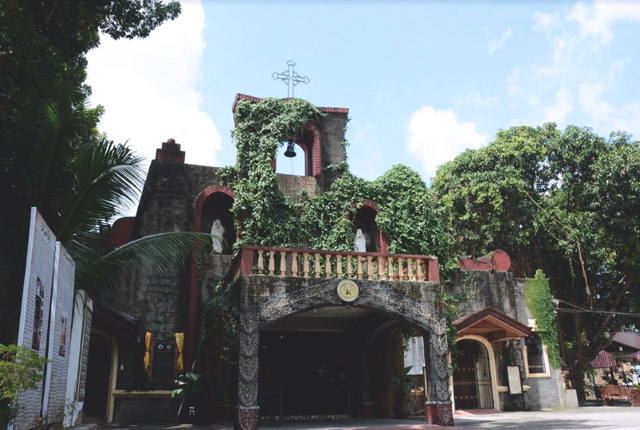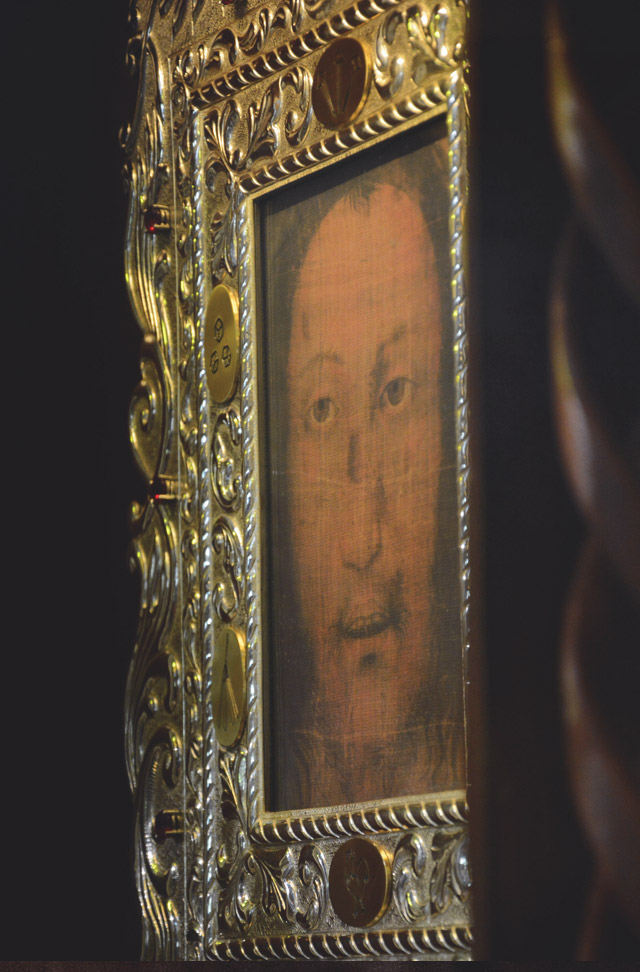 ADVERTISEMENT - CONTINUE READING BELOW
A few minutes north of Nampicuan is Anao, the smallest and one of the oldest towns in Tarlac. Known as the Ylang-Ylang capital of the province, its local government supports the extraction and natural processing of blossoms in its Ylang-Ylang Center to supply essential oils within and outside the town. Anao also produces products such as perfumes, facial mists, soaps, car fresheners, and many more.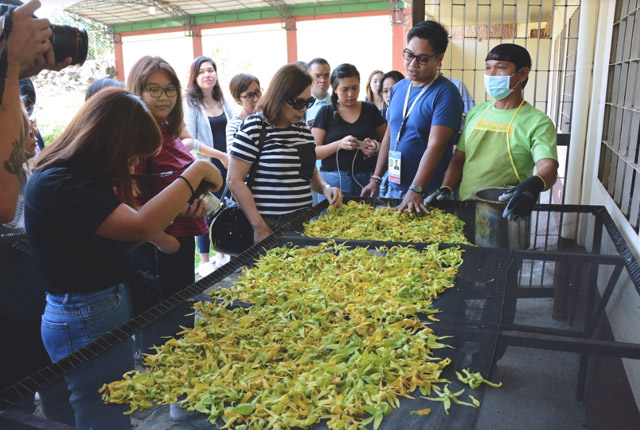 ADVERTISEMENT - CONTINUE READING BELOW
Binalonan in Pangasinan is the next stop-over; turn right at the exit and you'll find Ruperto's, an unassuming resto that's known for fatless Pangasinense longganisa made from lean meat and garlic.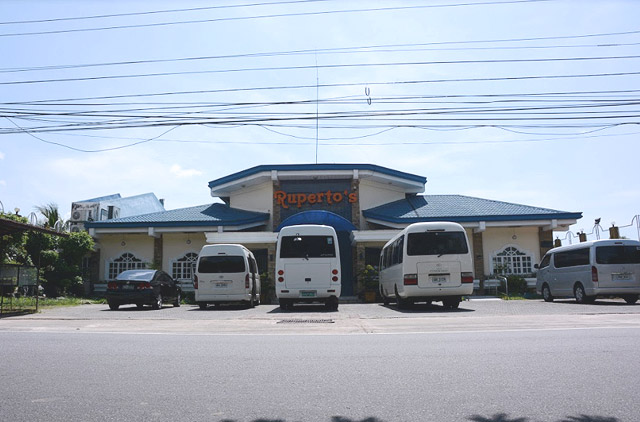 You can opt to baon from the resto, or even make your own at home as it's really pretty simple to do with the recipe they provided:
ADVERTISEMENT - CONTINUE READING BELOW
Ruperto's Longganisa
Ingredients
1 kg Monterey ground pork
1/4 cup chopped young garlic
1 tbsp finely chopped onion
2 1/2 tsp fine iodized salt
1 tsp ground black pepper
1/3 cup soy sauce
2 1/4 tbsp sukang Iloko
2 yards sausage casing
twine
Procedure
Mix the first seven ingredients thoroughly in a bowl.
Stuff the mixture into the sausage casing and tie with a twine every three inches of meat.
Hang under direct sunlight for four hours to let it dry.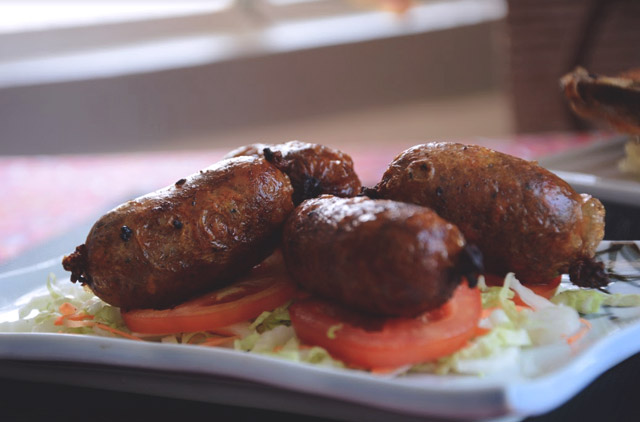 ADVERTISEMENT - CONTINUE READING BELOW
Day 1: Returning to Baguio
If you, like me, haven't been to Baguio in a while, returning to the city can be a bit bittersweet, especially since I went up shortly after Typhoon Ompong. The damage that the storm caused was still very visible; tractors scooping up dirt from landslides dotted the streets and some roads were still impassable due to unremoved boulders that rolled down from the mountains. It was still on the road to recovery, but life went on.
Lunch at Farmer's Daughter
Meals start at P110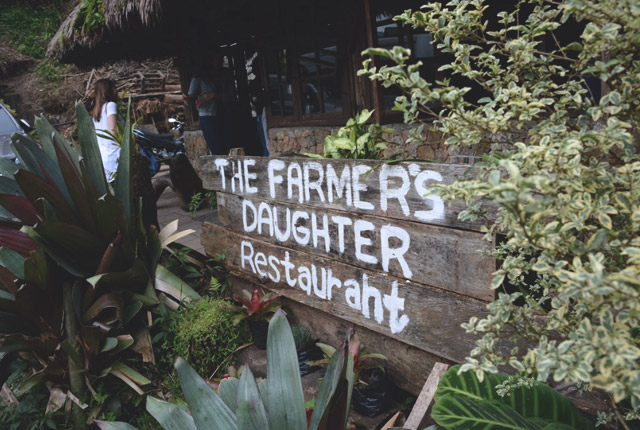 ADVERTISEMENT - CONTINUE READING BELOW
This small kubo beside Tam-awan Village serves honest-to-goodness Ibaloi dishes, employing age-old culinary techniques from preparation to presentation. Try their kinuday jen baboy (smoked pork), kinuday jen baha (smoked beef), and kinuday jen manok (smoked chicken).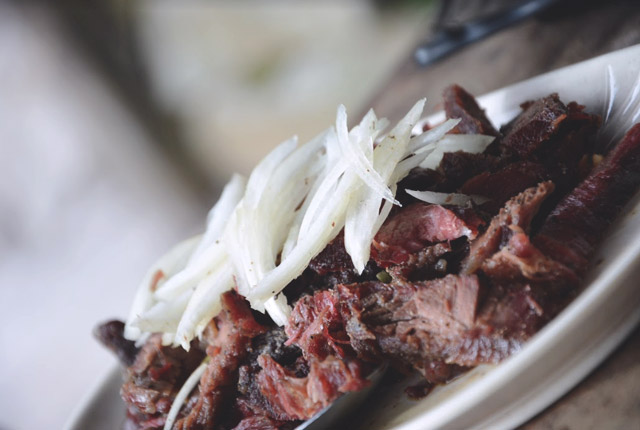 ADVERTISEMENT - CONTINUE READING BELOW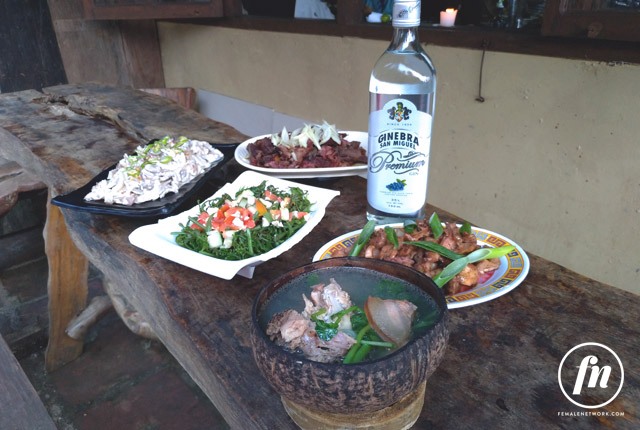 Traditionally, these meats are smoked in stone ovens for several days using wood from guava and gum trees for deep and complex flavors. They are best eaten with white rice, pako salad, and a shot of gin.
ADVERTISEMENT - CONTINUE READING BELOW
Dinner at Mama's Table
Rates vary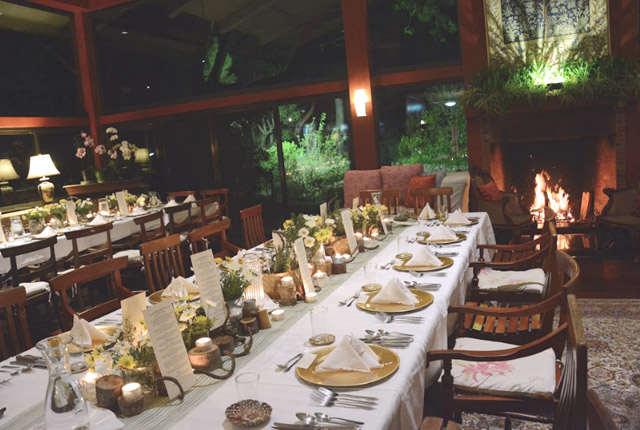 Mama's Table along Ambuklao Road isn't really a restaurant per se. It's the home of Chef Vicky Tinio Clemente, who offers a strictly-by-reservation private dining experience like no other. As you enter her front door, prepare to be wowed by her massive high-ceilinged receiving and dining area accentuated by a cozy fireplace.
ADVERTISEMENT - CONTINUE READING BELOW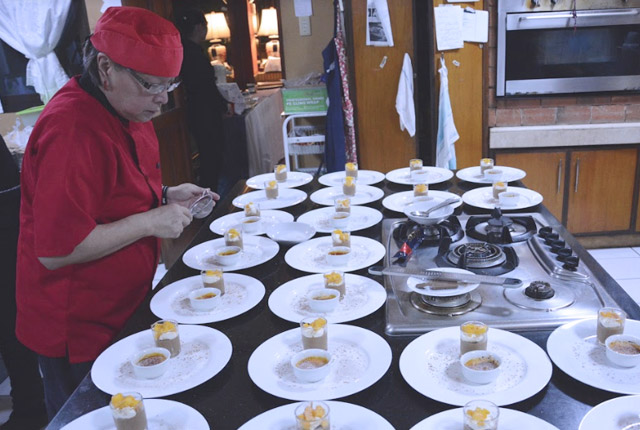 Chef Vicky posts no regular menu—instead, every meal she serves for every group that visits is a delightful surprise and a mouth-watering show of her knowledge of French cuisine. For our visit, we were treated to an eight-course meal:
ADVERTISEMENT - CONTINUE READING BELOW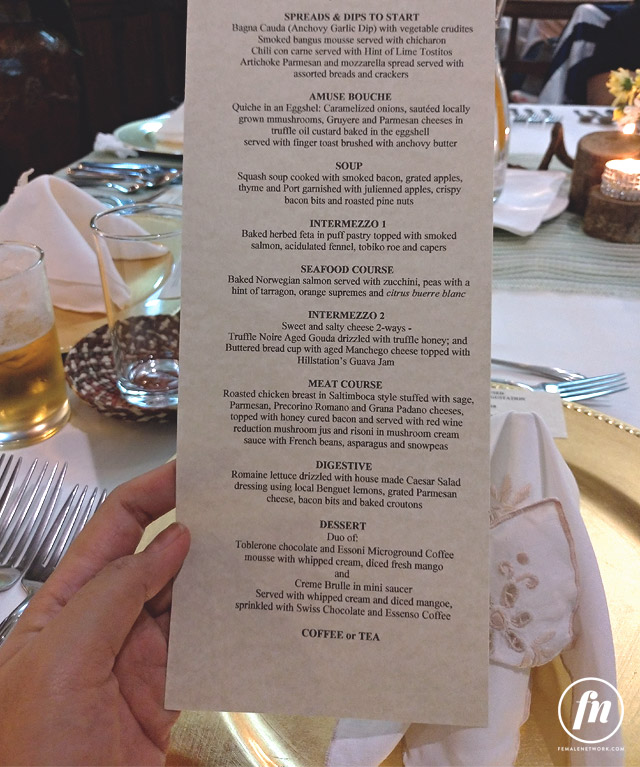 Each plate served was a different experience in taste and texture; each bite showcases every ingredient so much so that you can't help but be speechless at how your palette has suddenly expanded. The courses were so well thought of and meticulously prepared that by the end of the three-hour degustation, you'll feel like tearing up over the fact that it's done (and no, we're not exaggerating).
ADVERTISEMENT - CONTINUE READING BELOW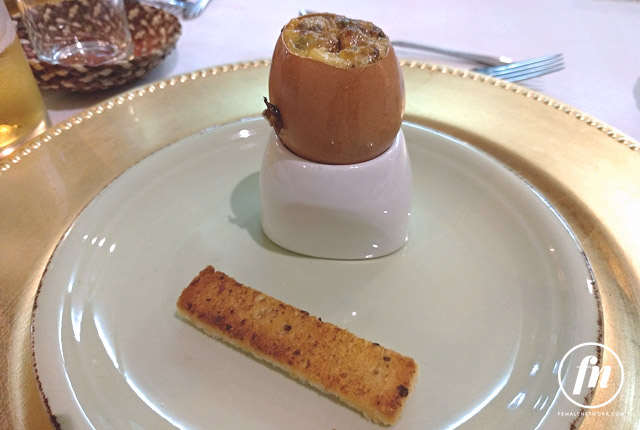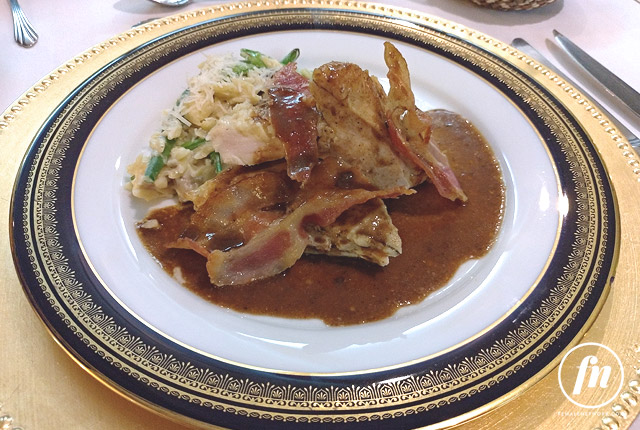 ADVERTISEMENT - CONTINUE READING BELOW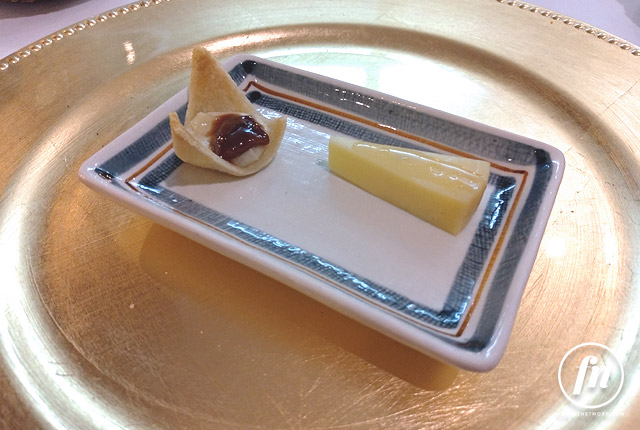 So if you can, reserve a table way ahead of time at Mama's Kitchen. Just make sure to be patient enough to wait for when Chef Vicky can accommodate you as she's almost always fully booked. Trust us, it's worth it.
ADVERTISEMENT - CONTINUE READING BELOW
Day 2: Going around the city
Visiting the Trading Post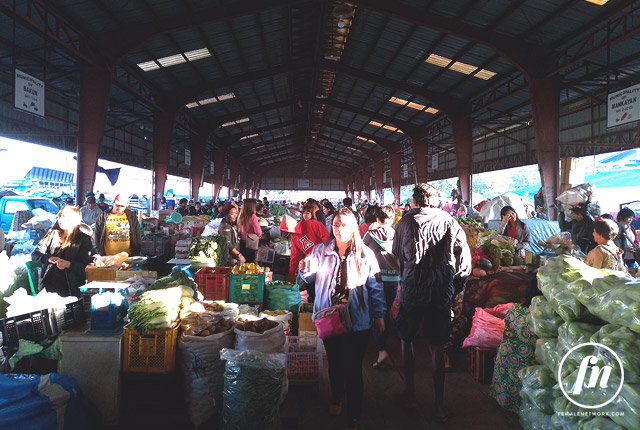 Make sure to rest up as you wouldn't want to miss the chance to visit the Trading Post in La Trinidad (especially since veggies are so expensive in Manila). With P450, you can bring home two cabbage heads, a kilo of broccoli, a kilo of sayote, a kilo of Baguio pechay, and a kilo of green lemons (a nice seller even gave me green and red bell peppers to boot!).
ADVERTISEMENT - CONTINUE READING BELOW
Morning snacks at the BZA HomeArts Café
Meals start at P88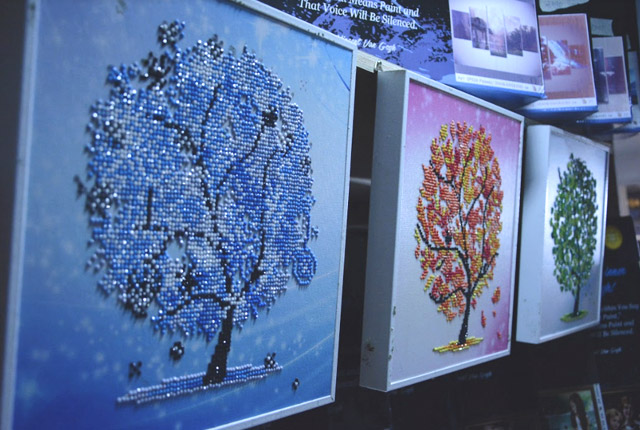 What is now known as BZA Arts Café was actually President Manuel L. Quezon's former summer residence. Tucked in Quezon Hill, it offers a quirky mix of activities that include rhinestone art-making, indoor golf putting, and even the seasonal barbeque and beer fests. Make sure to try Baguio's Best Strawberry Shortcake from Vizco's—it's seriously something you'll come back for.
ADVERTISEMENT - CONTINUE READING BELOW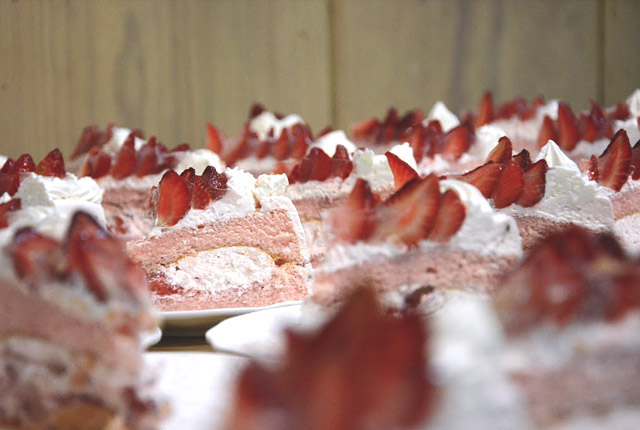 Touring the UP Baguio Museo Cordillera
Soak in a bit of northern history and drop by the new Museo Cordillera located in UP Baguio. Opened in 2017, it aims to showcase the rich culture of the province untouched by Spanish colonization. The exhibit "Feasts of Merit," which will be on display until February 2018, expands on the unique social structures of the Ifugao, the Bontoc, and the Ibaloi, and the beliefs that are the backbone of their traditional feasts.
ADVERTISEMENT - CONTINUE READING BELOW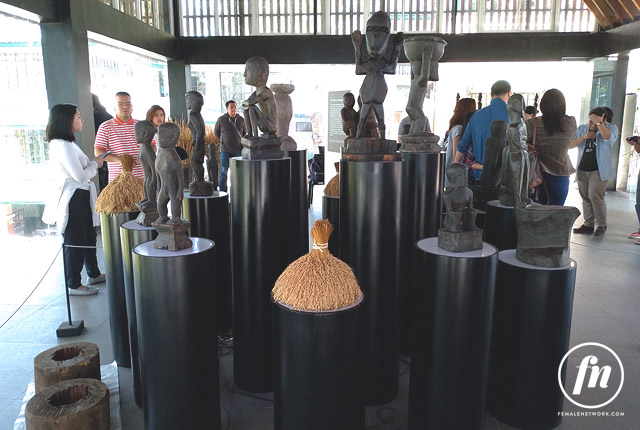 Lunch at Lemon and Olives
Meals start at P100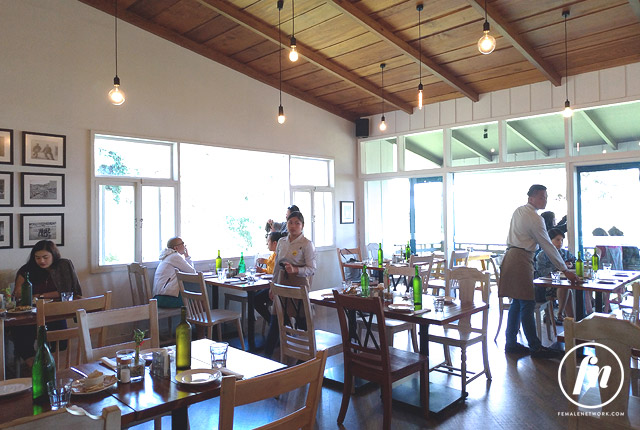 ADVERTISEMENT - CONTINUE READING BELOW
If you're craving for something Mediterranean, then this is the place for you. Sitting on Outlook Drive, Lemon and Olives offers a stunning view of Baguio while filling your tummy with legit Greek dishes developed by resident chef Takis Polychroni.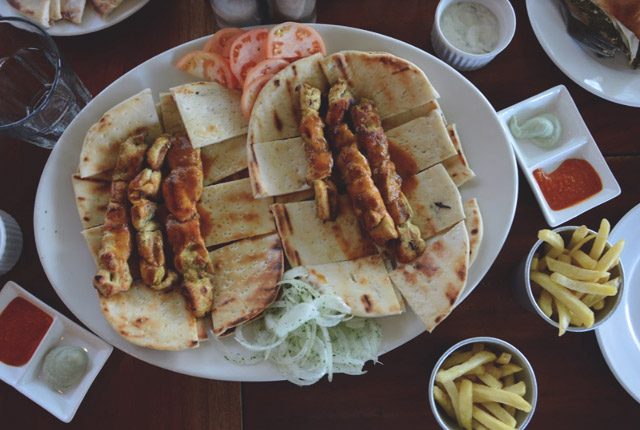 ADVERTISEMENT - CONTINUE READING BELOW
Make sure to try their filling Souvlaki Chicken with Pita and order their cheesy Tirokauftero dip—you're good to go after.
Merienda at House of Yogurt Lover
Yogurt starts at P130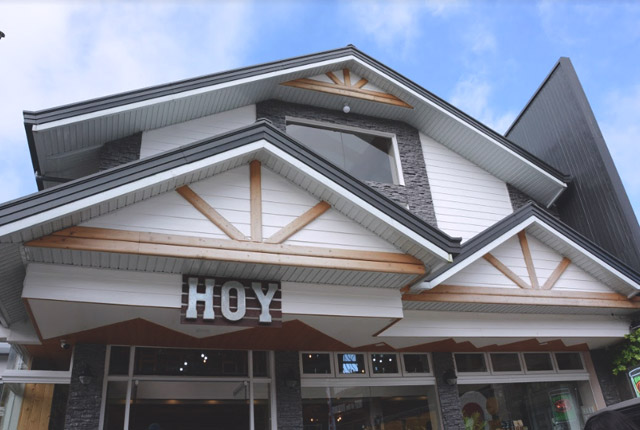 End your trip the way you end your meals—with a delicious dessert. Drop by the House of Yogurt Lover (affectionately nicknamed "HOY") and order a cup of their ultra-fresh and creamy home-blended Y.O.L.O. yogurt topped with fresh fruits.
ADVERTISEMENT - CONTINUE READING BELOW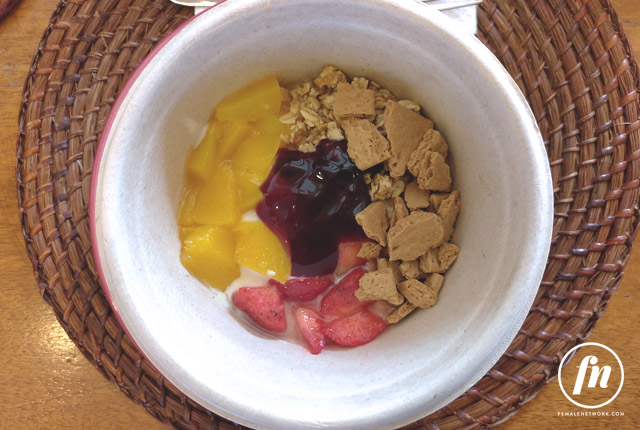 HOY is actually a bread-and-breakfast, so you can also order food (read: second lunch) from their Calajo restaurant, which features Cordilleran dishes such as their own take on the doktube, a classic Ibaloi dessert of fried roll filled with ube and kamote.
ADVERTISEMENT - CONTINUE READING BELOW
If you haven't done your pasalubong shopping yet, HOY has a little grocery filled with Baguio delicacies and interesting knick-knacks you can bring home. If you're planning to take home a cup (or three) of the YOLO yogurt, make sure to store it in a cool container as it'll only stay fresh unrefrigerated for six hours.
Load More Stories