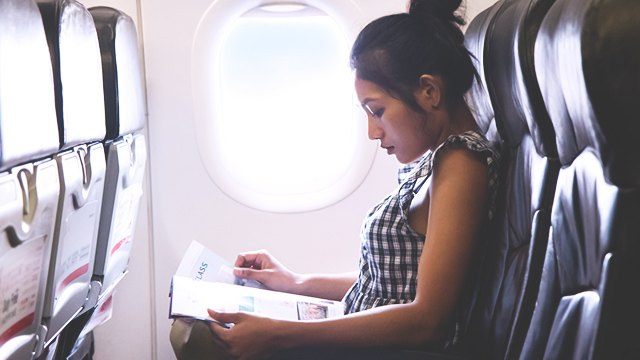 Don't you just hate it when there's not enough room inside the plane – particularly your row? Those cramped up seats that give you barely enough room for some leg space may now have a solution. According to PopSugar, a multimillionaire app developer shared his hack on Reddit that would probably make your trip a little more comfortable since it's possible to have the entire row to yourself.
ADVERTISEMENT - CONTINUE READING BELOW
"Fly first class? No need. When I fly alone, I just book an economy class ticket in the center of a three seat row. Usually this means that in a not so full flight, nobody will want to sit next to you when they can sit somewhere else."
In other words, you don't need to pay extra cash just to have the luxury of space rather, it's about being wise when it comes to choosing your seat.
"If it's a couple, they wouldn't want to be separated. When checking in, you can try to change your seat, and you can tell from there, where the empty seats are. Now that you have the whole row to yourself, you can lift up the armrests and basically have a giant couch that is wider than what first class and business class gets."
Although this doesn't give you a hundred percent assurance, if you're traveling solo or with a friend who wouldn't mind sitting apart in exchange for a comfier flight, it's still worth a try, right? It pays to be ready.
Now, if you're still getting the hang traveling solo, here are some stories that will help make your adventures safer, more exciting, and most memorable:
The great freedom solo travel brings comes with great responsibilities. Being alone in an unfamiliar place poses a lot of challenges, ranging from safety concerns, to loneliness, to logistical problems. Be prepared!
You may have your personal reasons for traveling solo, but most of all, remember to value silence. Many of us are so used to being bombarded by urban noise that even in our alone time, we keep on saturating ourselves with what's going with the world. Take this time to get to know yourself in a different scenario!
Whether it's a European cruise or an Asian getaway, keep in mind these helpful (and probably lifesaving) tips you need to know while vacationing abroad.
ADVERTISEMENT - CONTINUE READING BELOW
Load More Stories