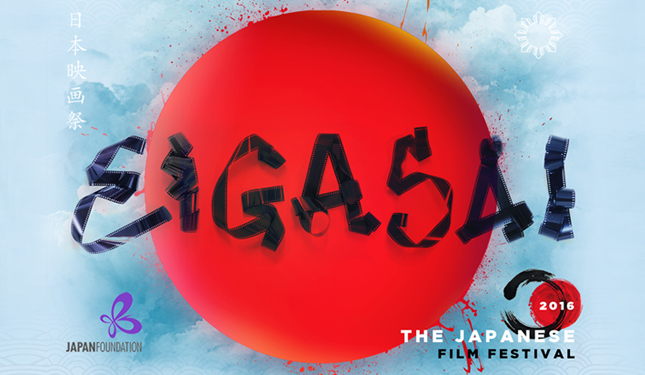 Eiga Sai, which literally translates to "film festival", is a yearly showcase of Japanese movies organized by the Japan Foundation, Manila. Launched in 1997, it is now known as one of the largest foreign film fests in the country, attracting thousands of audiences every year with various stories of people from all walks of life.

Whether you're a cinephile or someone who just needs a break, here are a few reasons why you should go to a screening once the season opens.

1. It's FREE.
Yup, it's that magical four-letter word. Eiga Sai has always been, and still is, free for every one and anyone interested to see quality Japanese films, and as such, theaters may get full right away, so it's best to plan your screenings and to be in the venue early.

2. It runs longer.
In the past, the festival would only run for a couple of weeks. This year, Eiga Sai will run from July 7 to August 21 in Manila, Baguio, Cebu, and Davao. That's more time for you to catch free movies!

3. It features an anime film.
For those who are fans of anime, this is the Eigasai year for you. The line-up includes "The Boy and the The Beast," a story by director Hosoda Mamoru, who also gave us the cult classics "The Girl Who Leapt Through Time" and "Wolf Children"..

<div style="text-align: center"><iframe width="560" height="315" src="https://www.youtube.com/embed/uifJLWoWv8c" frameborder="0" allowfullscreen></iframe></div>

4. It features a Japanese film shot in the Philippines.
From the streets of Baguio to the terraces of Banaue, "Crossroads" by Junichi Suzuki will show you how home looks like through the eyes of a foreigner. (FYI: Filipina cosplayer Alodia Gosiengfiao is part of the cast.)

<div style="text-align: center"><iframe width="560" height="315" src="https://www.youtube.com/embed/rvshQ6Bn_I8" frameborder="0" allowfullscreen></iframe></div>

5. It basically has a very solid line up.
Aside from the two that have been previously mentioned, Eiga Sai 2016 will showcase an array of films dealing with topics such as love, family, and morality, including "Flying Colors," "Our Little Sister," "Pale Moon," "The Great Passage," and "The Little House."

6. It includes talks from two prominent Japanese directors.
Eiga Sai will kick off with the screening of "Kakekomi," and a short talk from its esteemed director Masato Harada, who also portrayed the character of Omura in the Hollywood film "The Last Samurai." Hiroshi Shoji, director of the award-winning film "Ken and Kazu" will also be joining the festivities.

7. It's the first Eigasai that the Japan Foundation celebrates with its newest partner, Cinemalaya.
In honor of this partnership, there will be a one-time screening of "The Emperor in August" by Hiroshi Shoji at the CCP Tanghalang Aurelio Tolentino come August. Being allied festivals, Eiga Sai and Cinemalaya aims to continuously uplift film as an artform in both countries.

Eiga Sai will run at Shang Cineplex Cinema 2 (July 7 to 17), Abreeza Mall Cinema, Davao (July 22 to 24), FDCP Cinematheque, Davao (July 26 to 30), Cultural Center of the Philippines (July 8, August 6, 9, 10 and 12), SM Baguio Cinema, Baguio City (August 11 to 14), FDCP Cinematheque, Baguio (August 15), Ayala Center Cebu (August 17 to 21), and UP Film Institute (August 17 to 20). For more information on the films and their screening schedules, visit the Japan Foundation website.




ADVERTISEMENT - CONTINUE READING BELOW
ADVERTISEMENT - CONTINUE READING BELOW
Recommended Videos
Load More Stories