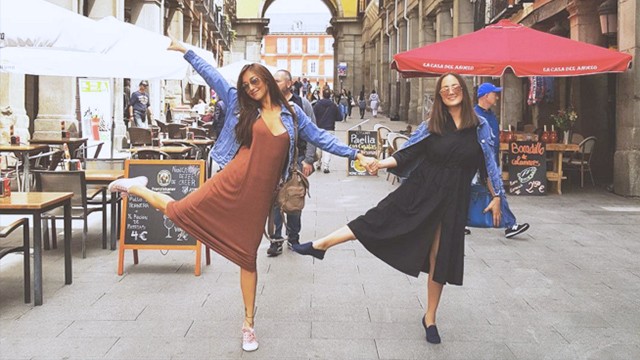 Traveling is more than just creating memories—it also broadens your horizons and brings people closer together. Traveling will also bring a lot moments that should be shared with the people you cherish the most, like your best friend—especially if you're tying the knot soon. Who knows when the two of you can go on a trip again?

Consider yourself lucky if you have a BFF in your life right now. Here are five easy reasons why you should have traveled together ages ago:

1. You have the same taste. 
The great thing about traveling with your best friend is that you have similar tastes in various things: from food and activities to the places you want to visit. Your interests are completely aligned so planning trips will be a breeze. The chances of you having arguments about the preparations are rather slim, and if you do, you can easily talk it out and even laugh about it after. 

2. You understand non-verbal communication. 
Your best friend knows you—sometimes even better than you know yourself. She can decipher every shrug, sigh, and nod you make. She knows your body language and your mood like the back of her hand. This trait comes in handy when you are both in a foreign or strange place and you only have each other to rely on. 

3. Your best friend has you covered. 
They say that a good friend will come and bail you out of jail, while a best friend will be sitting next to you saying, "Whoa! That was fun!" Whether you want to dance embarrassingly in front of a crowd at a bar or try out quirky new things, you can rely on your bestie to back you up in these situations. You don't have to worry about doing them alone because the minute you start dancing, she'll gladly join you. Even if she's the type who needs a little nudge, at least you'll have someone with you through all those moments at the end of the day. 

4. No awkward silences and dull moments. 
Long journeys can be a drag so we supplement it with books, movies, or music. With your best friend, you don't need to worry about how to kill time while traveling: you'll be talking every moment, and you'll always have company. Time flies faster when you are with someone you can have fun and feel relaxed with so the trip will easily breeze by. So before heading out, arm yourself with the stories, gossips, secrets, and anything you would love to share with her. 

5. You keep your friendship fresh. 
Getting to bond with your BFF is the best thing possible, especially right before a life changing event like entering a marriage. Traveling together helps renew the friendship since you also get to make up for lost time. Best of all, you'll have new experiences along the way that will result to a lot of good memories—including crazy and wild ones which are always fun to relive and talk about.

This story originally appeared on TravelBook.ph. 

*Minor edits have been made by FemaleNetwork.com editors. 
ADVERTISEMENT - CONTINUE READING BELOW
Load More Stories