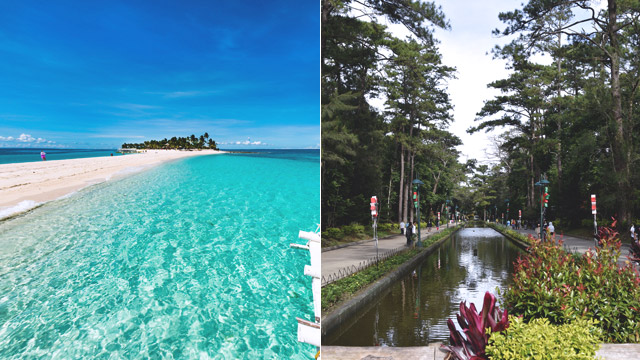 Terrified at the thought of interacting with so many familiar faces in one cramped beach? Not everyone thrives in big social events, so if you're looking for something a little more low key and private, here are your best bets:
Mt. Batulao, Batangas
Mt. Batulao is one of the most gorgeous mountains for a day hike in Luzon. Let's face it, all our mountains have fantastic views, but Batulao stands out because you don't even have to summit it to appreciate the beauty around you. It doesn't get too cramped, so there's space for you to hike at your own pace. There are also a lot of spots for pictures and intimate conversations.
ADVERTISEMENT - CONTINUE READING BELOW
Tacloban, Leyte
Tacloban has been through a lot these past years, but you won't notice that right away with all the interesting businesses and good energy from the people around. This is an ideal place to heal, so if you're looking to do some soul-searching while you're out, this might be the place for you.   
ADVERTISEMENT - CONTINUE READING BELOW
Try: Yellow Doors Hostel (Don't be threatened by the word hostel, It's very introvert-friendly, and the owners are open to some one-on-one bonding!)
Kalanggaman Island, Leyte
Interested in camping? Spend the night without electricity and you'll be able to tune out all the stress your city life has been causing you. Kalanggaman Island might be a plane, a van, and a ferry ride away, but that magical sand bar will make your trip worth it.
ADVERTISEMENT - CONTINUE READING BELOW
FN TIP: Afraid of people? Create a group with your closest friends and rent a private boat instead.
Bantayan Island, Cebu
Come for the beaches, stay for the vibe. It's quiet, peaceful and filled with so much small-town charm that you'll never want to leave. The people here are helpful and friendly, but they also give you your space. One of the main destinations called Kota beach is an expanse of sand and sky where you'll feel like the you're the only person in the world. It has the community appeal of Boracay minus the chaos. 
ADVERTISEMENT - CONTINUE READING BELOW
Baguio, Benguet
Always a classic option, Baguio provides that romantic atmosphere that encourages you to get creative. Steer clear of crowds by visiting the BenCab Museum or reading books in cafés.  
Load More Stories