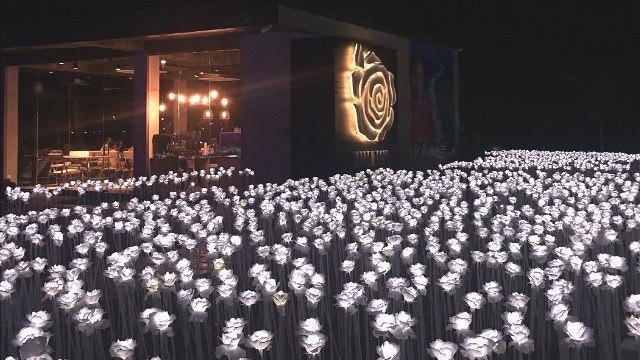 Few things more romantic than a garden of 10,000 glowing roses for Valentine's Day.
Inspired by the Dongdaemun Design Plaza in South Korea, which boasts of more than approximately 21,000 LED roses, the 10,000 Roses Café in Cordova, Cebu, will feature exactly what its name connotes – 10,000 white roses that burst to light once the sun sets.
ADVERTISEMENT - CONTINUE READING BELOW
In an interview with Rona Joyce T. Fernandez of SunStar Cebu, owner Michael Cho explained the idea behind the locale: "My intention was to create a romantic place. I want to make a place where a man can propose to his girlfriend… A place where they can begin and end their love story."
CONTINUE READING BELOW
Recommended Videos
A blanket of white at day time, these artificial flowers are back-dropped by the sea and blossom into soft, glowing illuminations at night, which makes the 10,000 Roses Café a perfect venue for a romantic interlude.
The best part of all? Strolling through the rose garden is free. "I'm very thankful even if they don't buy the beverages," said Michael, who believes that the happiness his garden gives other people is payment enough.
So if you are short-changed for a trip to South Korea, why not head instead to Cordova, Cebu, and enjoy a little piece of it? 10,000 Roses Café accepts guests from 10:30 AM until 11:00 PM daily.
ADVERTISEMENT - CONTINUE READING BELOW
Sources: SunStar Cebu, Sugbo.ph, Phonebooky 
Comments
Load More Stories