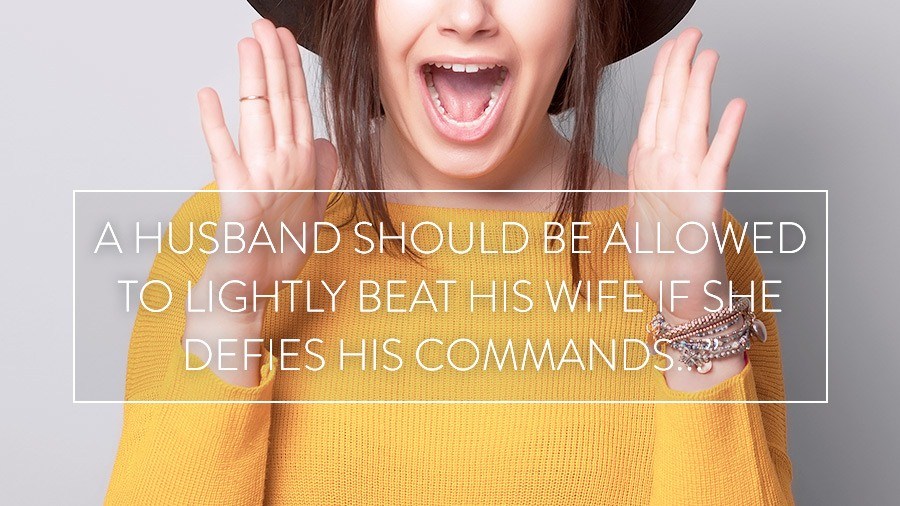 Truthfully, the amount of crap we have to deal with on a daily basis is unfathomable. We'll never actually be able to write it all down. Still, we've collected some of the worst things real people have said to or about women, as a reminder to be vigilant: 
ADVERTISEMENT - CONTINUE READING BELOW
1. Donald Trump
During one of the presidential debates, while Hillary Clinton was talking about social security, Donald Trump called her "such a nasty woman." He said this right after he claimed, "Nobody respects women more than I do."
2. Elhamy Agina
Egyptian Parliament member Elhamy Agina not only advocated for female genital mutilation, he also wants female college applicants to prove that they're still virgins in order to get into college:
CONTINUE READING BELOW
Recommended Videos
"Any girl who enters university, we have to check her medical examination to prove that she is a Miss. If you're upset then that means you're scared that your daughter is [or was] in an 'urfi' marriage behind your back." (An "urfi" marriage is an informal union. People who have urfi marriages are accused of only having them as an excuse to have premarital sex.) 
3. Waseem Azeem
Waseem Azeem murdered his sister, Qandeel Baloch, for being too promiscuous:
"Girls are born only to stay at home and to bring honor to the family by following family traditions, but Qandeel never [did] that. I am a drug addict, but I was [in the right state of mind] when I murdered her and I accept it with pride. Now everybody will remember me with honor [and will know] that I have provided relief to my parents and brothers."
4. John Miller
NBC Olympics chief marketing officer John Miller explained why they decided against live-streaming the opening ceremonies:
"The people who watch the Olympics are not particularly sports fans. More women watch the Games than men, and for the women, they're less interested in the result and more interested in the journey. It's sort of like the ultimate reality show and mini-series wrapped into one."
 5. Leslie Rasmussen
Leslie Rasmussen was the friend who defended Brock Turner during his rape trial: 
"I don't think it's fair to base the fate of the next 10+ years of his life on the decision of a girl who doesn't remember anything but the amount she drank to press charges against him. I am not blaming her directly for this, because that isn't right. But where do we draw the line and stop worrying about being politically correct every second of the day and see that rape on campuses isn't always because people are rapists."
 6. Ann Coulter
Author and lawyer Ann Coulter doesn't believe women should be able to vote:
"Women should not have the right to vote. We can still write books! We can run for office. If we took away women's right to vote, we'd never have to worry about another Democrat president."
 7. Elliot Rodger
In 2014, Elliot Rodger open fired at students near University of California, Santa Barbara because he was feeling neglected by women: 
ADVERTISEMENT - CONTINUE READING BELOW
"I'm 22 years old and I'm still a virgin. I've never even kissed a girl...College is the time when everyone experiences those things such as sex and fun and pleasure. But in those years I've had to rot in loneliness. It's not fair. You girls have never been attracted to me. I don't know why you girls aren't attracted to me. But I will punish you all for it...I'll take great pleasure in slaughtering all of you. You will finally see that I am, in truth, the superior one. The true alpha male."
8. Mohammad Khan Sheerani
Leader of a Pakistani Islamic council Mohammad Khan Sheerani responded to the Punjab Women Protection bill with a bill that supports the "light beating" of women:
"A husband should be allowed to lightly beat his wife if she defies his commands and refuses to dress up as per his desires; turns down demand of intercourse without any religious excuse or does not take bath after intercourse or menstrual periods."
9. Bette Midler
Remember that time when Bette Midler disappointed us by essentially slut-shaming Ariana Grande?
"It's always surprising to see someone like Ariana Grande with that silly high voice, a very wholesome voice, slithering around on a couch...Looking so ridiculous. I mean it's silly beyond belief and I don't know who's telling her to do it. Trust your talent. You don't have to make a whore out of yourself to get ahead."
10. Kanye West
The singer is known for his controversial remarks, and unfortunately, ex-girlfriend Amber Rose wasn't spared. Here's one of the worst ones:

"If Kim [Kardashian] had dated me when I first wanted to be with her, there wouldn't be an Amber Rose you know what I'm saying? By the way, it's very hard for a woman to want to be with someone that's with Amber Rose. So she wasn't sending nothing, you know what I'm saying? I had to take 30 showers before I got with Kim."
11. President Rodrigo Duterte
The president made headlines back in April when he made a rape joke about an Australian lay minister who was held hostage and killed in 1989:
"Ni-rape nilang lahat ng mga babae so 'yung unang asolte, kasi nag-retreat sila, naiwan 'yung ginawa nilang cover, ang isa doon 'yung lay minister na Australyana. Tsk, problema na ito…'Pag labas, e di binalot. Tinignan ko yung mukha, t*** i** parang si… parang artista sa Amerika na maganda. P***** i**, sayang ito. Ang nagpasok sa isip ko, ni-rape nila, pinagpilahan nila doon. Nagalit ako kasi ni-rape? Oo, isa rin 'yun . Pero napakaganda, dapat ang mayor muna ang mauna. Sayang."
12. Tito Sotto 
In July 2016, during his noontime show Eat Bulaga, the senator blamed a woman for being assaulted while she was drunk:
So this is the controversial remark of Sen???? Tito Sotto to a woman who was taken advantage by her drinking buddies.???? pic.twitter.com/obficLMspI

— Miss Krizzy (@krizzy_kalerqui) July 10, 2016
This story originally appeared on Cosmo.ph.
* Minor edits have been made by the Femalenetwork.com editors.
Load More Stories