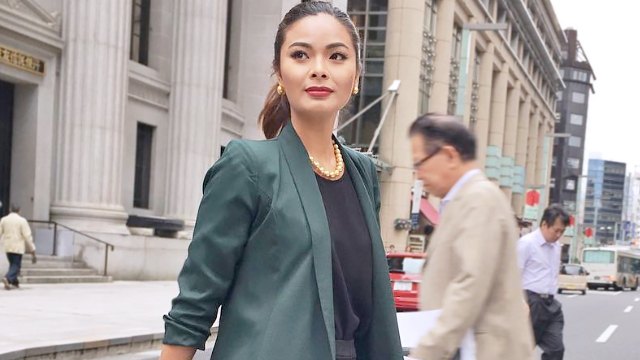 As the crown is passed to a new Miss Universe, all eyes revert back to Miss Philippines Maxine Medina, and how she handled the Top 6 Q&A portion of the competition.
When an interpreter translated to Filipino the question "What is the most significant change you've seen in the world in the last ten years?" everyone expected her to answer in Filipino. When Maxine answered in English, many criticized her for not utilizing the interpreter, going as far as to call her derogatory names and insulting her poor grasp of the language. Mark Arthur Payumo Abalos, a language trainer who said that he worked with Maxine, defended her by saying that she had worked hard on becoming a "better version of herself," and that people communicate differently based on their backgrounds so "errors are normal."
ADVERTISEMENT - CONTINUE READING BELOW
Whatever happened, the fact remains that another Queen has been crowned, and what's done is done. And while it would have been sweet to have held on to the title of being home to the most beautiful woman in the Universe for another year, no amount of regret should justify the harsh criticisms that are thrown Maxine's way, for when we insult her, we insult ourselves.
After all, we are all Maxine Medina.
Maxine may not have great verbal skills, but she is fabulous in talking through a different medium – her interior designs are nothing to be scoffed at. She is that woman who continuously wears a cheerful façade in spite of the burden of responsibility that she unflinchingly carries every day.
Maxine Medina is every Filipina who has done her best but still has fallen short of her dream. She is every one of us who has ever felt deep disappointment, who has questioned her own abilities, and who has thought that she was never enough no matter how much she tried. And as much as Maxine is the woman scorned for her shortcomings, she is also every woman who stood up, dusted her gown, and continued down the catwalk.
ADVERTISEMENT - CONTINUE READING BELOW
We may never know how much the bashings hurt her because we are always faced by her warm smile, but Maxine, with all of her strengths and her weaknesses, is a woman to be admired. As with the rest of us, no one knows her full story, and while we may not be in a glorious red gown scrutinized by thousands of people, we can say that the battles we have fought resonate with hers. The road is never easy, but we can still hold our heads high.
Yes, we are all Maxine Medina, which is why we should never point a finger and laugh at one who has tried her hardest to reach what she wanted the most. And like Maxine, when all else fails and defeat feels too heavy, believe in the hope that the Universe will always offer you comfort.
We are looking forward to your bright future, Maxine! And we hope the same for each of you as well.
ADVERTISEMENT - CONTINUE READING BELOW
Comments
Load More Stories