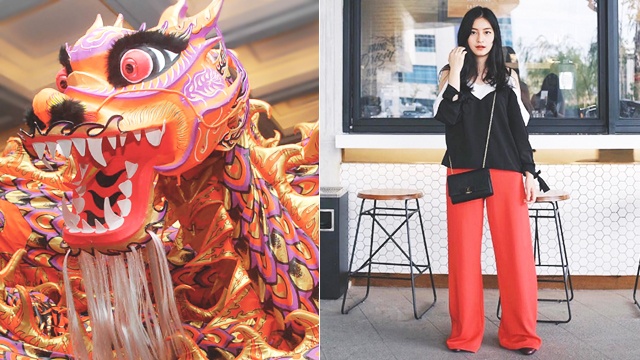 If you're participating in any of the festivities this coming Chinese New Year on January 28, then you may want to go all out about upping your luck! Welcome the Year of the Rooster with a proverbial bang with these traditional beliefs that promise good fortune.
ADVERTISEMENT - CONTINUE READING BELOW
1. Wear read.
Red is said to be an auspicious color for luck and happiness. You can also decorate your house with red items such as lanterns, or give away red envelopes (ang pao) "to pass on best wishes."
2. Eat food that are lucky.
Have you ever heard of Yu Sheng? Translated as "Prosperity Toss," it's a salad consisting of raw fish and shredded fresh and pickled vegetables tossed by the entire family as high as they can. The higher and the messier the toss means the higher you soar and the more prosperous you become in the new year.
You can try premium Yu Sheng with Salmon as well as a huge array of celebratory Chinese dishes at the Marco Polo Ortigas' Chinese New Year festivities led by Executive Chef Reymond Yeung. Don't forget to get yourselves some of Lung Hin's round tikoy!
3. Watch and participate in a traditional lion and dragon dances!
Lion and dragon dances are considered to be very lucky, especially for businesses. Often reserved for festivities such as the Lunar New Year, these dances have a long history behind them as well as many schools and styles that have been passed down through generations. Chinese dragons are often thought to bring prosperity – the longer the dragon, the greater the luck.
Shangri-La Hotel Makati will be featuring traditional lion and dragon dances on Chinese New Year's Eve and Chinese New Year's Day, so best not miss them!
4. Ask tips from a Feng Shui master.
Seeking the guidance of a Feng Shui master is a traditional practice as a new lunar year begins. They often give tips on your personal and professional endeavors based on your Chinese Zodiac animal. While these recommendations make good guideposts, do remember that in the end, your destiny is yours, and you're the only person who can decide which direction your life should take.
ADVERTISEMENT - CONTINUE READING BELOW
Drop by Marco Polo Ortigas on Chinese New Year to meet Feng Shui Master Marites Allen!
Load More Stories