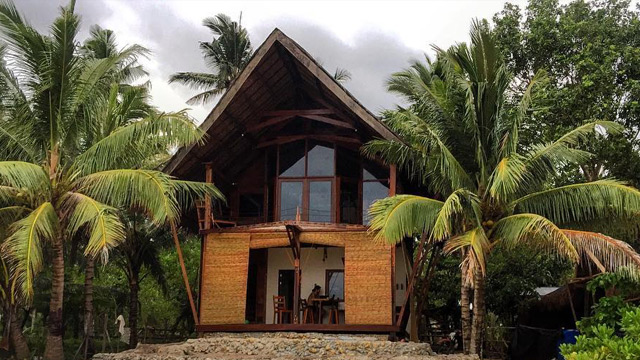 In the age of Instagram where a beautifully curated feed can easily invoke wanderlust, it has become a common practice for business establishments, predominantly restaurants, resorts, and other types of tourist attractions, to enlist the help of bloggers or social media content creators to spread the word about the services they have to offer. However, such is not always the case—White Banana Beach Club in Siargao, for instance, has expressed its disinterest to work with Instagram influencers in a now-viral Facebook post.
ADVERTISEMENT - CONTINUE READING BELOW
"We are receiving many messages regarding collaborations with influencers, Instagram influencers. We kindly would like to announce that White Banana is not interested to collaborate with self-proclaimed influencers," the beach club declares on its Facebook page, also adding that the said influencers should find another way to pay for their services. "We would like to suggest [for them] to try another way to eat, drink, or sleep for free. Or try to actually work."
As of writing, the post, which was uploaded last Tuesday morning, March 26, already has over 2,700 shares and more than 10,000 user reactions on Facebook. Several comments are commending the resort for its bold move to call out influencers who ask for free accommodation, some of them noting that "those with real influence do not need to beg for [freebies]."
On the other hand, others voiced out their dismay towards the beach club's allegedly condescending tone. One user in particular named Jovelyn Mateo, who also revealed herself as a blogger, left a comment on the post: "If these people formally sent you a message, I think they deserve a formal rejection as well. Not like this," she wrote. "I do blog, though I have a full-time job, and I work hard to be able to travel so I can have content. I recently tried pitching to resorts and hotels, because why not, right?"
ADVERTISEMENT - CONTINUE READING BELOW
A local blogger, Lance de Ocampo, took it to his Instagram stories to react on the issue as well. "Being in the industry for [eight] years, I've learned that there's always a better way to decline a collaboration. Email to email, private message to private message. No need to throw shade. If you don't trust the power of social media then decline and move on," he says. He also noted their contributions to boosting Siargao's tourism. He adds, "Siargao will not be as appreciated as it is now if not [for] the so-called influencers' breathtaking and well curated Instagram photos."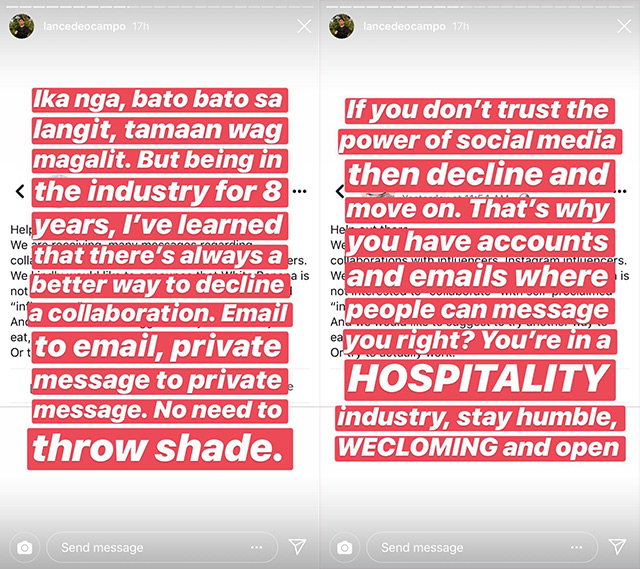 ADVERTISEMENT - CONTINUE READING BELOW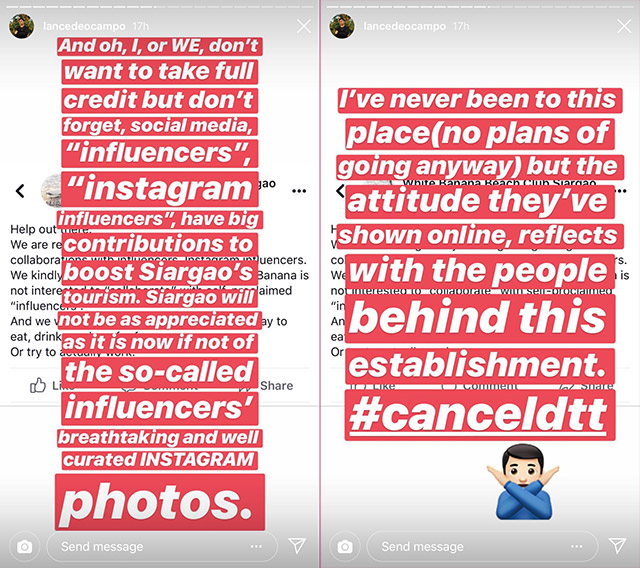 Inevitably, the issue has already made its way to the Twitterverse, where several users are now giving their two cents on the above-mentioned posts:
ADVERTISEMENT - CONTINUE READING BELOW
ADVERTISEMENT - CONTINUE READING BELOW
In response to the virality of their post, White Banana Beach Club has issued another statement on their Facebook page: "Our post went viral. But we want to clarify that we are not against INFLUENCERS. Just against freeloaders," explains the beach club. "A REAL influencer is called as such by the rest; he does not address him/herself as an influencer. They are bloggers. We have actually collaborated with a few of them, in different terms and conditions, and we support them."
ADVERTISEMENT - CONTINUE READING BELOW
This story originally appeared on Preview.ph.
* Minor edits have been made by the Femalenetwork.com editors.
Load More Stories