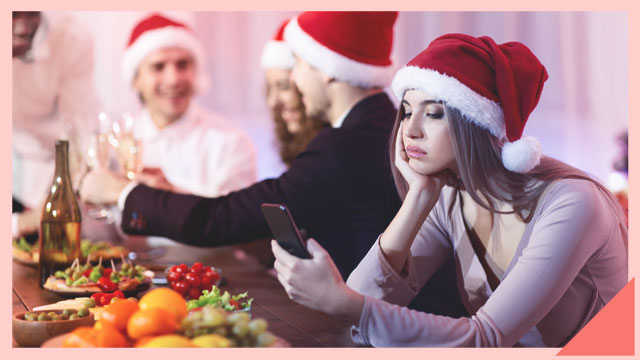 It's almost Christmas, and while we're sure many of you are looking forward to the merrymaking and gift-giving, some of you might be dreading family reunions—specifically mingling with annoying relatives who don't seem to realize they're making you uncomfortable with their comments.
ADVERTISEMENT - CONTINUE READING BELOW
"Bakit wala ka pang asawa?"
"Kailan ka magkaka-baby?"
"Kailan mo susundan si Baby no.1?"
"Ang taba mo na!"
"Naging nanay ka lang, naging losyang ka na."
"Asan ang asawa mo?"
How to deal with toxic relatives at family reunions
These are just some of the things we commonly hear from family members during gatherings. And while they can be hurtful, there are ways to handle the situation so toxic relatives don't end up ruining your holidays:
CONTINUE READING BELOW
Recommended Videos
1. Manage your expectations.
Before attending a family reunion, prepare yourself for the relatives you will encounter at the party. Plan how to approach them (if needed) and how to deal with them.
Just remember: if they've behaved that way their whole life, with a set of beliefs that have never changed, then don't expect them to become a different person at the next reunion. When you psyche yourself up this way, you'll be less disappointed when that family member does decide to interact with you.
ADVERTISEMENT - CONTINUE READING BELOW
2. Prepare your lifelines.
When an annoying family relative comes up and strikes a conversation, don't hesitate to end it when it becomes unbearable. "You have the right to excuse yourself from a conversation at any time for any reason," shares Dan Neuharth, Ph.D., in his column for Psychology Today.
Your mobile phone is a handy lifeline. Just reach for it and say you have a call to make, and then walk away. You can also tell your relative that you need to answer an urgent text message.
3. Only respond to the questions you want to answer.
It is likely that you haven't seen your relatives for a while and want to catch up with them. But some family members who lack empathy can ask intrusive questions that you're not comfortable answering.
When this happens, deflect and redirect the conversation. For example, if a toxic relative asks when you plan on having a baby, you can point out your other nieces and nephews instead and comment on how much more grown-up they seem to be.
ADVERTISEMENT - CONTINUE READING BELOW
Another way to address an unwelcome question is to open up a topic that you know your relative likes talking about. Say, "Oh, I heard you and tito went on a vacation! Where did you go? I'd love to hear about it!"
4. Know your triggers.
Does talking about politics, your job (or lack of it), your weight, or your partner make you touchy? Being aware of what subjects or people tend to upset you and why can help you defuse tense situations or avoid them altogether.
5. Set boundaries.
Family is important for us Pinoys, but you should also have self-respect. If one of your relatives has become disrespectful and unkind, but other family members won't intervene, don't tolerate the abuse. Leave.
Remember that you do not owe them more of your time, nor should you be a victim especially if you have done nothing wrong. Set a boundary and if it has been crossed, don't hesitate to walk away.
ADVERTISEMENT - CONTINUE READING BELOW
After a stressful family reunion, give yourself time to calm down or unwind. You can indulge in self-care, or vent out to your partner or friends—and don't ever feel guilty about it!
Comments
Load More Stories