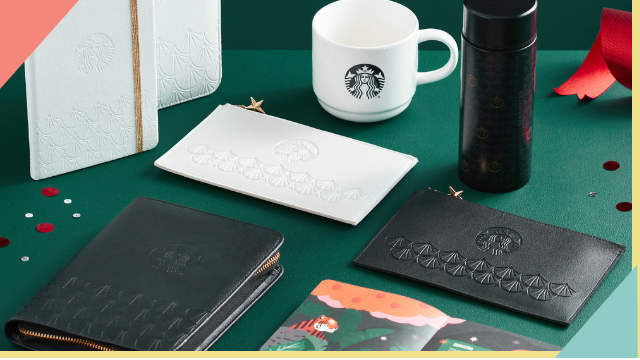 Megan, a work-from-home writer, is preparing to collect Starbucks stickers for her 2022 planner even if after nearly two years of COVID restrictions, there's not much on her calendar.
Getting the coveted planners every year satisfies her twin cravings—good coffee and beautiful stationery. Until things get better, those simple joys and a sense of victory are hard to beat for Megan and the many others who make collecting stickers an annual Christmas ritual.
ADVERTISEMENT - CONTINUE READING BELOW
"I might unconsciously collect with how frequent I order," said Megan, who declined to give her full name. And even if she falls short of the 18 stickers, she still has the option of buying someone else's spare planner like she did for 2021.
Megan couldn't go out like she used to, but writing down the work meetings, video call catch-ups, and little errands helped her make the days more tangible during a lockdown that seemed to warp time.
"We need it for work and getting our to-do lists together," she said. Pandemic or not, the world spins on and Megan follows suit.
Psychologist Ali Gui said the pandemic shouldn't stop people from planning ahead. "Planning is how we cope with uncertainty," she said.
LIFE KIT: A Planner Makes More Sense Now Than in 2020, Here's Why
Like it or not, the Starbucks Planner is a status symbol
For people like Megan, the planner is a byproduct of her romance with coffee. She'll consume coffee regardless of season or flavor and she could fill up a sticker book for some other freebie some other time of the year.
Then there are those who deliberately order holiday menu items within the promo period just to secure the planner. Quinn, a photographer, only goes to Starbucks in November, specifically to collect planner stickers.
Quinn isn't after the coffee the same way Megan is. During her school days, she bought coffee-free, milk-based drinks "and begged my mom to use my card whenever she has coffee with friends," she said.
Some don't even care about the quality of coffee or using the planner. Owning it was enough-that seemed to unlock membership into an exclusive club of planner owners who could afford it.
Splurging on coffee, especially on branded ones from pretty cafes, is a status symbol. "I think being able to afford it frequently to get a planner takes that exclusivity a notch higher," Megan said.
Owning a planner from your cafe of choice is indicative of prestige and class, even if barely used, if used at all. For competitive Quinn, satisfaction came in getting her hands on the cool thing first.
ADVERTISEMENT - CONTINUE READING BELOW
"It was hard to stand out or even fit in or be interesting, so being one of the first few people to get the planner gives you something to talk about," Quinn said.
"My classmates and I would compare sticker cards to see how many na lang kailangan," she added.
MORE LIFE KIT ON MENTAL HEALTH:
Memes are Good for Your Mental Health, Science Confirms It
How to Get Rest When You're Always Feeling Restless
How to Avoid Death From Overwork Because Long Hours Can Kill You
So should you still collect stickers for a planner?
After two years of lockdown, it seems pointless to get a planner, but writing things down and planning ahead can help minimize the stress caused by the unknown. As more countries ease restrictions and developments in medicine bring the world closer to a COVID-19 treatment, a new normal approaches.
For those like Quinn, focusing on a short-term goal like collecting a planner can take their minds off work and stress. The sense of victory and accomplishment after completing a sticker book is a welcome sliver of joy, especially after another year of lockdowns.
ADVERTISEMENT - CONTINUE READING BELOW
Caffeine fiends and stationery collectors like Megan will still have their round of coffee and planner to boot. It is both a need and a want and if it adds a dash of color to your days without breaking the bank, it wouldn't be so bad.
And if you're the type who doesn't even like coffee and just wants to collect just for the sake of collecting planners, no one's stopping you either. Just take note that sticker books are out and digital stickers are all the rage now.
Load More Stories