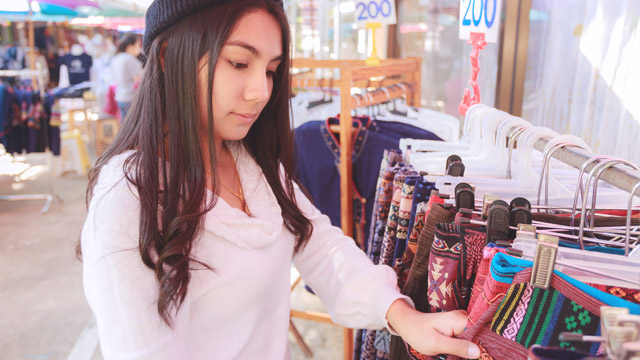 At your age, you're probably always on the lookout for awesome finds that can brighten up your personal space. While you're ready to splurge on essential pieces, it's still a plus if you can score deals on accessories and other items like pillow covers, dinnerware, and other home must-haves.
ADVERTISEMENT - CONTINUE READING BELOW
To help you make the most of your budget, we've rounded up five go-to places for your home needs. While these trips require a little travel time and tons of patience, we're sure that they will be worth it. Gear up for a shopping adventure and schedule your visit to these places:
1. Quiapo
Quiapo is one of the busiest hubs in the city of Manila. Aside from saying a prayer at the Minor Basilica of the Black Nazarene, if you're familiar with the place, you'll know that there will be soothsayers or manghuhula in front of the church. Walk further and be amazed at the stores offering bed sheets, plasticware, dinnerware, and even cleaning products.
To maximize your trip to Manila, keep in mind that you'll find different products along each street. There are also big stores offering products like hammocks, statues, clay jars, lanterns, capiz pieces, and wooden dividers. If you pass by Hidalgo Street, you will also find a shop selling ceramic plates, mason jars, and bowls.
ADVERTISEMENT - CONTINUE READING BELOW
2. Altheo Decors
If you don't mind traveling to the north, you're in for a treat and a bunch of unique accessories that can add an interesting touch to your space. Altheo Decors in Kamuning, Quezon City is a well-loved shop that sells crystal chandeliers, old glass lamps, and tableware, to name a few. Some of the items you'll see in the store are guaranteed to give your home a vintage vibe. A crystal chandelier can look good in the living or dining area, while glass lamps can serve as accent pieces in the garden. Looking for quality chairs that are within your budget? Find some here, too!
Altheo Decors is located at 103 Kamuning Road, Quezon City. Tel. (02) 352-2950
3. Divisoria
When it comes to affordable finds, who will forget the treasure trove that is Divisoria? You can find anything here—from sheets and pillows, to decor and dinnerware. Some are sold per piece, but you can score wholesale prices if you buy in bulk. When you visit, don't limit yourself to Divisoria Mall and 168 as the streets offer a variety of items you can't miss.
ADVERTISEMENT - CONTINUE READING BELOW
At Soler and Roman streets, there are plastic houseware, carpets, and foams. Meanwhile, along Juan Luna, you'll find an array of kitchen finds like trays, bowls, and plates in different sizes. Those who love to work on DIY furnishings will love Ylaya Street as it's considered a fabric haven—where towels and printed canvas and cotton are sold. Click here for a one-minute Divisoria guide.
4. Dapitan Arcade
A go-to place for quality overruns, this tiangge is considered a favorite by homeowners who love sprucing up their homes even with a minimal budget. The stalls are overflowing with tons of goods—from storage boxes and vintage decor, to furniture and lighting pieces. It's easy to get overwhelmed, given the hundreds of choices available. It's best to go to Dapitan early and armed with a shopping list so you know what to look for.
Are you working on a budget-friendly home makeover? Aside from furniture and lighting, you can also buy plates for as low as P20, accent chairs that cost less than P2,000, and sleek vases for P500 or less.
ADVERTISEMENT - CONTINUE READING BELOW
5. Budget Stores in Malls
When you're on the hunt for cute finds that don't cost a lot, many of us often run to the nearest budget store. Think Miniso, Mumuso, and Daiso—these stores have awesome finds that cost P100 or less, with a few must-haves not going beyond the P1,000 price range.
When you drop by, make sure you check out the chic organizers, cute teapots, and other kitchen essentials like pans, cutlery sets, and hand towels. The bonus? There are items available in sweet, pastel colors that can double as decor, too.
This story originally appeared on Realliving.com.ph.
* Minor edits have been made by the Femalenetwork.com editors.
Comments
Load More Stories