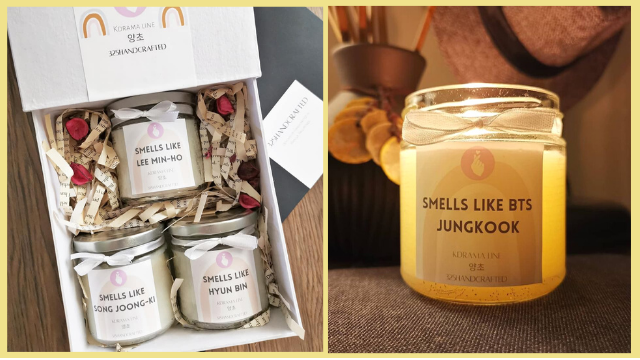 I'm a big fan of scents. Whenever there's something new and exciting in my life (like a career change, a concert I'm attending, or a trip somewhere), I would buy a bottle of perfume and use it just for that specific moment, so that it will remind me of good memories. I'm also a Korean culture enthusiast, and when I found an online shop selling scented candles that smell like my favorite oppas, you bet I was super thrilled!
325handcrafted offers handmade candles with scents that are similar to perfumes used by some of our favorite Korean stars like Hyun Bin, Song Joong Ki, Lee Min Ho, and BTS' Jungkook. How did they do this? They researched the go-to scents of these Korean celebrities and replicated them by using premium fragrance oils.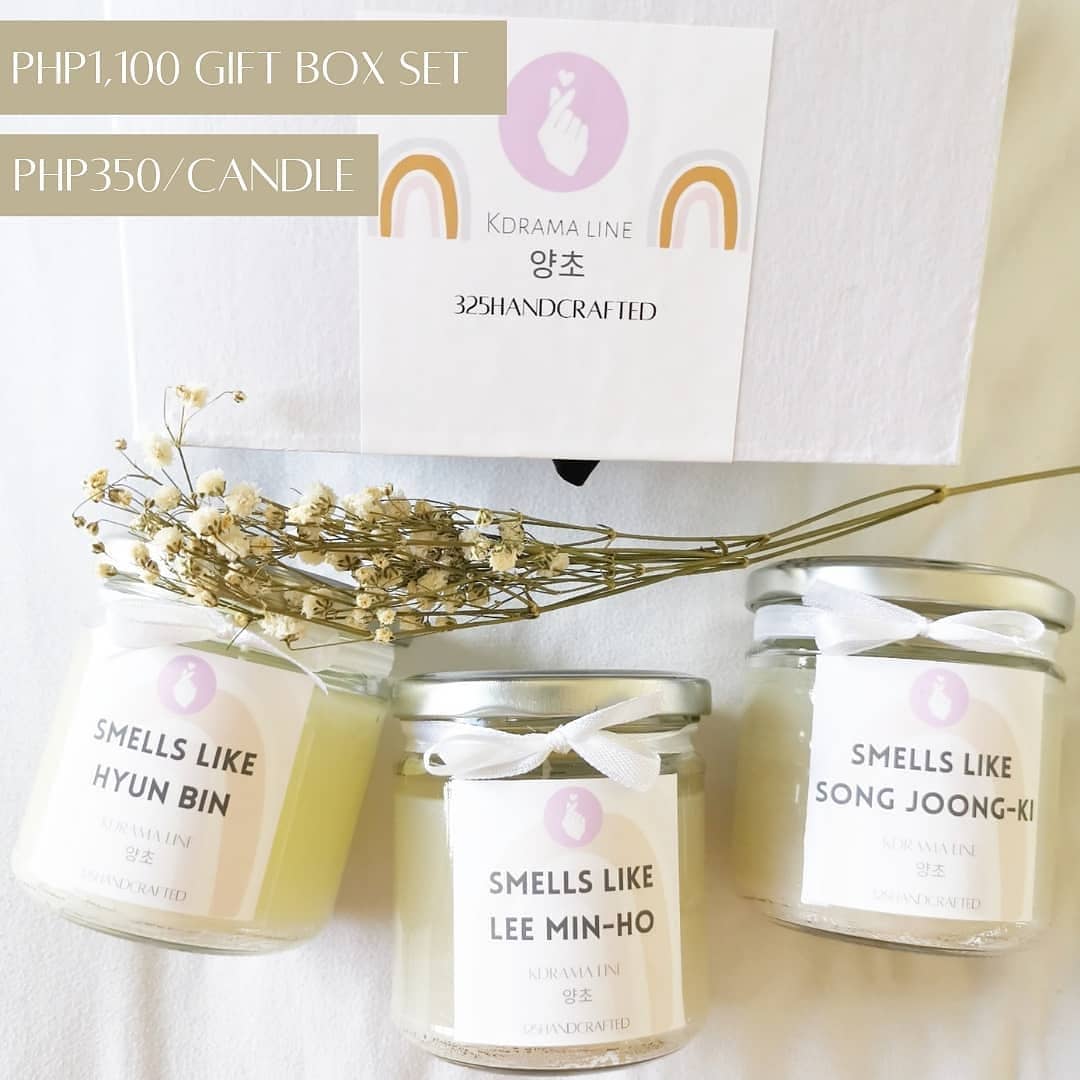 ADVERTISEMENT - CONTINUE READING BELOW
In an exclusive email interview with Cosmopolitan Philippines, Melissa from 325handcrafted explained the inspiration behind their K-drama line: "I was talking with my childhood friends in our group chat and everyone was pitching in their ideas. My friend, Julie, suggested for me to make oppa scented candles because a lot of Filipinos are K-drama and K-pop fans, myself included. The idea made me so excited that I experimented on it the next day. After that, I released my first three oppa candles the following day." Melissa also mentioned the meaning behind their brand name, which stands for a special day in their business—3/25 or March 25.
Now, you might be asking: What do these oppa scented candles smell like? First and foremost, they all smell heavenly and are based on the perfumes they wear in real life, according to Melissa. The Hyun Bin-inspired candle has notes of rich musk and sun-kissed citrus, and gives off a warm, cozy, and romantic feel. The candle that smells like Song Joong Ki is described as a very masculine, woody, floral, and bold scent. On the other hand, the Lee Min Ho-inspired candle is a fresh and elegant scent with notes of darjeeling tea and citrus. If you're an ARMY, they also have a Jungkook-inspired candle that has a sweet citrus and floral scent, and is more on the feminine side.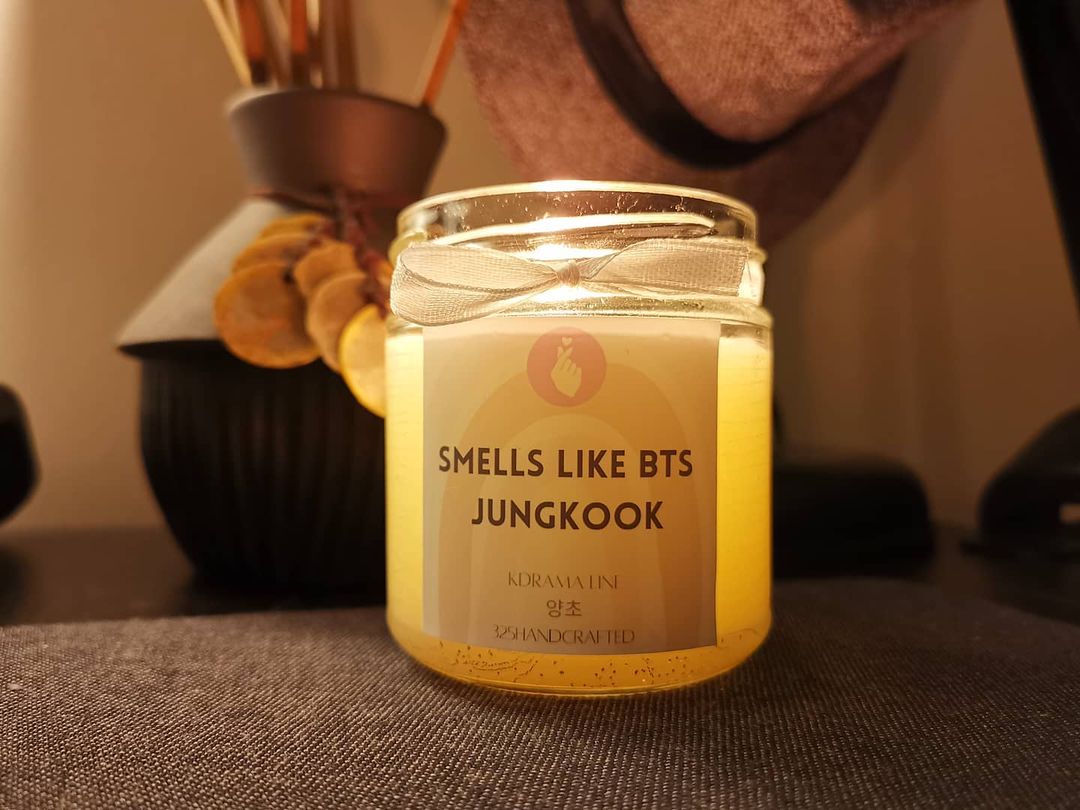 Looking for your other oppas (we know you have 99+)? Don't worry—325handcrafted is currently working on creating other scented candles for their K-drama line, which includes candles inspired by Park Seo Joon, Gong Yoo (which has refreshing notes of rose, jasmine, warm spice, and amber), and BTS' V. 
ADVERTISEMENT - CONTINUE READING BELOW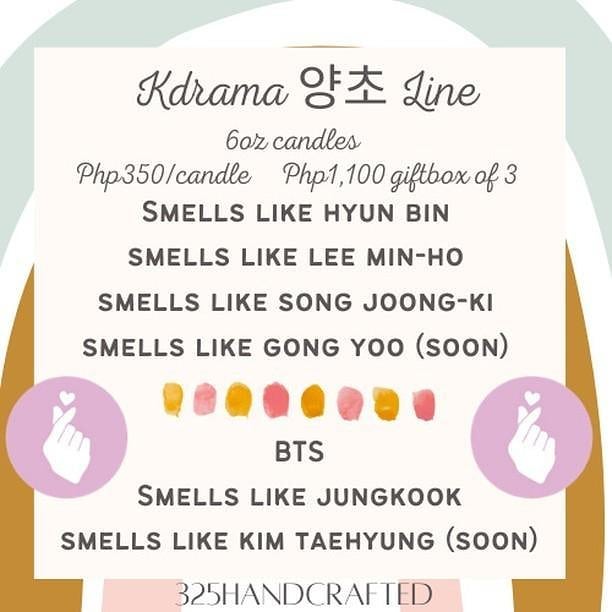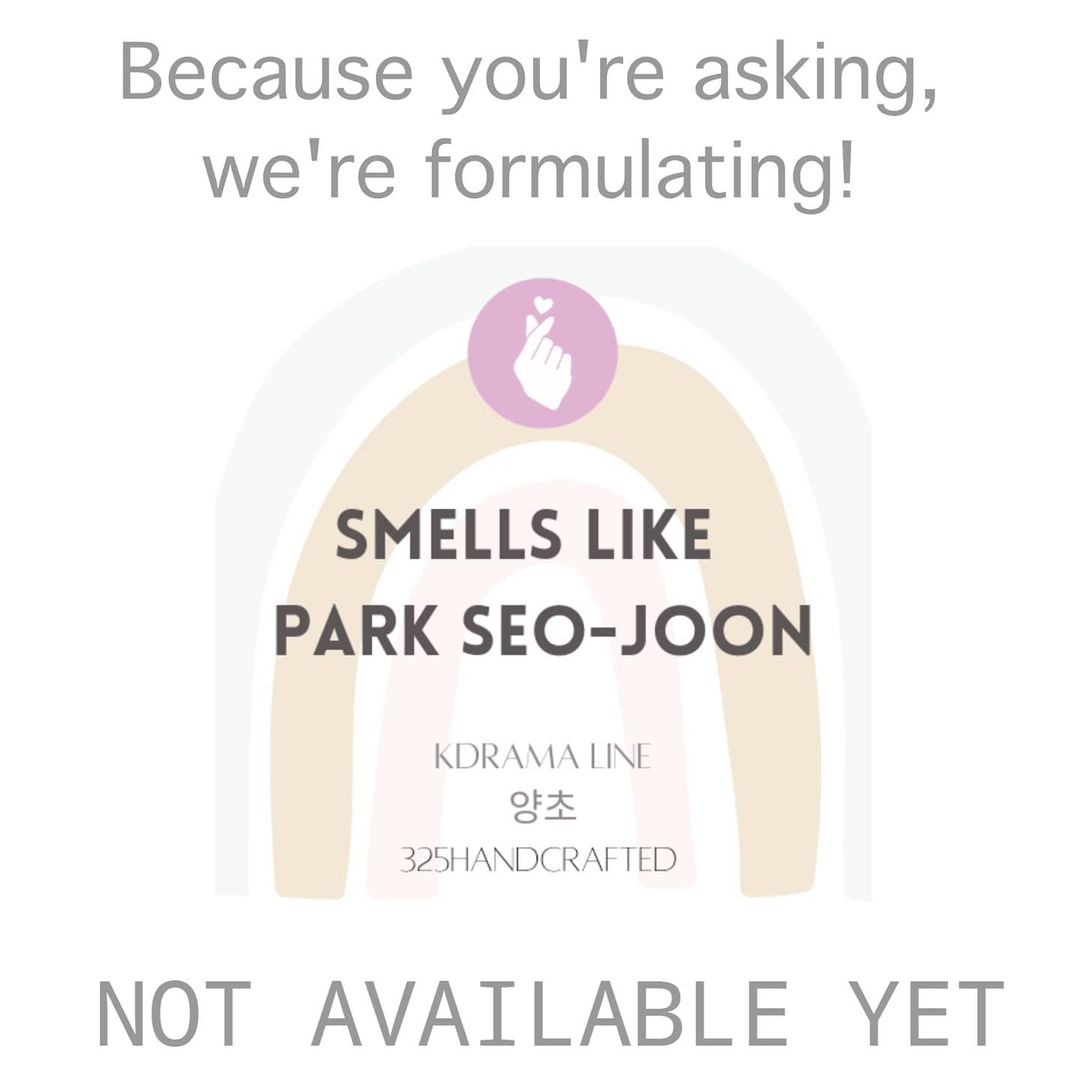 ADVERTISEMENT - CONTINUE READING BELOW
Ready ka na bang mag-amoy oppa ang kwarto mo? You can purchase a scented candle from their K-drama line for P350 each, or avail of their gift box for P1,100 para inspired at happy ka every day! Go and send 325handcrafted a DM on their Instagram account for more details.
*Answers have been edited and condensed for clarity.
This story originally appeared on Cosmo.ph.
Load More Stories