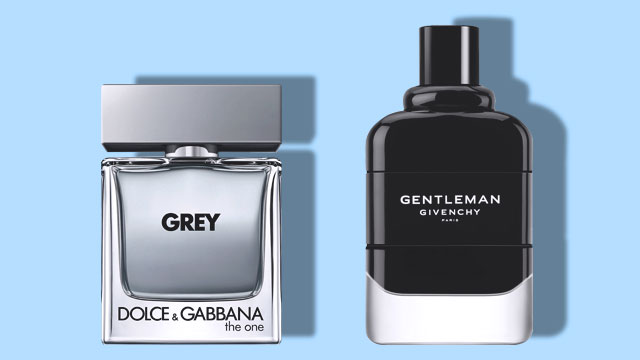 Just dropping by to help you with that big task you're having a hard time doing: getting your boyfriend or husband a gift for Christmas.
We know that perfumes are no-brainers. They make a big impression. They offer an instant benefit. They're easy to wrap. And they're usually found in one place.
ADVERTISEMENT - CONTINUE READING BELOW
The tricky thing is choosing the best scent for the person you're giving it to. He may be inclined toward smelling like a freshly peeled lemon, or maybe he's interested in projecting power. Here are different kinds of perfumes for your man to choose from:
The Man About Town
He has a natural charm that makes people want to be around him and also do whatever he says. 
CONTINUE READING BELOW
Recommended Videos
TRY: Givenchy Gentlemen Eau De Parfum. An overdose of iris padilla, patchouli, and black vanilla exudes sensuality. Best for night.
The Non-Stop Overachiever
He wakes up at 4:50 in the morning, breezes through his to-dos with a smile, and carves out time for the gym (because he still has time!). He tried slowing down but just could not stand it. His drink of choice is coffee.
ADVERTISEMENT - CONTINUE READING BELOW
TRY: Coach Platinum. A sensual woody fragrance that is based on the ultimate lifestyle city, New York City.
The Fearless Dreamer
Young at heart, he believes he can do anything, including devouring bowls of pasta without gaining weight. He's that guy who always says yes. He's sometimes like a puppy trying to climb the stairs.
ADVERTISEMENT - CONTINUE READING BELOW
TRY: CK One Platinum. With notes of green apple, pink pepper, and vetiver, this is bright and dynamic.
The Classic Gentleman
No doubt he is a man's man: wears suits, loves cars, collects watches. He makes the best cocktail, which, for him, is a vodka neat. He's also thinking of playing with old motorcycles or cars.
ADVERTISEMENT - CONTINUE READING BELOW
TRY: Dunhill Century. The citrus-bergamot blend develops into a distinct musk. This one stays close to the skin.
The Weekend Nomad
He thrives in the city, but retreats to a quiet and green place whenever he can. The beach, the forest, the mountains are important parts of his life. He's not a granola-cruncher, mind you, but a man who seeks balance.
ADVERTISEMENT - CONTINUE READING BELOW
TRY: Bulgari Man Wood Essence. This is a new kind of green scent. Starts with bright citrus before developing into bold woods, a mix of forest-y cyprus and smoky cedar.
The Undoubted Boss
He doesn't shrink away from a challenge like, say, flying a helicopter or leading a large group of people. Maybe he is a tad cocky. Maybe he is your grandfather who commands attention just by breathing.
ADVERTISEMENT - CONTINUE READING BELOW
TRY: Issey Miyake l'eau Super Majeure D'issey. Think of this as a roaring wave: sea salt, sun-seared wood, dark patchouli, and black vanilla. It's aromatic and potent.
The Beguiling Charmer
He's a character: elegant and curious, refined and magnetic. Maybe he wears a suit to an open-air market. Maybe he plays a bastard-king on a popular TV show on its final season.
ADVERTISEMENT - CONTINUE READING BELOW
TRY: Dolce&Gabbanna The One Grey. Opposites collide with aromatic cardomom and earthy vetiver. Ambergis gives this an addictive quality.
Man of the Moment
His Instagram Stories is updated always and often, because his favorite thing to do is whatever he is doing right now. He's always on the way to somewhere, and on weekends, it's no different. Forget Netflix! The city filled with many things to enjoy.
ADVERTISEMENT - CONTINUE READING BELOW
TRY: Paco Rabanne One Million Lucky. Hazelnut, plum, and fresh ozone (!) make up the vivid scent. This starts out sweet like a fruit but dries down into something sexy. Please also take a look at that bottle, a chunky gold bar.
This story originally appeared on Esquiremag.ph.
* Minor edits have been made by the Femalenetwork.com editors.
Load More Stories