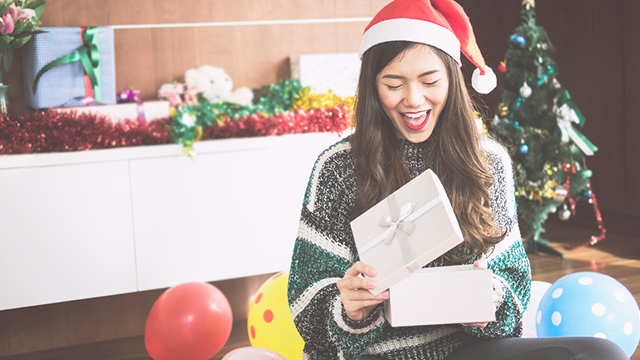 We might not say it out loud, but for Christmas, we already have a list of things we wish we won't get. (Can the mugs, bath towels, hand cream, and socks stop please?) However, shopping for a Christmas present that will be truly loved is one of the hardest things to do, especially if these people are special — your family, your significant other, your best friend, or your boss for example. You want gifts that will make them happy, not something that they'll have to pretend to like just to avoid disappointing you.
ADVERTISEMENT - CONTINUE READING BELOW
So for you to get this love language right, you'll need to ask yourself these questions before picking out a gift for them.
1. What is your relationship with the recipient?
All gifts start with a price range. It's not about you being cheap — that's just how gift giving works.

Your emotional connection with the person receiving the gift will also be a factor on how big the gift will be or how personal it is. Think about it: you won't give an expensive bottle of wine to a person you've just met, even if they really like wine.

That said, the gift of experience is greater than tangible presents, and science actually backs it up. In a 2016 study published in the Journal of Consumer Research, participants were given a small amount of money to buy a friend either an experiential or a material gift, and recipients were asked to rate the strength of their relationship with the giver before and after getting the present.
Friends who received movie tickets and other experiences reported that they felt closer to their friends who gave them the experiential gift compared to those who gave shirts and posters to their friends.

"Experiential gifts evoke greater emotion than material ones and it's that emotional intensity that makes us feel more connected to the giver," says Cassie Mogilner Holmes in an interview with Forbes. She is a co-author of the study and an associate professor of marketing at the UCLA Anderson School of Management.

And this isn't just for adults — when it comes to gifts, kids have said that they would prefer to go on vacation with their family than receive a physical gift, like a toy.
2. How personal is your relationship and do you have shared experiences that will give meaning to your chosen gift?
Relating a material present to an experience can make the recipient more appreciative of the gift. It can emphasize your emotional connection and how deep your relationship has become.

"I gave my husband a watch, which was a material gift, for our anniversary," said Holmes in a radio interview at Wharton University. "But I wrote this long letter about how it is looking to evoke the time that we have spent together and that when he is wearing it. I am hoping that it sort of signals and reminds him of our time and relationship, and the experiential aspects of that watch."
ADVERTISEMENT - CONTINUE READING BELOW
3. What does the person value the most and can it be turned into a gift?
We asked moms what they would really like as gifts and it turns out they'll choose sleeping, relaxing all day, or having me-time over material gifts like jewelry, flowers, and chocolates.

People feel happier when they spend money on time-saving services (like housecleaning or grocery delivery) than on material items such as clothes and wine, a 2017 study found, but they're often hesitant to spend money on these because they feel guilty about paying someone to do the chores they dislike.

If you're going to give gifts, you might want to consider gifts that will help them save on time. If it's for your BFF who is also a mom, you might want to offer to look after the kids. For hubbies, you might want to hire cleaning services (find a list here.)
ADVERTISEMENT - CONTINUE READING BELOW
Don't overthink the gift and find something you know they'll love, even if they don't know it yet. For that, remember the following things:
1. When they say they want something, listen, and take note.
The joyful look on their face when they finally get their hands on something they've been hinting at (or in the case of kids, begging) for months is even better than surprising them with a gift you're not even sure they'll want.
2. But don't be overly practical.
Just because your kids need new notebooks for school doesn't mean it's going to be their Christmas gift. Try a little harder!
3. When in doubt, give them flexible options.
Giving them a gift certificate isn't necessarily a bad thing, but make sure it's for something that they'll enjoy. Your girlfriend/wife might appreciate a gift certificate to a spa, where she can choose which services to avail or your gamer boyfriend/husband might appreciate a gift card that will let him buy all his favorite games.
ADVERTISEMENT - CONTINUE READING BELOW
This story originally appeared on Smartparenting.com.ph.
* Minor edits have been made by the Femalenetwork.com editors.
Load More Stories