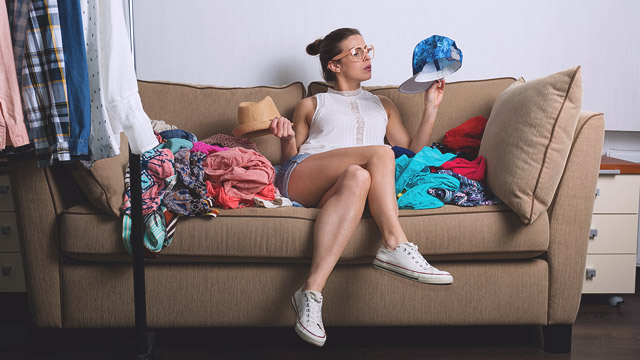 Decluttering can bring a sense of relief, especially if you've just cleaned out a cabinet filled with things you've hold on to for decades. We've all read tips about tossing away items we no longer use, but how do we deal with those we can't seem to let go of? "Keep only what you love and use, period. It's that simple," says professional organizer Kathleen Ong. To help you organize the items you want to keep, here are must-dos to keep in mind:
1. Store the things where you use them.
Maintain a streamlined space by properly segregating your belongings and keeping these in a designated area. Having bins or catchalls is ideal—use these to keep the items in place. For example, kitchen items can be placed in a tray you can keep in a cabinet or a drawer. Likewise, if most of the things you didn't discard are meant for the bedroom, keep them in one bin and store it under the bed or in your closet.
ADVERTISEMENT - CONTINUE READING BELOW
2. Categorize your belongings.
You can do this per area (see tip #1), per use (cleaning, decorating, accessories, etc.), or per season (summer, Christmas). Group similar items together and assign a spot for each group so you know where to get what you need.
3. Measure and double check the space before you buy storage containers.
The desire to keep the home clean and organized can inspire us to invest in pretty and sturdy containers. Before you get two or more containers (especially big ones!), make sure these can fit in the area where you plan to place it. There are homeowners who instantly buy plastic shelves and cabinets only to end up with a narrow space that won't be able to accommodate it. The last thing you want is to have extra clutter to deal with. Check what you need first before going to the store.
4. Practice proper labeling.
Those who prefer multicolored bins are familiar with the struggle of opening five or more containers before finding what they need. Depending on the type of storage you want to use at home, make sure you label each properly so you can locate the things you need easily. Be guided by these labels as well and avoid stashing items in the wrong containers.
5. Prep a donate box you can place in a hallway or near your bedroom.
There are days when we simply want to organize and separate the things we really use from those that can be discarded or donated. Instead of leaving the items for donation in the storage room or in a corner of your closet, have a donate basket or box at the ready so you won't forget them. Once the box gets full, deliver it to your chosen charity ASAP.
6. Make up your mind and stick to your decision.
Once you've decided to let go of something—a shirt you love, a book, or any other item—stick to your decision and toss it in the donate box or trash bin. "Decide then take action, pronto! Indecision produces clutter," says Kathleen. Don't overthink it—if you no longer need it, if it's not useful anymore, or as Marie Kondo puts it, it doesn't spark joy, it's time to let it go and make space for more practical must-haves.
This story originally appeared in the January 2006 issue of Real Living Magazine.
*This story orginally appeared on RealLiving.com.ph.
Minor edits have been made by Femalenetwork.com editors.
Load More Stories