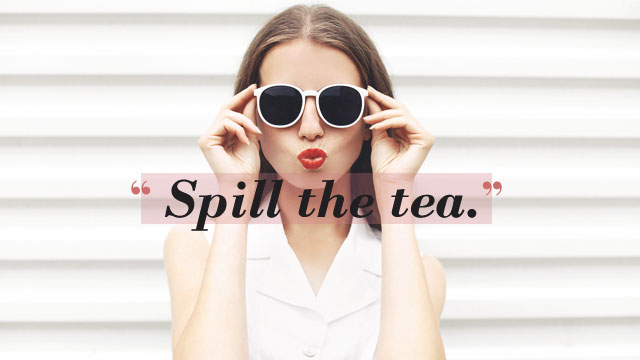 The passage of time has proven that language is constantly evolving. After all, no one really uses words like "rad" or "olats" anymore. To sound "youthful" in your day-to-day conversations, check out our roundup of the new slang terms millennials are using nowadays.
Finsta
Instagram's great and all, but it can get stressful trying to achieve the perfect feed. You might want to consider getting a "finsta"—short for "fake Instagram," it's an alternative (and often private) account on the social media platform that's more genuine and not quite as curated.
ADVERTISEMENT - CONTINUE READING BELOW
Examples:
"Did you see her selfies on her finsta?"
"Hmm, you might want to post them on your finsta instead."
GOAT
This slang acronym stands for "Greatest Of All Time," and is commonly used as a form of praise or to express your admiration for one of your idols.
Examples:
"When it comes to tennis, Serena Williams is GOAT."
"Thank you so much, you are GOAT!"
Throw shade
The idiom "throw shade" has been around for ages, but it's now frequently used in casual conversations, specifically related to insults. Its everyday usage doesn't stray from the original meaning of the idiom, which is to diss someone or express disgust. Other forms include "shady" and just using "shade" as it is.
Examples:
"Javi was totally throwing shade at you earlier."
"What he did was definitely shady."
Receipts
These aren't the financial records you check every month while balancing your check book—"receipts" is another term for evidence, usually in the form of screenshots of text conversations and tweets.
Examples:
"Don't say you never called me slutty on Twitter! My friend has receipts!"
"I took screenshots so that I have receipts!"
Glow up
A "glow up" is a marked improvement in someone's appearance. The term is usually used when discussing how one looks after going through a makeover of some sort.
Examples:
"You have had a major glow up ever since you got that haircut!"
"Oh my god, Bianca's glow up is so real."
Tea
Although today's young ones like to "sip the tea," they don't necessarily refer to the small early-afternoon meal with British origins. Short for "truth" (as in, the letter "T"), the slang term refers to a delicious tidbit of gossip.
Examples:
"Girl, come over—I have some piping hot tea."
"Oh my god, spill the tea!"
Thirsty
You can use this slang term two ways. It can pertain to someone who is turned on and feeling a little...frisky, but you can also use it to describe someone who's desperate for attention.
ADVERTISEMENT - CONTINUE READING BELOW
Examples:
"Tbh, Miguel's recent IG photos are making me really thirsty."
"Yeah she's nice and all, but I feel like she was just way too thirsty."
Thicc
To be "thicc" is to have gained a bit of weight—but don't mistake it for a new term used to fat-shame! Coupled with the rising prevalence of body positivity, to be "thicc" and curvy is something to be celebrated.
Examples:
"I love how thicc Rihanna has been recently."
"Ladies, I am thicc and proud!"
Aesthetic
Although traditionally the word refers to a certain highly defined style (i.e. the Cubist aesthetic, or the pop art aesthetic), nowadays "aesthetic" has simply come to mean something that is visually appealing.
Examples:
"Sofia Coppola's films are very aesthetic."
"OMG, your IG feed is so aesthetic!"
Stan
To "stan" someone is to support and look up to a person (usually someone famous). You can use the slang term both as a verb (as in, "to support someone"), or as a noun (in lieu of the word "fans").
ADVERTISEMENT - CONTINUE READING BELOW
Examples:
"We stan legends only."
"These Harry Styles stans are crazy!"
This story originally appeared on Spot.ph.
* Minor edits have been made by the Femalenetwork.com editors.
Load More Stories