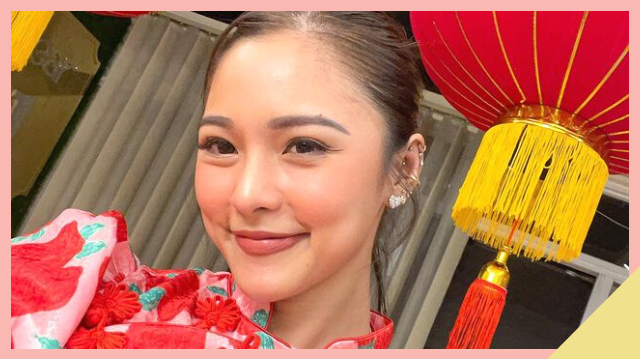 As Chinese New Year approaches, Kim Chiu is busily making the final preparations for the rituals she and her family have been setting up since the start of February to welcome the Year of the Metal Ox.
In a vlog on YouTube dated February 6, 2021, Kim shared some of the traditions her family religiously follows every year. 
This 2021, Chinese New Year will be celebrated on February 12.
Prosperity basket is a must
First on the list of Kim was, of course, to fill the Prosperity Basket, which she made sure is placed on the luckiest area of their house.
In feng shui, an overloaded Prosperity Basket means an abundance of wealth. It also makes sure that there is a constant inflow of wealth.
In her vlog, Kim said, "We always have this kapag bagong taon." Her sister, Lakam, added, "Prosperity basket is a must kasi dito ka magtatanim ng buong luck mo for the entire year.
ADVERTISEMENT - CONTINUE READING BELOW
"'Tapos pagkatapos mo mag-alay, kakainin mo yung bigas for more luck, success, and good health."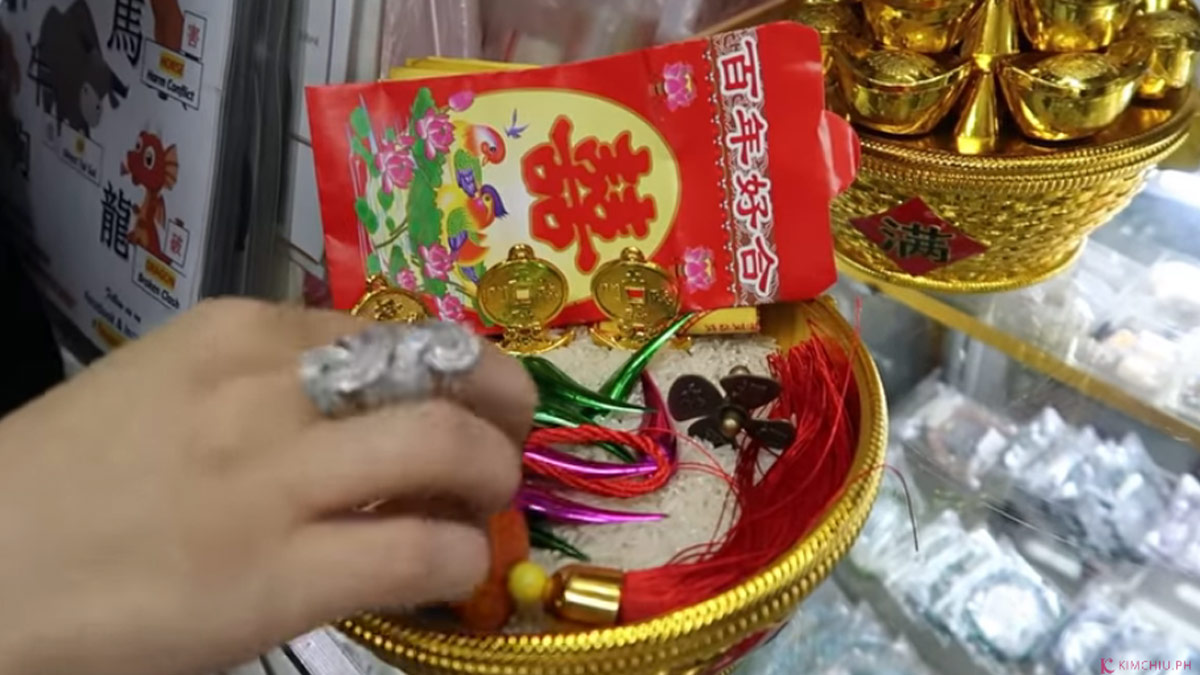 Sandalwood incense to enhance luck 
To enhance her career, finance, and travel luck, Kim has also been "recharging" her feng-shui enhancers—horse statues and figurines—with the smoke of sandalwood incense. 
Kim's instruction was: "In order to charge, iikot natin ito ng counter-clockwise, but, first, say your intentions, kung ano yung gusto mo. Pray from the heart and everything."
To end the ritual, Kim said thank you by bowing three times towards the sky.
The sandalwood incense is also useful in sanitizing second-hand or pre-loved items. Kim said, "Yung sandalwood, you can also use this kapag bumili ka ng mga second-hand na mga gamit like bags or sofa, kahit ano na mga second-hand para mag-recharge or rebirth, to get rid of the bad vibes energy."
Ponkan to roll in money
Kim also shared some of the food they've been preparing for the Chinese New Year.
Tikoy, according to Kim, is "for harmony and balance... and dumikit yung mga swerte in life. Kakainin mo yung Tikoy kapag sumapit na 'yung 12 midnight or 12 onwards. Basta on that day of February 12, kumain ka ng Tikoy."
Noodles or Pancit is "for long life," which is why it is also always present in birthday celebrations of Filipino families.
Steamed fish is the centerpiece of her family's handa, which Kim explained, "Ang fish represents abundance and pasok daw ng mga swerte... basta natutunan ko lang iyan sa lola ko."
To be sure, round fruits such as Ponkan or Kiat-kiat fill the food basket.
Kim said her family has made it a tradition to roll the Ponkans from their main door going to their house. "Kasi sa Chinese, ang Ponkan parang gold. Sa New Year, pinapagulong pa namin yung Ponkan sa main door papasok ng bahay para pumasok daw yung money."
Kim said they will also be preparing shrimp dishes, "It represents abundance din daw also kasi tumatalon-talon din daw 'yung shrimp."
Greens and round-shaped dimsum will also be on their dining table. She said, "Bokchoy, mga greens. Dapat meron ding greens sa hapag ninyo and dapat meron ding mga siomai, mga bilog-bilog.
"Anything na mga bilog, this is the day na ilabas niyo na yung mga bilog ninyo."
Write down wishes, don't clean the house, and find wealth sector
One of the Chinese New Year traditions Kim has learned from her grandmother is to not clean the house for three days at the start of the Chinese New year.
ADVERTISEMENT - CONTINUE READING BELOW
She said, "Huwag linisin yung bahay in the first three days. Sa 15 ka pa maglilinis kasi sabi nila, aalis daw yung swerte. Hindi ko alam, sabi lang ng lola ko pero yun yung ginagawa namin for so many years. So huwag maglilinis ng bahay, kahit sobrang dumi na siya, okay lang yun."
Kim also does the wishing paper ritual.
In feng shui, the wishing paper ritual is done by writing your full name on a wishing paper along with the list of all your wishes for the year. The wishes or intentions should be written in full detail. The wishing paper should be burned by the strike of 12 midnight of the Chinese New Year's day.
Kim also makes sure to enhance the "wealth sector" of her house days before the Chinese New Year. For Kim, the west area of her house is her wealth sector for the year.
She said, "Lagyan niyo ng masayang area doon like flowers, TV or like radyo, speaker."
Meanwhile, the areas that aren't lucky for Kim are southeast, north, and northwest.
What a Feng Shui master says
To find out which areas of her house are lucky, every year, Kim consults with various feng shui experts.
One of them is Johnson Chua of Fengshui Sunrise in Binondo, Manila.
In her vlog, Kim said, "First, ang ginagawa ko is to visit a feng shui expert, which I always do yearly. And this time, I will visit Master Johnson of Sunrise Feng Shui dahil ilang years na rin namin siyang feng shui master. And meron pa kaming pinupuntahan na three more pero via Zoom lang sila. Takot silang mag-face-to-face."
According to Master Johnson, the Year of the Metal Ox is generally a good year, but people should still be cautious.
He told Kim, "2021 is a healing year. It's a comeback year pero huwag pa rin tayo maging aggressive. Huwag tayo masyado maging aggressive. Dapat conservative play tayo at dapat matuto na rin tayo mag-budget."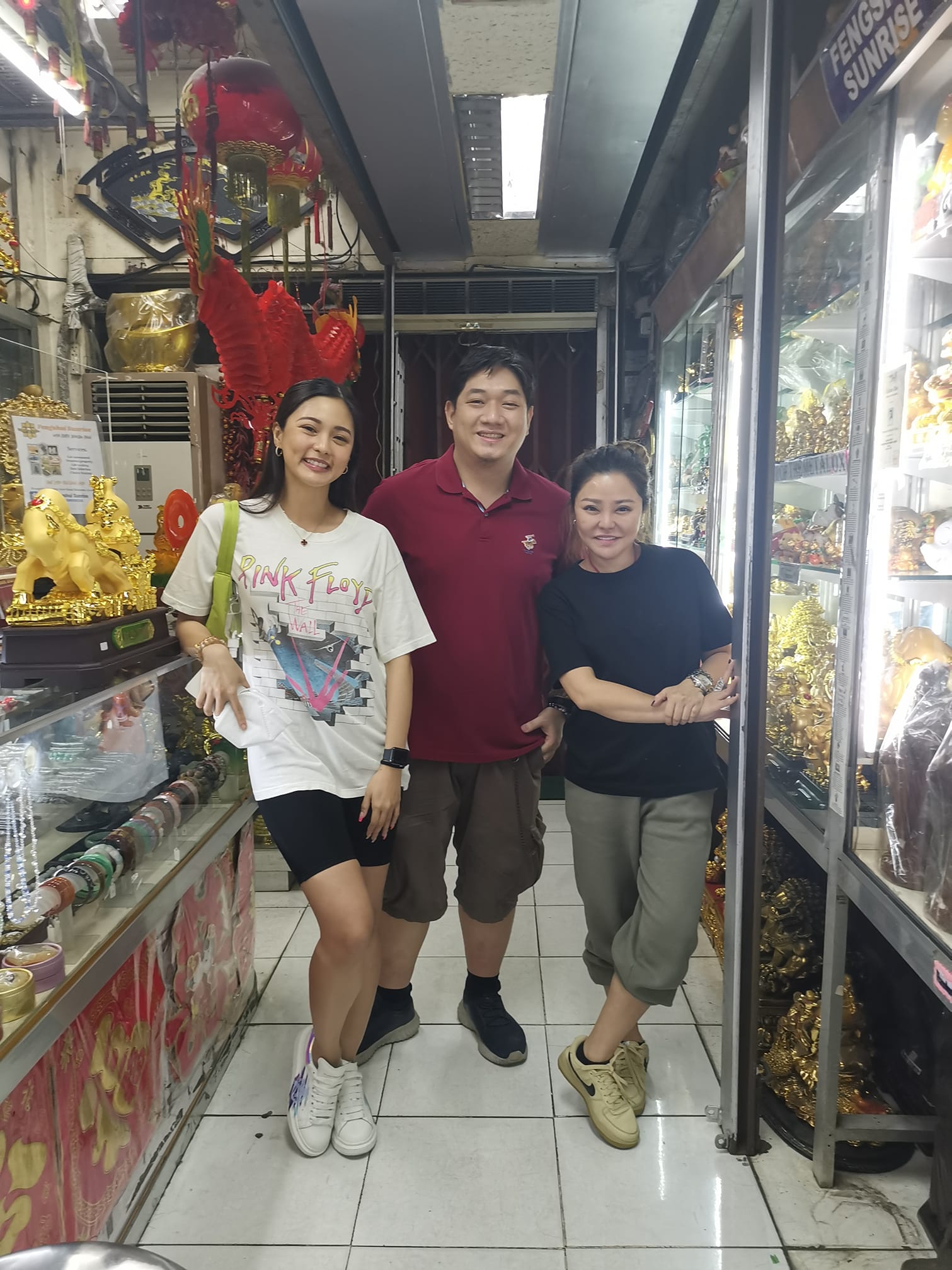 Is your Chinese zodiac lucky this year?
Master Johnson also listed the ranking of the luckiest Chinese Zodiac.
The feng shui expert said 2021 is lucky for those born in the years of the Rooster (1945, 1957, 1969, 1981, 1993, 2005, and 2017), Monkey (1944, 1956, 1968, 1980, 1992, 2004, and 2016), and Tiger (1938, 1950, 1962, 1974, 1986, 1998, and 2010).
The Year of the Horse (1942, 1954, 1966, 1978, 1990, 2002, and 2014) ranks fourth on the list. Being born in 1991, the Year of the Metal Horse, Kim feels assured to know that this year will bring her more luck and positivity compared to 2020.
ADVERTISEMENT - CONTINUE READING BELOW
This is followed by those born in the years of the Dog (1946, 1958, 1970, 1982, 1994, 2006, and 2018), Pig (1947, 1959, 1971, 1983, 1995, 2007, and 2019), Rabbit (1939, 1951, 1963, 1975, 1987, 1999, and 2011), Ox (1937, 1949, 1961, 1973, 1985, 1997, 2009, and 2021), and Rat (1936, 1948, 1960, 1972, 1984, 1996, 2008, and 2020).
Meanwhile, Master Johnson said 2021 may be challenging for those born in the year of the Sheep/Goat (1943, 1955, 1967, 1979, 1991, 2003, and 2015), Dragon (1940, 1952, 1964, 1976, 1988, 2000, and 2012) and Snake (1941, 1953, 1965, 1977, 1989, 2001, and 2013).
Load More Stories