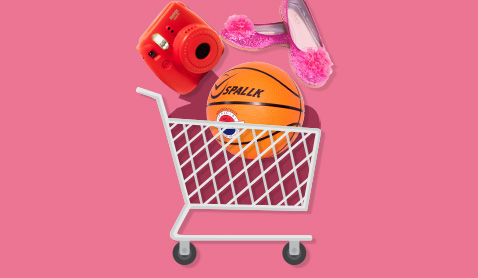 Shopping for children isn't always the easiest thing to do. Sure, you can always get them a generic doll or action figure, but given their short attention spans, they're bound to get tired of them in a few weeks. How do you pick out something tiny tots won't get tired of easily without breaking the bank? Read on for some tried-and-tested tips!
1. Buy clothes in larger sizes.
Kids tend to shoot up quickly, and you'll be surprised by how tall they'll suddenly become in the span of a few months. When you're shopping for their wardrobe, you should buy their clothes and shoes in a bigger size than what they usually wear—they'll be able to make the most out of it during their lengthy growth spurts.
2. Shop for gifts in advance.
It's only October, but it won't hurt to scout for Christmas gifts now! That way, you'll have lots of time to pick out the perfect gift for your bunso or inaanak, and if you're lucky, you might even get to score it at a discounted price. As a bonus, you'll also be able to avoid the long lines and the mad Christmas crowds!
3. Compare prices.
Before you decide to buy that toy racecar your nephew has been hankering for, try looking around the rest of the mall first for other options at better prices. Check out similar stores, and don't forget the department store, which carries a wide array of similar options at competitive prices.
4. Don't shop hungry.
If you're shopping with your kids, make sure they've been properly fed and watered before hitting the store. You don't want your child complaining about his growling stomach—or worse, throwing a full-on hunger tantrum—while trying on new shoes! Don't forget to drop by the restroom, as well, so your shopping momentum isn't disrupted.
5. Shop during sales.
Most stores usually hold big clearance sales before holidays to make way for new inventory. Watch the news to know when to hit the malls to get the most bang for your buck, and this also goes for kids' items. Some stores would even give further reductions on their last few sale days, so make a run for it!
Take advantage of the promos and sales this October, such as The SM Store's celebration of Kids' Month. Get up to 50 percent off on select children's merchandise, watch out for the promos, and take your pick from the new arrivals. Now's the time to score great deals on all things kid-related, from shoes and clothes to accessories and the latest, coolest toys. Shoppers can even receive free gifts from the SM Gift Registry!
Check out the gallery below for some of our fave finds from the SM Store this Kids' Month!
This article was created by Summit Storylabs in partnership with SM Store.