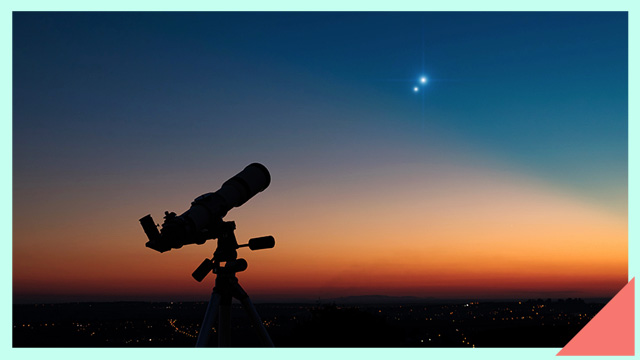 If you live somewhere in Luzon, you were probably woken up by an earthquake at around two in the morning. The magnitude 4.9 shaker, which was located 10 kilometers north and 30 degrees west of General Nakar in Quezon, was also felt in Metro Manila and some parts of Rizal.
ADVERTISEMENT - CONTINUE READING BELOW
With the earthquake happening so close to the Great Conjunction, a rare astronomical event wherein Jupiter and Saturn align, some people speculate that the latter was the cause of it.
The Philippine Astronomical Society, Inc. says otherwise.
"If you're wondering, the great conjunction has nothing to do with the relatively strong earthquake that we felt just now. It's just a coincidence," the Society notes on an early morning post on Facebook. "It's also good to keep in mind that the two planets appear close only from our perspective here on Earth. They are actually 714 million kilometers apart. From Earth, Jupiter is more than 886 million kilometers while Saturn is more than 1.6 billion kilometers. Rest assured that the conjunction of the two planets won't have any significant effect to Earth."
CONTINUE READING BELOW
Recommended Videos
ADVERTISEMENT - CONTINUE READING BELOW
So there you have it! The two occurences aren't connected to each other. Try enjoying this once-in-a lifetime planetary event, instead, as while the Great Conjunction happens once every 20 years, this one is pretty rare. According to NASA, "it's been 400 years since the planets passed this close to each other in the sky, and nearly 800 years since the alignment of Saturn and Jupiter occurred at night…allowing nearly everyone around the world to witness [it]."
While the exact moment of conjunction was not seen in the Philippines (as both planets were below the horizon when it happened) the separation was visible on December 22 from around 6:30 in the evening onwards.
If you missed it, you will still able to see Jupiter and Saturn together in the next few days, provided that the night sky won't be cloudy.
Load More Stories