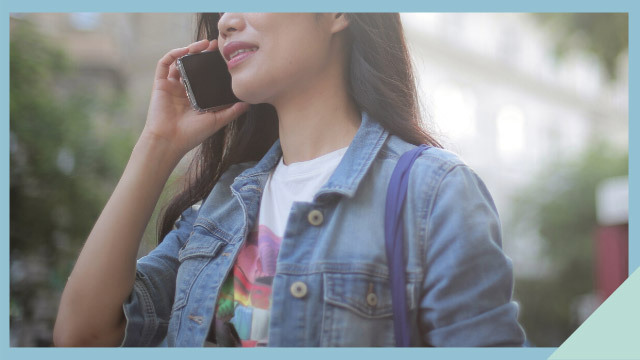 Grab is gearing up to restart its ride-hailing operations that were suspended over two months ago because of the coronavirus pandemic. One of its new policies is that Grab drivers are allowed to cancel rides if he or she finds that the passenger is not wearing a mask. 
ADVERTISEMENT - CONTINUE READING BELOW
This so-called "valid cancellation" goes both ways—passengers can cancel and report drivers if the driver is not wearing a mask.
During a call with media on Thursday, Grab officials laid out new safety protocols in preparation for the resumption of its operations beginning June 1. However, Grab Philippines President Brian Cu clarified that they are still waiting for the Land Transportation Franchising and Regulatory Board (LTFRB) to issue a special permit allowing the company to relaunch its Grab Car services.
"We're hoping for an announcement by Saturday or Sunday," Cu said. "Until then we just have to be ready."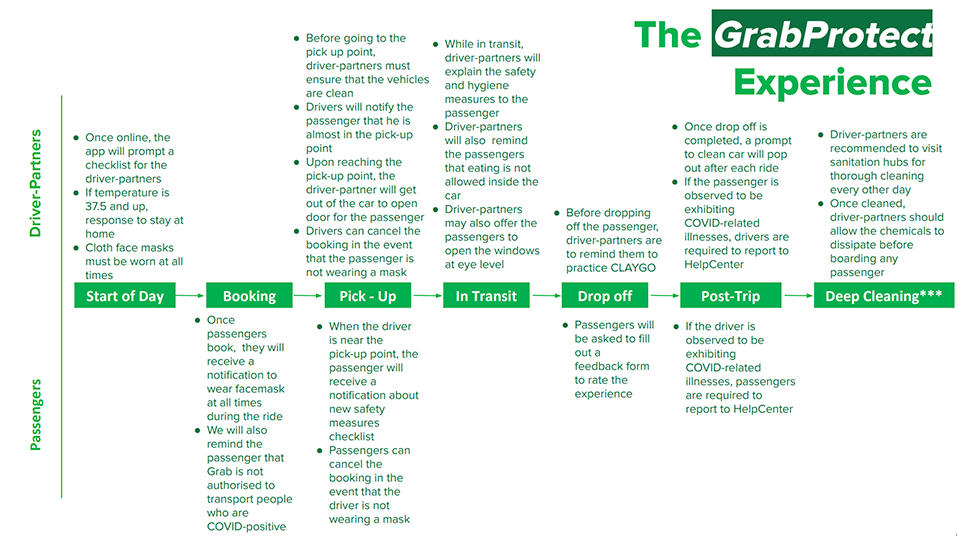 Grab's gameplan includes an entirely new system that embeds safety protocols into the ride-sharing experience from booking to disembarkation. On the driver side, they are required to complete items on a checklist before they even go online for the day: this includes taking their own temperature and sanitizing the vehicle with materials subsidized by Grab.
All Grab vehicles will now have a mandatory plastic shield separating the driver from the passengers. Officials said this is based on recommendations from the government's Inter Agency Task Force (IATF) on COVID-19.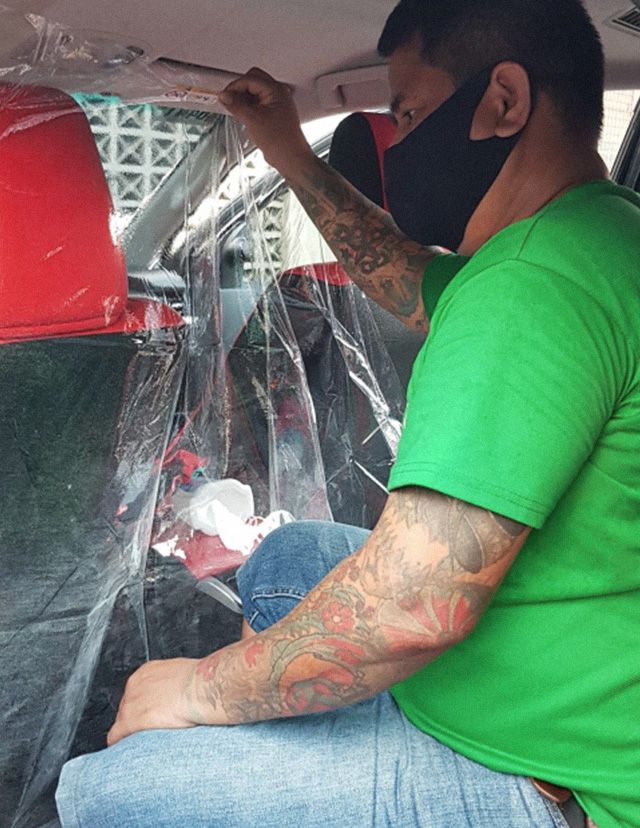 ADVERTISEMENT - CONTINUE READING BELOW
Other new policies include: 
- Maximum seating capacity for passengers is two, and they are required to sit beside the windows at the back.
- Passengers will no longer be allowed to book for others. Grab says this is to help the government in effective contact-tracing procedure when deemed necessary. Passengers are required to show their booking code to their respective driver-partner before entering their assigned vehicle. However, exceptions will be made in specific cases of emergencies wherein the destination is a hospital and the account holder or companion was the one who made
the booking.
- Driver-partners are required to open and close the doors for the passengers. Passengers are not allowed to open the doors themselves.
- Eating and/or drinking is not allowed inside the car, and passengers are required to clean after themselves.
- Grab will also require deep-disinfection of all the vehicles every other day. This will be done in partnership with select sanitation hubs who have deep-disinfection capability.
ADVERTISEMENT - CONTINUE READING BELOW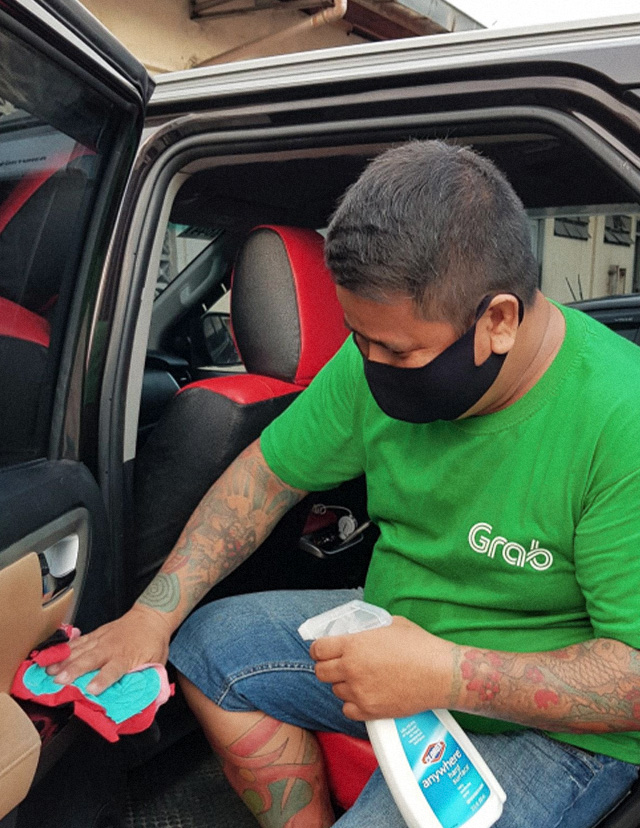 Grab will also not be accepting cash for rides when operations resume, which is also based on IATF guidelines. Instead the company is pushing for the use of credit cards as well as the adoption of its GrabPay e-wallet, which passengers can load up using a variety of ways.
ADVERTISEMENT - CONTINUE READING BELOW
Drivers will also sanitize the car using car-safe disinfectant after every ride.
Officials said drivers are not allowed to transport passengers that have tested passengers for COVID-19.
"We will alert the proper authorities in these cases," Cu said. 
Grab Philippines has also pledged to offer "full financial assistance" to its driver-operators that test positive for COVID-19.
A total of 10,000 Grab drivers have already undergone retraining and re-certification based on the new guidelines in its facility in Marikina City last week. Some 10,000 more are scheduled to undergo the same retraining course before the expected resumption of operations on June 1.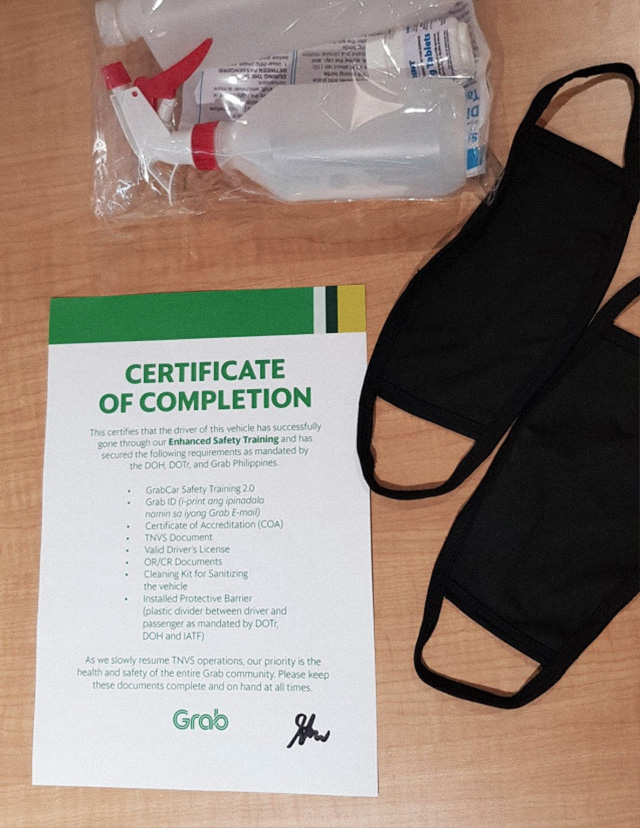 ADVERTISEMENT - CONTINUE READING BELOW
"We're overdoing it a bit, we know, but we think it's important that we take these steps, especially during the first few weeks of operations," said Ronald Roda, Grab Philippines' head of transport.
Grab itself said that it is not allowed nor does it intend to raise rates anytime soon. However, Cu said that the company does have a pending application for a P5 per trip "disinfectant and payment fee" with the LTFRB.
"This will cover the convenience fee charged by credit card companies as well as the expenses for disinfectants, which for now is being (shouldered) by Grab," Cu said. "But we have not heard from LTFRB yet about this."
The company said it has fixed the surge limit to 1.5x the normal rates and intends to lower its commission rate from the current 20 percent to 10 percent in order to get its drivers back on the road.
ADVERTISEMENT - CONTINUE READING BELOW
"We expect supply to be much more than demand especially during the first few weeks, so we don't expect any surge (price increase) any time soon," Cu said.
Load More Stories