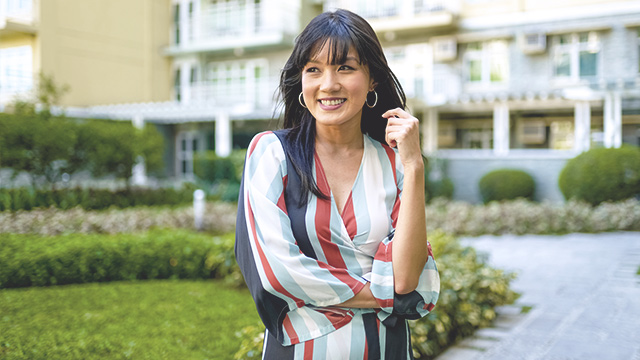 For many people who are busy with their thriving careers or raising their own families, giving back sometimes becomes nothing more than an afterthought; only taking center stage after a major calamity hits, or when a cause unfortunately becomes personal.
But just like exercise or clean living, committing to volunteer work is something that can only lead to even more positive choices. This time, not just for yourself but for other people as well.
ADVERTISEMENT - CONTINUE READING BELOW
FN's digital cover for December, social entrepreneur Lynn Pinugu, is proof of that. A journalism graduate who finished college as a scholar, 33-year old Lynn has since established multiple ventures that help communities like Mano Amiga Philippines, Bistro Cafe, and She Talks Asia. (Read the full #FNLifePeg feature here.)
During our interview, FN asked Lynn about what a typical 30-something reader swamped with work and other day-to-day activities can do to make the world a better place. Surprisingly, her advice isn't that hard to follow (in theory, at least):
"The first thing you need to do is to not be apathetic.
"Caring doesn't mean liking someone's post, or putting a sad face when you see something sad in the news," Lynn said.
"Living in the Philippines, you don't have to go far to find causes that you can support. There's just so many problems to address.
"For example, if you're a person who really cares about family, why don't you try to understand the situation of children who are abandoned, or girls who are sold into prostitution by their parents—there are so many things related to the things you value.
"And it does require a commitment to act.
"Whether it's simple like you donate or talk about these things to help raise awareness about the organizations that do something, or you actually donate your time, everything helps."
Following her advice, we laid out five simple ways for you to give back and make the world a better place in 2019:
ADVERTISEMENT - CONTINUE READING BELOW
Partner up with bigger institutions
If you're not sure where to start or are a little iffy about getting out of your comfort zone, you can try participating in company-wide projects (start with the CSR division) or connect with your alma matter and check out the list of communities they support.
Spread awareness and help connect people
You can start by sharing relevant Facebook posts (and monitoring fake news) to spread awareness, but try to take it up a notch by targeting who your share information with. Think of it this way, even if you don't have the funds to make a big donation, connecting a group in need, like a small social enterprise or a charity, to someone with money or the resources to give support can be YOUR way of helping. 
ADVERTISEMENT - CONTINUE READING BELOW
Donate a certain percentage of what you own per month, or sponsor an annual program
If you have time for online shopping, you have time to donate a percentage to groups who are in need. You can do it annually, or you can even just add one item to donate on your shopping cart each time. For example, did you know that you can sponsor a child for a whole year at P9,000 via World Vision? Or that you can help complete Child Haus' wish list every time you shop on Lazada?
Take advantage of technology, especially if you don't have a lot of free time.
Support businesses with good practices.
"You can hold businesses accountable by not supporting them if you don't agree with their values," said Lynn.
"The first thing you really need to do is to ask yourself, what is it I value? And then understand that every choice you make is like a vote for the kind of future you want to see. And it will now dictate the businesses you support, what you buy, how you spend your mornings..."
ADVERTISEMENT - CONTINUE READING BELOW
Likewise, you can also do your part by reporting bad practices to the authorities, or organizations who can do something about it. That said...
Use the power of social media
Use your voice and write letters to businesses who can do better, and show your support to those who are already doing something right. Imagine getting one food cart to stop using plastic straws, or helping make a campaign successful just because you shared their promo on your page. Again, every little thing helps.
Got more tips to share, or causes you want to talk about? Sound off in the comments section below!
Load More Stories