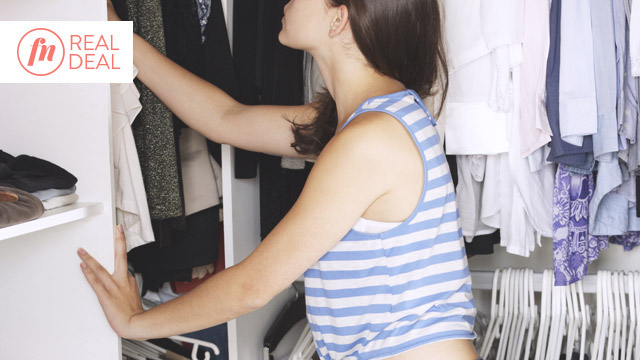 This month's #FNRealDeal expert is Rachelle Medina, a licensed interior designer and former editor-in-chief of Real Living magazine. Aside from freelancing as a writer/editor for home, design, and culture content, Rachelle is a mom to a seven-year-old and loves to travel. 
ADVERTISEMENT - CONTINUE READING BELOW
#FNRealDeal is a special FN series where an expert addresses the most pressing concerns of our 30-something readers, based on comments and feedback on social media and Girltalk. If there's any topic you'd like us to discuss (fashion and beauty, career, finance, travel, relationships) or any question you've always been afraid to ask, feel free to reach out to us via Facebook, or send an e-mail to female.network.editors@gmail.com with the subject "#FNRealDeal Question." Senders will remain anonymous.
CONTINUE READING BELOW
Recommended Videos
Thanks to the KonMari Method, which spreads the simplistic philosophy that our living spaces must only hold things that spark joy, less has become more. Tidying up has become increasingly tedious (what with the pressure of seeing all those sparkling homes on Netflix), and your personal situation—whether you're sharing a home with relatives or friends, have limited space for storage or design, or are constantly moving apartments—just adds to the stress.
ADVERTISEMENT - CONTINUE READING BELOW
Don't worry. The minimalist mindset is defined by The Minimalists themselves as "a tool that can assist you in finding freedom"—from fear, worry, depression, and even getting overwhelmed. While this finds expression in the tidying approach of Marie Kondo, it isn't the only decluttering effort you can make. 
To help you get started (and to keep you from putting unneeded pressure on yourself), we asked interior designer and former Real Living editor-in-chief Rachelle Medina some of your most pressing questions on decluttering. Remember that going through your items is a personal experience: find what works for you, take your time, and eventually, you'll enjoy the fruits of your labor.
ADVERTISEMENT - CONTINUE READING BELOW
"I get overwhelmed by the thought of doing one big de-cluttering day. What are the steps to de-cluttering on a smaller but more regular way?"
Rachelle Medina: There is concept called the "New Order" method of de-cluttering, based on a book written by Fay Wolf. It's a "light" de-cluttering system for people who don't want to do a massive sort of purging. The main goal of the New Order method is just to get started. So even if you purge just one room—or even just one spot in the room—that's a good start, and you can always go back later to purge some more.
"I want to get into a de-cluttering mindset. What are the first things I should consider before getting started?"
RM: You have to choose a room or an area where you want to get started. Choose a spot in the house that can serve as your "staging area:" a place where you will put all your de-cluttered items. Bring out different sizes of bins and label them: "To keep" (for those that you will put back and re-organize), "Throw" (for the badly damaged items), "Donate or Sell," and "Maybes" (for items you are not sure if you want to keep or not—you can always go back to this bin later).
ADVERTISEMENT - CONTINUE READING BELOW
"What are myths and misconceptions of the KonMari method, especially for Filipinos?"
RM: There is this notion that the KonMari Method isn't for everyone (specifically, according to Huffpost, for Americans, who have 4,000 more square feet of space than the average Japanese home), but I believe that KonMari can totally help Filipinos, who are notorious hoarders! The mere KonMari act of dumping all your items in the middle of a room just to get an idea of the scale and quantity of your junk can definitely get anyone into a purging mood.
ADVERTISEMENT - CONTINUE READING BELOW
"One of the main causes of clutter in my home consists of boxes for my appliances. Since I am only renting an apartment and might move again in the next six months to a year, I feel like I should keep these boxes, but they are taking up so much space. Do you have advice on how I can tidy up?"
RM: If you want to save your appliance boxes, disassemble each box and fold it flat. Place the folded box into the biggest size garbage bag, and add the foam or styro protectors, locating them around the edges so it's still flat. Wrap with packing tape or twine and store in the area behind a closet or under your bed.
If you really don't have the space for your appliance boxes, you can move a TV without it. To protect your TV during the move, wrap the entire TV unit with two to three layers of bubble wrap. Secure with packing tape. Then get a moving blanket or thick quilt or comforter and wrap that around your TV. Secure with twine or rope.
ADVERTISEMENT - CONTINUE READING BELOW
"My parents' house is a hoarders' haven. How can I declutter their home in the least emotionally stressful way?"
RM: Our parents' generation tend to hold on to pieces or items that bring back memories. You can start by asking them to sort out the items and bring out the pieces, photographs, or memorabilia that hold the best memories for them. Then bring them out and display them where your parents can see them everyday—put old photos in frames and hang it, etc.—since most of these tend to be hidden. Maybe this way, you can give them a gentle nudge to purge the rest of the items.
ADVERTISEMENT - CONTINUE READING BELOW
"I love reading but I have way too many books on my shelf, more than I'll be able to read this year and I still keep buying more because it's my form of therapy. Should I get rid of them or do you have tips to keep them organized?"
RM: It all starts with a proper bookshelf. Don't leave your books on tables or lying on the floor. With the titles you've read, you can create a "rainbow bookshelf" by arranging books with spines of the same color to create a cohesive "rainbow" effect.
ADVERTISEMENT - CONTINUE READING BELOW
"Where can I dispose of magazines, or clothes that are no longer wearable but have fabric that is still intact? What places can I donate these to?"
RM: From the Virlanie Foundation and Philippine Toy Library to the "Clutter Diva" Aling Puring, this list has places that will not only give you a cleaner space, but also a lighter heart.
"Storing paper bags is taking up space in my home. Should I throw them? Is there a place I can donate them? Are there other practical uses for paper bags that you can suggest?"
RM: Fold a couple of paper bags and stash these in the glove compartment of your car just in case you need to go shopping and you need a tote. Or recycle these as gift bags for Christmas or birthdays.
Load More Stories