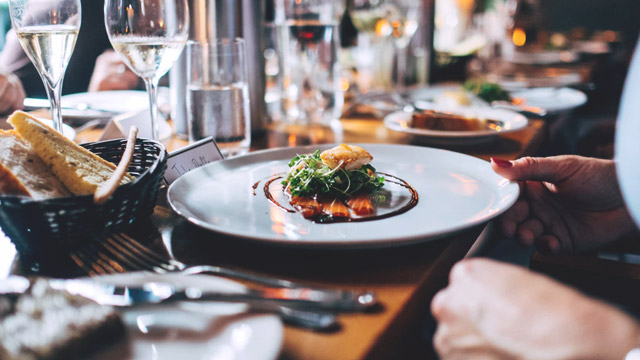 Have you ever been to a formal dinner only to find yourself momentarily confused with all the utensils on your table? Now, we know that you know that you work your way from the outside to the inside (nearest to your plate) when selecting cutlery for each course, but it can still get intimidating especially when you're seated beside people who seem to know everything about fine dining etiquette.
ADVERTISEMENT - CONTINUE READING BELOW
Don't worry: you're a classy, confident, 30-something Pinay, but since everyone needs a refresher once in a while, here are a few tips to help you through such a setting. 
1. Dress for the occasion. 
A dress code is there for a reason. If you're unsure of what to wear, overdressing is better than underdressing. After all, you can easily remove an accessory or coat rather than the opposite.
2. Turn your phone off.
Or if you can't resist, put it on silent. Along with being off the grid for the entirety of the dinner, you should also refrain from placing your phone or any of your belongings anywhere on the table.
3. Don't use your fork to scoop. 
It's a common mistake to use a fork as a scoop, much like a spoon, but it's considered bad practice. Instead of scooping food, use the knife to push food toward the fork. What's more, the tines of the fork should always face down. There are, however, food items such as fish and pasta that are exceptions to this rule.
CONTINUE READING BELOW
Recommended Videos
4. Bring the food to your mouth.
Not vice versa. Hunching your back down to eat a piece seems like a good idea, but keeping your posture is important in a formal setting.
5. Don't hold your knife like a pen. 
Place the handle in the palm of your hand and rest your index finger on top of it. Your thumb should then secure the side. It takes a bit of maneuvering and a bit of practice at first.
6. Always be mindful of the conversation. 
Conversation is imperative to any dinner. Aside from not talking while your mouth is full, it's best to be mindful of the topics being discussed. Sex, money, religion, politics, and other controversial topics are off the table. If the conversation steers that way, however, keep your cool and try to change the topic.
7. Keep your elbows off the table. 
Resting your forearms, however, is okay. Another thing that's key during a formal dinner is posture. Keep a comfortable distance and remember not to hunch over the table.
ADVERTISEMENT - CONTINUE READING BELOW
8. Keep your bread on the plate. 
Unless you're lifting it to put it in your mouth. This means keeping it on the plate while breaking off a piece and putting butter on that piece. (Do not butter a whole piece/slice of bread all at once.)
9. Place your utensils in a 4:00 position once done. 
When taking a break, place your fork and knife in the center of the plate in an inverted V position. Once you're finished, place your utensils in a 4:00 position with the blade of the knife facing inward.
10. Never tuck a napkin in your shirt.
You probably know about this rule, but there's a lot more base to cover with the table accessory. Once you're seated, wait for your host before unfolding your napkin and putting it on your knees. If you're leaving for good, pinch the center of the napkin and place it on the left side of your place setting.
ADVERTISEMENT - CONTINUE READING BELOW
There are conflicting statements on what you should do with the napkin if you're leaving the table for a moment. Some etiquette experts say you can leave it unfolded in your chair, but some even go as far as saying to leave it on the back of the chair or the arm of the chair. This is where the golden rule of etiquette comes in: To follow what your host does.
This story originally appeared on Townandcountry.ph.
* Minor edits have been made by the Femalenetwork.com editors.
Load More Stories