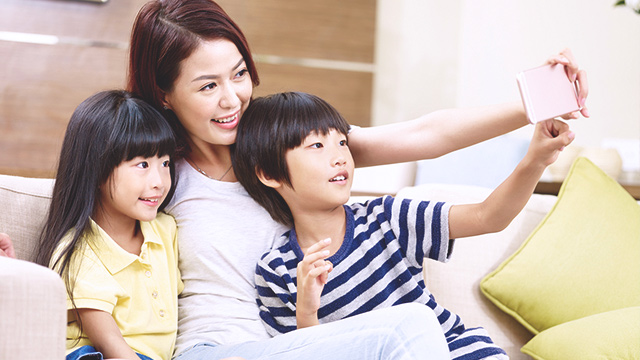 Before hitting that post button, take a few seconds to ask yourself, "Am I oversharing?" Sometimes, what may seem like harmless fun, like a photo of a baby's butt, may potentially be putting our kids in harm's way. 
In a video, non-profit organization Child Rescue Coalition is pushing for parents to reconsider posting photos of their kids that can make them vulnerable to online predators and pedophiles. It includes photos taken while the child is in the toilet or potty training, bathing or naked where the bum is showing. 
ADVERTISEMENT - CONTINUE READING BELOW


The video gets the message across by showing us examples of what these photos may be. The images are eye-openers, to us at least, because we realized that, yes, we do see and scroll past pictures like these on our feed. There is very little protection for these photos primarily because "parents haven't checked their privacy settings in over a year," Child Rescue Coalition states. 
In a post on her blog, researcher and the author of Raising Your Child in a Digital World Dr. Kirsty Goodwin says, "It has been suggested that 50 percent of images shared on pedophile sites have been taken from parents' social media sites. We lose full control of where our kids' photos end up when we share them online." 

Dr. Goodwin lists the possible harmful consequences when we put our kids' lives on display online. "Some of the main concerns relate to identity theft (privacy risks), digital harvesting of kids' images on predator sites (cyber-safety risks), sharing personal information about your child that should remain private (psychosocial risks), and revealing embarrassing information that may be misappropriated by others (psychological risks)."
CONTINUE READING BELOW
Recommended Videos
Here are a few key reminders to help ensure your child's safety online: 
1. Check your privacy settings
Sure, you've set up your privacy settings when you signed up, but privacy features are constantly changing and updated—you want to make sure your account is at maximum protection always. Understand what you are saying yes to when you go to your privacy settings. Find Facebook's basic guide to its privacy settings and tools here and find Instagram's here. 
Some suggestions and tips:
Check what appears on your public profile (Facebook has the feature called "view as" and you can pick how it appears to someone who is not your Facebook friend).
Make sure only people you trust (a.k.a. family and close friends) can see what you share. 
Be strict on who you add to your network. Never add anyone you don't know.
Limit tagging other people. The more you tag, the less control you have of who sees the post (as friends of those you tagged may also be able to see it now). 
Make sure family and friends know they need your permission before they can share your child's photo.   
ADVERTISEMENT - CONTINUE READING BELOW
2. Double check and re-evaluate
Be careful what you share. Check if what you're posting does not include the location of your home, your child's school and schedule, and personal documents like a passport or school ID.

"Consider the risks before posting pictures of children in any state of undress," shares legal skills professor Stacey Steinberg and assistant professor of pediatrics Bahareh Keith in an article on NPR.
3. For older children, consider asking their permission first
"As children's-rights advocates, we believe that children should have a voice about what information is shared about them if possible," Steinberg and Bahareh say. 

Once your child is old enough, at around 6 to 8 years old, ask his permission before posting something about him, said Wendy Sue Swanson, a pediatrician and executive director of digital health at Seattle Children's Hospital, also to NPR. 
That video you took of your child dancing clumsily on stage at a school event may seem adorable to you, but not to her. Consider that she may feel hurt and ashamed when it's shared on social media for everyone to see.

When we take out our phones to snap a photo and post it online to share with family and friends, it's rare that we think something bad may come out of it. And we can still enjoy and share this experience. We just need to make sure our family is protected.

Read how moms grapple with the question "to post or not to post" here. 
ADVERTISEMENT - CONTINUE READING BELOW
This story originally appeared on Smartparenting.com.ph.
* Minor edits have been made by the Femalenetwork.com editors.
Load More Stories