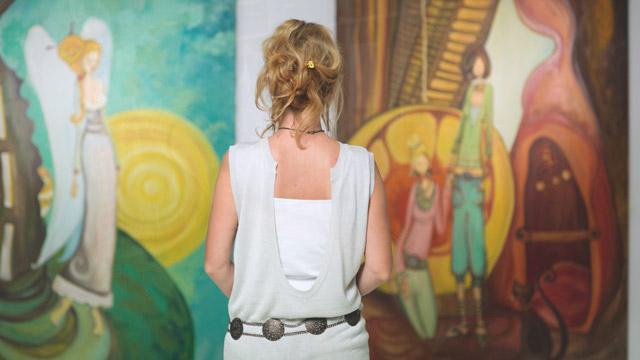 An art gallery is a special space, where visitors should tread as lightly and as carefully as they would in a museum.
After all, you don't want to be that person who damages the art or disrupts other people's viewing time. And you certainly don't want to repeat disastrous mishaps in art history.
ADVERTISEMENT - CONTINUE READING BELOW
How do you act accordingly at art events? In light of the upcoming Art Fair Philippines, the organization's co-founders Trickie Lopa, Dindin Araneta, and Lisa Ongpin Periquet have shared helpful tips on how to best conduct ourselves when at an art gallery or fair. Here are their tips, along with a few of our own:
1. Look with your eyes and not with your hands.
This might be the most important rule on the entire list, and while it's easily the most basic rule, it's also one that many forget. Any poking or prodding of sculptures, paintings, or photographs may lead to damage. It might not be physical damage that you see immediately, but destruction in the long run. Your hands contain oils that corrode surfaces and lessen the life expectancy of the piece.
2. Take a step back before viewing the artwork.
This is partly because of security reasons and a matter of potential damage. It's also because standing too close to the art might obstruct the view of others. Hordes of people flock to see pieces by the masters, so you want to give everyone a chance at viewing every single piece. The gallery is a very public place and visitors should always respect each other's presence.
3. Leave the bulky bags at home.
You can't afford to have anything topple over by accidentally hitting a sculpture with your large backpack or scratching a painting while taking a selfie. While it's best to avoid bringing large bags, Art Fair Philippines has prepared a check-in counter for them this year.
4. Turn off your camera's flash.
Apart from creating an uncomfortable environment for others through a flash's abrupt and harsh light, this rule is followed to avoid the disruption of a supposed stress-free atmosphere.
5. Don't eat and drink on gallery grounds.
Don't walk around with food and drink in hand as it may cause some spillage. This year, Art Fair will have cafes at the fair so you can take a break and sit down to have a snack.
6. Time yourself.
Maximize your time. You don't need to spend too much time on one painting to really understand it. If it really captivates you, you can always come back to it.  This year's Art Fair is set to become its biggest show yet. Thousands of works from a total of 51 galleries are spread throughout several levels of The Link carpark.
ADVERTISEMENT - CONTINUE READING BELOW
7.

 

Put down your phone.
Don't take that call in the middle of viewing an installation. Lessen your phone time while at a gallery and remember you don't have to take photos of every single piece. By putting your phone down, you will also have ample opportunity to take in the art on a sensory level.
8. Avoid making the art a photo backdrop.
You are not at a photo shoot. Remember that galleries are not the places for such. While taking a photo of the art might flatter some artists, making it the backdrop for dozens of photos of yourself might offend others.
Art Fair Philippines runs from March 1 to 4, 2018 at The Link, Parkway Drive, Ayala Center, Makati. Tickets are now available online through the Art Fair Philippines website. 
This story originally appeared on Townandcountry.ph.
* Minor edits have been made by the Femalenetwork.com editors.
Load More Stories