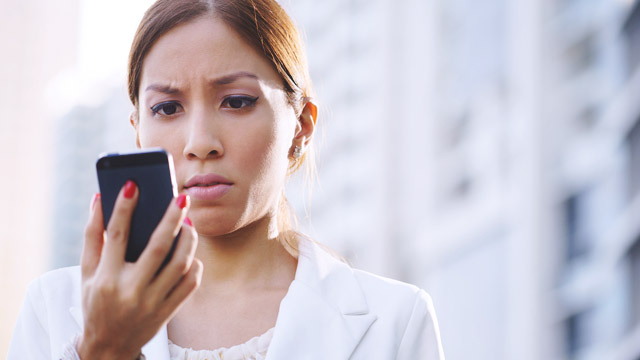 SMS and chat apps have made it easier for everyone to stay connected no matter the distance. They are very convenient for keeping everyone updated with what's going on in your life, but sometimes, that same convenience can leave mixed signals—or worse, make light of very solemn or even tragic situations.
ADVERTISEMENT - CONTINUE READING BELOW
There are so many things that you can say over text and chat, and there are things that are best relayed in person, or at the very least, over the phone. Here are some that should only be done if those you are talking to can actually hear your voice:
Asking about your relationship status
"Tayo na ba?" or "Ano na ba tayo" can be especially tricky over text or chat. Just imagine yourself staring at those running dots or reading "XXXX is typing a reply" only to be seen-zoned! You definitely don't want that, so if you're really dead-set on asking the question, find the right time and place for the both of you.
Breaking up with your partner
No matter what the reason is or how bad the falling-out may have been, it's always best to end things face-to-face. So many nuances and expressions get lost through the airwaves that a lot of misinterpretation and misunderstanding can happen—and trust us, you'll want everything clear when you're planning to move on to the next phase of your life alone. Do yourself a favor and make a clean cut in person, then walk away and never look back.
Sending private information such as your credit card details
Never ever send anything too personal over SMS or chat, especially since anything you send will be floating out on the Internet forever even if you thought you've already deleted it from your phone. With so many scams going on and more waiting to be discovered, you want to make sure that such information is kept safe, so in case you really need to give it to someone, do it in person.
Making life-changing decisions that will affect a lot of people
Whether it's the decision to move out of your childhood home or to work abroad, agreements or compromises which have far-reaching repercussions are better discussed offline with the people affected. This won't only help you comprehend the magnitude of your planned actions, but can also get you advice from those involved to help ease you into the transition.
ADVERTISEMENT - CONTINUE READING BELOW
Breaking the news of an illness or a death
Sharing that a loved one is terminally ill or has died should be done face-to-face so that you are able to comfort the person you're breaking the news to. A text sent in the wrong moment might cause public outbursts or accidents, should the recipient be in a situation or an environment he or she has no control over. There are instances, however, when sending through chat cannot be helped, especially if your loved ones are abroad and in a different time zone. In this case, make sure to compose your message carefully and give important details as to what happened, including the next steps you are planning to take. Also, leave your current contact details and assure them that you can always be easily reached.
H/T: Reader's Digest & Bustle
Load More Stories