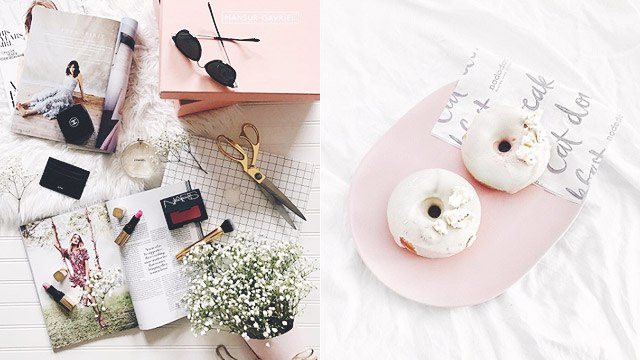 Instagram can be a fun way for you to express yourself, share your hobbies, and connect with people with the same interests. However, your public profile can also be up for scrutiny by people you never really thought would look through your feed, such as your current manager, and even potential employers in case you've been applying to other companies.
ADVERTISEMENT - CONTINUE READING BELOW
CONTINUE READING BELOW
Recommended Videos
Your Instagram account can say so much about you and even act as your portfolio. One good way to use its full potential is by slowly curating your feed by getting simple mobile photography techniques down pat. Flat laying is probably the most common. Your photos may initially look like a bunch of items taken from an overhead camera angle, but the truth is, there are different styles you could experiment with to keep them interesting. Here are ten that you can try:
1. Neatly organized
This classic flat lay technique can be achieved by neatly laying out the items you want to take photos of and alloting equal spaces between them.
2. Organized mess
Just like all flat lays, you also still need to compose the elements in a "messy" flat lay. The goal of this flat lay is to look effortless or like it was taken as it is even if it wasn't.
ADVERTISEMENT - CONTINUE READING BELOW
3. Same colors
Posting items with of the same color make a great flat lay. You know what else is? Items of the same color against a background with the same color!
4. Layered elements
The items in flat lays don't always have to be placed side by side. You can layerÂthe items to make your photos more interesting.
5. One focal point
Put your subject at the center or at the side and add smaller or lighter-colored elements around it to make it stand out.
6. Human element
Whether it's your hand holding food or your legs crossed, adding a human element to your flat lay photos make it more personal.
7. Complementing colors
Using items with complementing colors also make a great image.
8. Shapes or letters
Make shapes or letters using your items to make your photos anything but basic.
9. Clean background
A flat lay taken against a clean background also works well.
ADVERTISEMENT - CONTINUE READING BELOW
10. One side
You don't have to fill the frame with items to make a great flat lay. Put the items you want to photograph on just one side of the frame—whether it's horizontal or diagonal—and the image would still look interesting.
This story originally appeared on Candymag.com.
* Minor edits have been made by the Femalenetwork.com editors.
Comments
Load More Stories