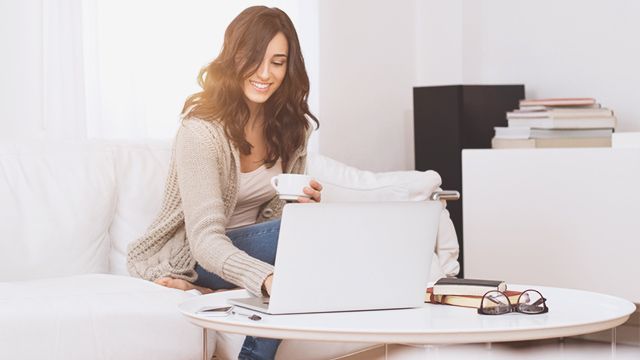 Whether you believe in predictions or not, it's still best to keep your home bright, inviting, and organized. After all, a pretty and well-kept space can inspire you to think clearly, work harder, and achieve your goals.
If you're one of those who consult Feng shui from time to time, we've got tips from Marites Allen to help you get started. You may use this list as guide if you want to improve your home's overall vibe, too:
ADVERTISEMENT - CONTINUE READING BELOW
1. Declutter.
Since it's the first room that guests see, make sure the living area is inviting and clutter-free. Arrange and fluff the pillows, set up a calming vignette, and get rid of unnecessary items. If you have magazines in the space, stack them up neatly or keep them stored inside bins or below the table. The same rule applies in other areas of the home. Check your belongings and keep only the pieces you still use and need.
CONTINUE READING BELOW
Recommended Videos
2. Throw away cracked and broken items.
Do you have the habit of keeping broken figurines because of its sentimental value? How about chipped mugs and cracked plates? Enjoy a fresh start by throwing these away and rewarding yourself with new essentials. You don't need to buy expensive bowls and glasses! Discover where you can buy affordable dinnerware here.
3. Change your soft furnishings.
How often do you wipe surfaces and change the furnishings at home? Make sure you dust your tables, shelves, and cabinets regularly. It's also important that you change your curtains, sheets, and pillow covers every two weeks—doing so not only avoids the accumulation of dirt and dust, it keeps your space cozy and welcoming, too.
ADVERTISEMENT - CONTINUE READING BELOW
4. Play and listen to soothing music every once in a while.
Are you feeling tired and troubled lately? Meditate and listen to nice tunes. It can help you feel focused and calm. Playing pleasant music can help avoid fights and arguments, too. Cleaning the home this weekend? Try playing your favorite song in the background, we're sure you'll enjoy doing the household chores while singing along.
5. Bring in growing plants.
Indoor plants not only bring you closer to nature, it has an element of wood that represents wealth, too. Avoid having dried plants as these symbolize death and illness; and cacti, too. Pair your plants with blue wallpaper or a carpet with a touch of blue as it signifies water that's needed by your green picks.
6. Display fresh flowers.
Give your home a sweet boost with flowers that seem to freshen up the vibe. Orchids, peonies, and lillies can help clear the air at home as well as invite luck, too. If you love roses, make sure you remove the thorns first before putting them in a vase.
ADVERTISEMENT - CONTINUE READING BELOW
Interview and additional information: Joedi Bellen
This story orginially appeared on RealLiving.com.ph.
*Minor edits have been made by FemaleNetwork.com editors.
Comments
Load More Stories