Every hard-working woman needs a break once in while – an all-out, special treat that momentarily brushes aside responsibilities and allows for time-off from often too-disciplined pagtitipid.
With that in mind, I decided to momentarily shut out that stringent voice of reason and allowed myself a guiltless weekend break in a hotel in Makati. The verdict? NO REGRETS.
ADVERTISEMENT - CONTINUE READING BELOW
The Accommodations
For those looking for some peace and quiet, bustling Makati may seem to be the last place you'd want to go to. But here's the thing: if you decide to make it your weekend staycation venue, you'll basically be right smack in the middle of everything that you need while still having the privacy you crave when you hang that "don't disturb" sign on your hotel door.
I booked a deluxe room at the Holiday Inn and Suites, which is located right beside Glorietta 2. Check in was at 3:00PM and the courteous hotel staff had everything prepared right away. They also offered me their IHG Rewards Club program for free, which collects points for every booking. It also comes with perks such as an extended check-out and 24-hour access to their fitness center. Accumulated points can be used with airline and car rental partners, so you get the chance to travel more. (Plus, I got complimentary fruits in my room and a drink from their roof deck bar when I agreed to sign up, which is pretty neat.)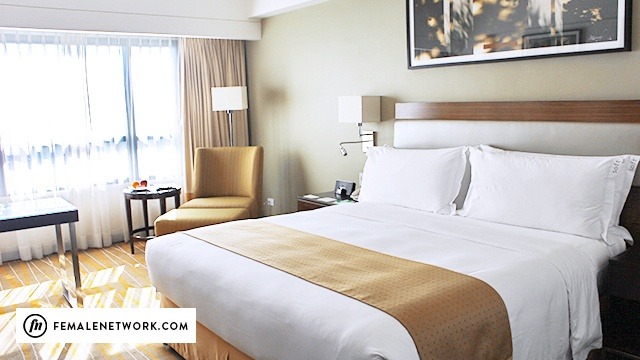 As for the room, it was definitely an indulgence. It came with a mini-bar, a work desk, free WIFI access, Bluetooth speakers, an iPod docking station, an LED TV, and a very, very comfortable king-size bed with four down pillows – two firm, and two soft. These creature comforts were exactly what I needed to get the city girl in me to relax.
ADVERTISEMENT - CONTINUE READING BELOW
A Mystery-filled Evening
My first order after a really great afternoon nap was a trip with the S.O. to Mystery Manila along Jupiter Street. If you're thinking of going, you better invite at least one person with you since you really can't head in on your own. Mystery Manila accommodates two to six folks for each mystery, so if you've got a boyfriend or friends who are game, this is definitely a great way to spend the weekend.
The Jupiter branch offers three escape rooms: Murder in the Mafia wherein you play a detective to solve a crime, Rebecca's Room where you're tasked to become spirit questors to appease Rebecca's soul, and World of Wizardry, wherein you transform into a wizard to stop the evil Sidius.
Cameras and phones are banned inside the rooms, but they can be left in a provided locker before entering. Without spoiling anything, I must say that World of Wizardry was much fun. Potterheads will definitely get a kick out of wearing wizard robes, making potions, and casting spells. Seriously, whoever designs these challenges is a genius.
ADVERTISEMENT - CONTINUE READING BELOW
Night Cap
After Mystery Manila, the plan was to sneak into Prohibition, one of Makati's more popular speak-easy bars. Prohibition is an open-secret located behind a red exit door inside Dillingers 1903 in Greenbelt. The way in is pretty low-key that if you didn't know it was there, you wouldn't notice it. Sadly, Prohibition was closed for a private party the night I nosed around, so I just got me some huge pork chops from the resto.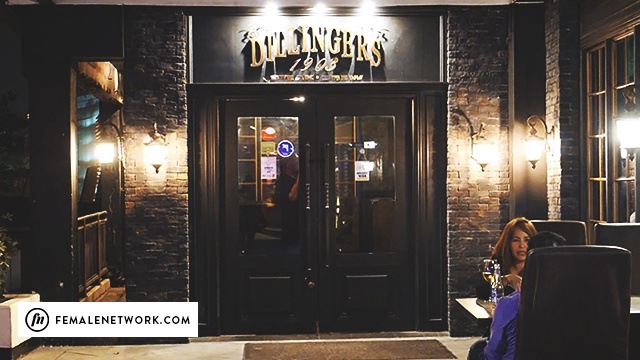 ADVERTISEMENT - CONTINUE READING BELOW
After a quick but heavy dinner, I knew that a nightcap was in order. I went to the Oz bar, the roof deck bar of Holiday Inn & Suites. It's a quaint nook that opens up to well-lit pools and the night sky, and since I've finally accepted that I'm a tita, I ordered a non-alcoholic cocktail, sat outside, and just enjoyed the evening breeze under the stars.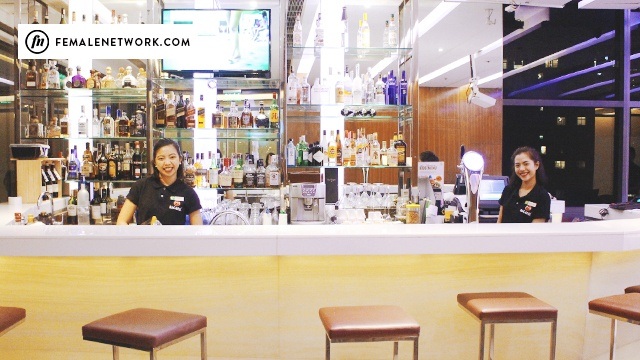 ADVERTISEMENT - CONTINUE READING BELOW
A Chill-out Sunday
One of the best things about The Holiday Inn & Suites in Makati is Flavors Restaurant. Albeit smaller than its contemporaries in other hotels, Flavors serves delectable buffets and is especially known for their breads and pastries. Their bacon is uber yummy especially when paired with pancakes topped with whipped cream and maple syrup. They also offer traditional Pinoy breakfast with rice, eggs, tapa and more.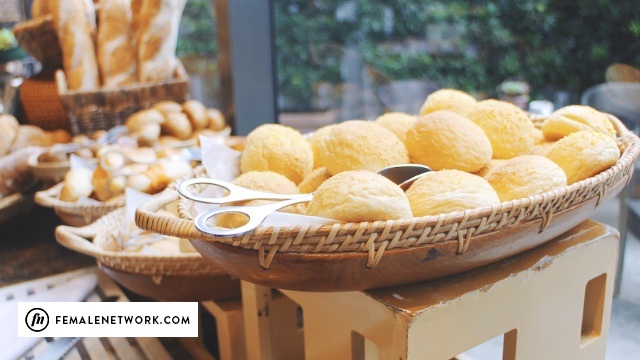 ADVERTISEMENT - CONTINUE READING BELOW
After breakfast, I went back to bed and I refused to judge myself because I was on vacation.
After that busog-lusog power nap, I checked out at around 11:30AM and went around Glorietta before taking an Uber home (where I napped again). With a well-rested body and a satisfied tummy, I promised myself that I would do this again some time soon. In fact, maybe I should do this at least twice a year. We women push ourselves so much to excel, that we forget to rest and pamper ourselves. This quick staycation taught me to stop feeling guilty about giving myself a break, because heaven knows that I—and all of us who work our fannies off for that matter—one-hundred percent deserve it.
Costs: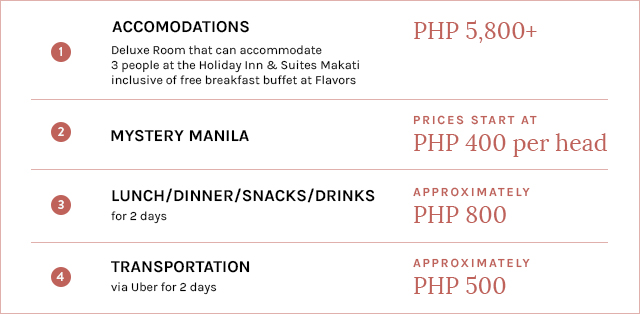 ADVERTISEMENT - CONTINUE READING BELOW
Load More Stories