The start of the year is when people desire most to lose the pounds they gained during the holidays, and to implement the usual resolution of living healthier. But remember: The challenge to motivate your lazy self to workout requires more than a spirit that is willing to torch the puson, arms, and thighs! To help you get started, here are things you can do to wake up your body's fire to exercise:
ADVERTISEMENT - CONTINUE READING BELOW
1. Decide on where you want to workout.
Are you going to get a gym membership? Or you'd rather cut travel time and just do a workout at home? Are you the type to take up classes, or are you shy and prefer to exercise alone?
CONTINUE READING BELOW
Recommended Videos
For cash-strapped ladies or those who think that they'll be wasting time commuting to the gym, then turn your casa into a fat-burning home gym. There are many bodyweight workouts you can search for online, so don't pressure yourself to buy gym equipment. Also, there are other fitness activities that don't always feel like you're just working out, like biking, running, and dancing. FKA Twigs recently collaborated with Nike to promote dance as a sport and a form of expression.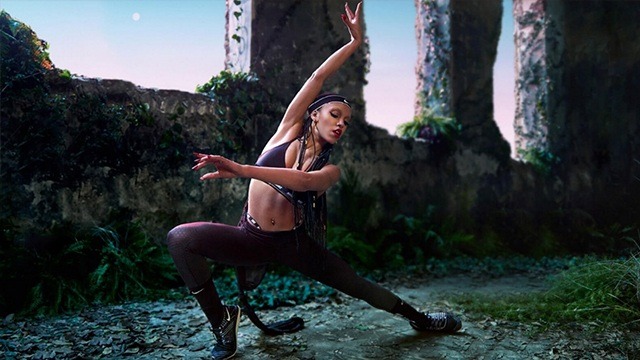 ADVERTISEMENT - CONTINUE READING BELOW
Of course, if you're new to working out, it's best to sign up for gym membership or a fitness class membership at gym near your office or house. It's highly recommended to have a professional coach spot your form while exercising to avoid injury.
2. Think of your gameplan, too.
Are you going to bust a move in the morning or after work? How long do you plan to sweat it out? Will it be as short as 15 minutes (ideal for home workouts and when you have a busy schedule)? 30 minutes? Or are you going all out and spending an hour a day burning calories?
Also, ask yourself what area of your body you're focusing on the day prior to your scheduled workout. Is it the thighs, puson, or arms? This way, you can plan the set of workouts in your head, and you can prep your mind and body before you go to sleep. See below a workout calendar sample from Fit Girls Guide:
ADVERTISEMENT - CONTINUE READING BELOW
3. Prepare your gym clothes the night before.
Similar to laying out tomorrow's OOTD, preparing your gym clothes will remind you that you WILL workout the next day.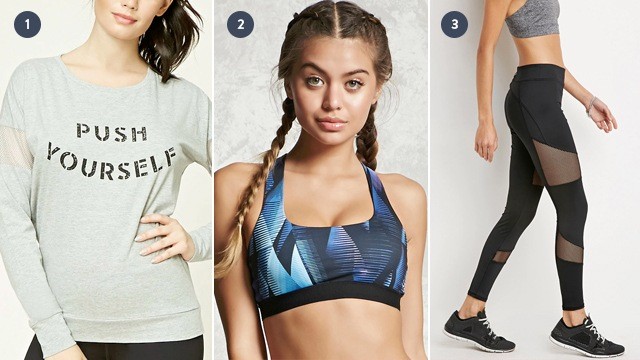 ADVERTISEMENT - CONTINUE READING BELOW
(1) Forever 21 Active Push Yourself Top, (2) Medium Impact Sports Bra, (3) Active Mesh Leggings, at SM Megamall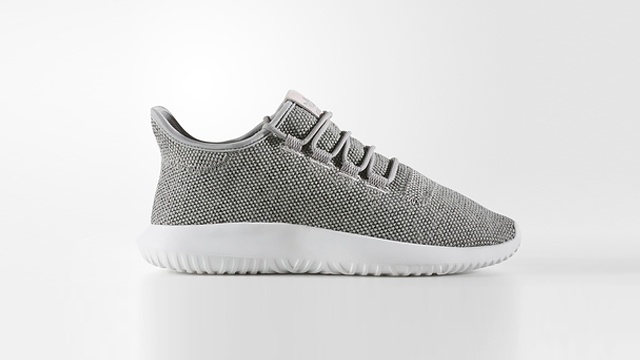 Try: Adidas Tubular Shadow Shoes, P5,995, at Adidas boutiques and Commonwealth SM Aura
4. Set many alarms.
Whether you're planning to hit the gym in the A.M. or P.M., hearing your multiple alarms will remind you that your workout is an appointment that you shouldn't miss.
ADVERTISEMENT - CONTINUE READING BELOW
5. Get a workout buddy.
Having someone to motivate you every step of the way will drive you to get your a** up and workout. Also, having a workout buddy doesn't mean that you have to be in the same gym or class; you can monitor each other's performance by checking up on each other daily.
6. Have a realistic goal in mind.
Do you want to fit in your skinny jeans again? Do you want to look smashing in your wedding dress? Do you aim to tackle the flight of stairs in the MRT without losing your breath? Whatever your goals are, setting your eyes on the prize will trigger your adrenaline to move and exercise. But then again, these goals should only be primary ones because getting fit is a lifestyle change, not a "fix" for you to look great in your bikini every summer. 
Also, do not to force yourself to be model-thin or have a body like Pia Wurtzbach. Each individual is born with a different body type, and you must keep in mind that it's more important to be strong than skinny. Don't be controlled by the weighing scale or measuring tape.
ADVERTISEMENT - CONTINUE READING BELOW
7. Reward yourself.
Keep a journal that tracks your activities and what you ate. Give yourself a pat on the back each day you complete a workout. You can reward yourself with a cheat meal (not a whole cheat day!) by the end of the week. You can also treat yourself to a square of dark chocolate or an ample serving of guilt-free cookies at the end of your exercise.
Try: Honest Junk Zooper Cookies, P85 for 200 grams, to order at Honest Junk
Load More Stories