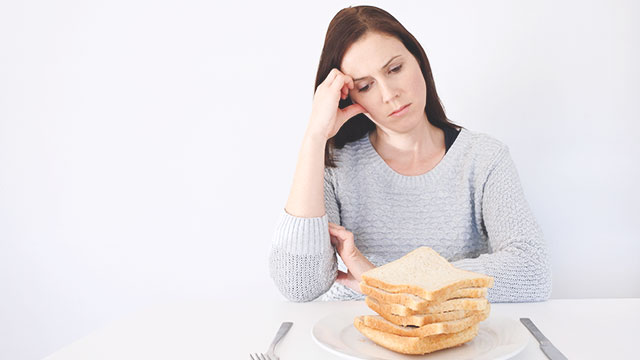 We're sure you've skipped your usual white rice + ulam combo in preparation for an impending beach trip at some point in your life! White rice often gets a bad rep for packing on the calories and sugar, which is why some people looking to lose weight subtitute the country's staple food with wheat bread as the go-to carb during meals.
ADVERTISEMENT - CONTINUE READING BELOW
Not entirely sure if it's working for you? Don't fret! Registered Nutritionist-Dietitian Kristine Blanco answers your burning questions below:
Citing the Food and Nutrition Research Institute's "Pinggang Pinoy" guide to a balanced meal, Blanco explains that both food items fall under one category: a source of carbohydrates and energy. Simply put, 1/2 cup of boiled white rice (80 grams) is equal to two slices of whole wheat bread (100 calories).
What separates wheat bread from rice is the fiber content, which the former has more of. Fiber aids in proper digestion, at the same time helps regulate blood sugar and prevent cardiovascular diseases and some forms of cancer.
She adds, "If a person has a specific health condition that requires a high-fiber or complex carbohydrates diet (e.g. obesity, Diabetes Mellitus, cardiovascular diseases), he or she can opt to consume wheat bread.
Another key factor between the two carb options is the glycemic index (GI), defined as a relative ranking of carbohydrate in foods according to how they affect blood glucose levels. Rice is classified as high GI compared to wheat bread, implying that the latter "is relatively slower in raising blood sugar levels when eaten alone."
For those who want to lose weight, though, she recommends "moderation and variety in consumption of carbohydrate-rich foods. Also, quantity and quality of the food still matter." In some cases, it still depends on the computation of diet prescription for the patient or client (personalized diet).
"Generally, if we are to follow the FNRI's Nutritional Guide Pyramid for Adults, five to eight servings of rice, rice products, corn, root crops, noodles, pasta and bread are recommended daily," she ends.
It's safe to say that we have to adjust our summer bod meal plans...
This story originally appeared on Fhm.com.ph.
* Minor edits have been made by the Femalenetwork.com editors.
Load More Stories