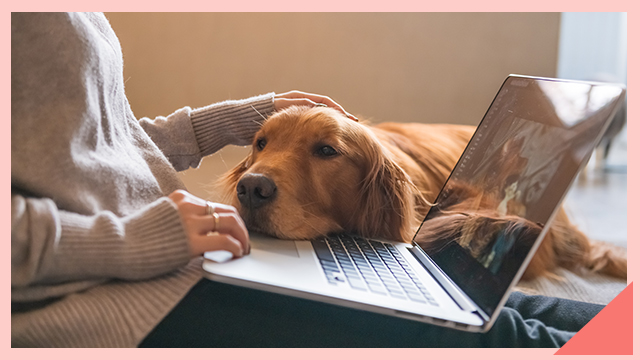 With remote work blurring the lines between your career and your personal life, you might find yourself a lot busier than before the lockdown struck. And now, it's even harder to squeeze in some me-time in your busy schedule, let alone time for your pets. If you're feeling bad about not giving them the attention they deserve, here are some undemanding ways you can show your pets some love—even if you can't attend to them round-the-clock. 
1. Make sure they have a nutritious diet.
Giving your pets food that will help keep them healthy and strong is a love language within itself. Look for food and treats that cater to your pet's needs (FYI, you can even find breed-specific meals for your pet!). And with pet stores and groceries offering online deliveries, getting your pet's favorite meal is only a click away. 
2. Entertain them with toys.
Fill a box with toys you know they enjoy playing with and keep them somewhere accessible. Giving them new toys from time to time is also a welcome treat. But if you're not up for getting a new one, you could just stash away one of their toys and give it back after a few days. Doing so would give them the impression that it's something new.
3. Make time for them on weekends.
Your weekdays may be full, but blocking off a few hours on the weekends to shower your pets with your undivided attention will do so much for them. Give them a bath, play with them, and just be in the moment with your pets—phones down.
4. Snuggle with them at night.
We all know that cuddling with your pets can help lower stress, but did you know that they get something out of it, too? Cuddling is a great way for them to foster a connection with you. It makes them think you're a part of their pack!
5. Don't skip vet visits.
Just like how you have regular check-ups with your doctor, your pet needs to be checked up by its vet every once in a while, too. Vets are the experts, after all, and going to them definitely beats the paranoia you get when you look up symptoms yourself. 
If you don't have time to go the vet, there are resources online that can help bridge the gap between pet owners and trusted clinics. In fact, Royal Canin will be launching something very exciting for pet owners early next year on the Royal Canin Club app. Right now, it can help you learn more about your pets through lessons, reliable sources, news alerts, and more, and eventually, more features will be added that will give you access to experts right from your phone. After all, making sure that your pet is strong and healthy is a testament of love more than any other.  
Check out how these pet owners thanked their pets for brightening up their year!
You can download Royal Canin Club on both the Apple App Store and Google Play. Learn more by visiting www.royalcanin.com/ph and following @RoyalCaninPH on Facebook.
This article was created by Summit Storylabs in partnership with ROYAL CANIN.