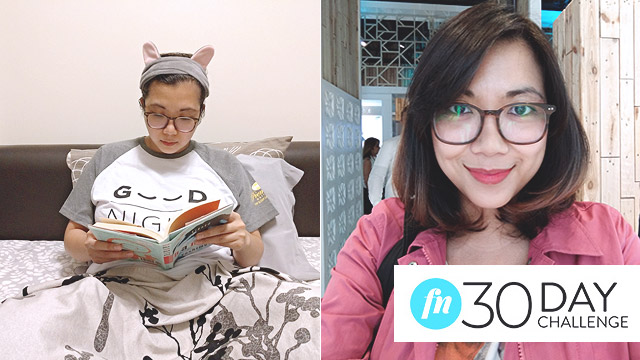 #FN30DayChallenge is a special series where Female Network editors try a new way to incorporate a self-care practice into their daily lives. Got something you want us to try? Message us on Facebook, or email us at femalenetwork.editors@gmail.com.
ADVERTISEMENT - CONTINUE READING BELOW
One of the reasons why I decided to move out of my parents' house in the suburbs was because I knew that the traffic situation in the metro wouldn't get better any time soon, and with a job that had an uwian time I couldn't really predict, the commute simply wasn't practical--especially since one way could take three hours if you don't catch the first shuttle out.
The thing is, when I moved, I got so spoiled with knowing I was just a trike and a brisk walk away from work that I would wake up an hour before my shift began and rush every single morning. I would arrive at work all sticky and annoyed, which really just added stress that I didn't need.
So I decided to change that by going back to waking up early every day. Of course, it won't rival my 4:30 a. m. alarm when coming from my parents' house, but it still meant that I had to employ the same discipline.
I thought it would be easy. Boy, was I in for a surprise.
Day 1
I tried going the intense route—as in waking up four, five hours earlier, just before the break of dawn. It was nice, actually, since I managed to prep for work a little more leisurely. I was out of the house an hour-and-a-half after, and at work a good three hours prior to the beginning of my shift.
The upside was I got a lot of work done before lunch time. The downside was that I was so sleepy by noon and I still had to leave work late (we're on a flexi-schedule, but if you're not done for the day, you have to finish what you needed to do). That left me feeling really tired when I got home, so much so that I'd have chips for dinner because I was too lazy to cook. Not good at all.
ADVERTISEMENT - CONTINUE READING BELOW
Day 10
I failed. I went back to rushing in the morning because I wanted so much to sleep in. I would feel like crap when I got out of bed because I would keep on snoozing my alarm.
I decided to reboot. Change up a few things. Maybe I should listen to my body instead of forcing it to wake up way too early before it even had time to rest and recuperate.
Day 20
I went for the middle ground: two hours earlier. No waking up at the crack of dawn. I didn't rush to sleep right away even when I got home later than usual in order to preserve me-time. I also focused on making sure that I would always get seven hours of sleep every day so that I would be fully efficient in and out of the office.
I gave myself ample time to prepare my baon in the morning, which had been pre-cooked the night before. That meant I stopped putting on makeup at home because that ate up a good 30 minutes of my time. I used the remaining time instead to make sure that the flat was clean and I had everything I needed before I left.
ADVERTISEMENT - CONTINUE READING BELOW
Day 31
My body clock finally adjusted to my new waking time. (YAY!)
I realized that a huge part of it was learning to take things easy. I've managed to program myself to always rush, and it's half the reason why my days would go haywire. Every time I had the urge to do so, I would consciously tell myself to slow down. From the time I would wake up, to the time I left the office, I would tell myself that I had time for everything: to work, to read a book, to wind down, to eat healthy, and to sleep enough. 
Things that helped me
There would be days when I couldn't fall asleep at night right away, and since my goal was to get seven hours every day, I had a couple of things that helped me doze off. Maybe these can aid you if you keep on tossing in bed, too:
ADVERTISEMENT - CONTINUE READING BELOW
A body oil with a calming scent
This seriously puts me at ease every time I sniff it, plus it keeps my skin hydrated.
TRY: Nuxe Huile Prodigieuse, P1,350/50ml, P2,350/100ml, at Rustan's The Beauty Source
Liniment for muscle aches
It's probably because of all the typing I do that I always have neck and shoulder cricks. This organic liniment isn't oily and it immediately radiates relaxing warmth on the skin without being mahapdi.
ADVERTISEMENT - CONTINUE READING BELOW
TRY: Ilog Maria Propolis & Cider Liniment, P255 at Echostore.ph
Should YOU try it?
Here's the thing: since I live near work, it's less of a hassle for me to shift my schedule. For those who have no choice but to commute far on a daily basis, having enough time for oneself let alone to improve one's daily timeline would be easier said than done.
ADVERTISEMENT - CONTINUE READING BELOW
I would never belittle the effort it takes to commute (I once broke down in tears in a jam-packed MRT station because everything seemed so hopeless) but what I realized from this entire exercise was that a mental shift could make things easier, even just a little. A distraction could help. For me, focusing on the moment instead of blindly rushing along the side walk and getting annoyed at everything and everyone helped lessen my feelings of tiredness.
Even on evenings when I had to take a shuttle home to my parents' house, getting irritated while standing in line and running after jeeps was a huge part of while I would feel so very fatigued, so I decided I would be done with that, and yes, it helped me stopped snoozing my phone (because starting out on a positive note kept me from tapping the snooze button), and as a whole, it helped me fix my day.
ADVERTISEMENT - CONTINUE READING BELOW
But I digress. Try waking up earlier if you can, but if you already wake up way to early too commute, then try controlling things you can control. The result is the same—less frustrations, less feeling fatigued, and more energy to live your hours to the fullest.
Load More Stories