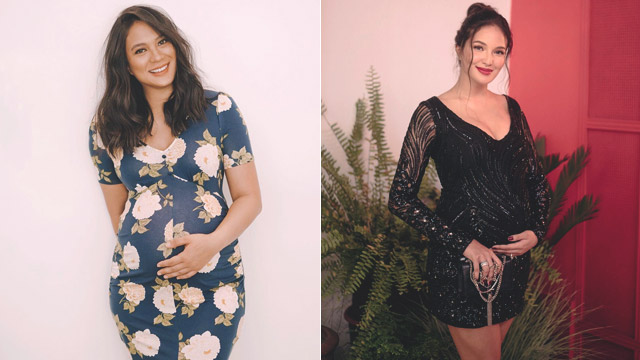 Being pregnant is not just about the physical body changes. There's a lot of lifestyle changes you need to go through, from diet to fitness, so you and your unborn baby remain in the pink of health throughout the nine months. The problem is everyone has an opinion of what is "healthy," and celebrities who are pregnant get scolded (or bashed) often for supposedly doing the wrong thing. And it's not just about drinking coffee or jumping up and down. Many get called out by well-meaning people about their beauty and fashion decisions:
ADVERTISEMENT - CONTINUE READING BELOW
1. Wearing high heels
CONTINUE READING BELOW
Recommended Videos
Heart Evangelista, who announced her pregnancy on May 12, 2018, got a taste of unsolicited advice when she wore high heels to an event. She had to assure everyone that the heels were very comfortable for her and she even wore them walking on a trip to Paris.
ADVERTISEMENT - CONTINUE READING BELOW
The issue of high heels come up because of a simple reason: balance. When your tummy gets bigger, your body's center of gravity shifts to accommodate your heavier forward weight. Wearing high heels can put a pregnant woman at risk of falling over. That said, many preggos who aren't comfortable wearing flats can get away with heels even with an already huge baby bump. Wearing heels is okay as long as you're careful and comfy.
2. Getting your hair colored
ADVERTISEMENT - CONTINUE READING BELOW
When Saab Magalona was still pregnant with her twins, she had to defend dyeing her hair more than once throughout her pregnancy. Of course, she had her doctor's go-ahead before getting her hair colored.
Dyeing your hair while pregnant is scary due to the strong-smelling chemicals (e.g., ammonia). Preggos are advised to wait until they're in their second trimester to dye their hair to be on the safe side. Opt for natural and organic hair dyes and strictly follow safety precautions provided by your doctor.
3. Putting on nail polish
ADVERTISEMENT - CONTINUE READING BELOW
Sarah Lahbati attended the Preview Best Dressed Event in a Boom Sason short sequined black dress and sported red nail polish on her fingernails as a nice contrast to her overall look. There were those who wondered about the danger of nail polish chemicals. 
An article on Smartparenting.com.ph states that DBP (dibutyl phthalate), one of the primary chemicals in nail polish, isn't believed to cause harm to the unborn baby. There are reputable nail polish brands that do not contain harmful chemicals and are safe for preggos and even young kids to use. If you want to be on the safe side, look for nail polish that free from formaldehyde, toluene, DBP, camphor, and formaldehyde-resins.
4. Undergoing beauty treatments
ADVERTISEMENT - CONTINUE READING BELOW
Since she's in the business of beauty treatments, Cristalle Belo-Pitt would know the beauty treatments that do not pose harm to unborn babies. She posted on her Instagram Stories before the Belo beauty treatments she underwent to achieve an extra glow.
While it's true that there are specific beauty ingredients that preggos should stay away from (e.g., retinol and salicylic acid), there are treatments that use natural ingredients to exfoliate, reinvigorate, and revitalize the skin. Go to a reputable beauty service provider and inform them of your bun in the oven beforehand.
5. Taking a bath in a tub
ADVERTISEMENT - CONTINUE READING BELOW
When Sarah posted a photo of her and first son Zion playing in a bathtub, some commenters were concerned she's harming her baby Kai who was then still in her tummy. She calmly explained that the water wasn't warm or hot.
Dips in a regular tub or even a swimming pool with water in normal temperatures are perfectly fine. Swimming, in fact, is one of the most recommended exercises for preggos. And don't worry, pool water won't seep into your vagina—you have your mucus plug (it covers the opening of a woman's uterus during pregnancy) for protection.
However, hot body wraps, saunas, and hot baths can cause your body temperature and heart rate to increase, which leads to reduced blood flow to the uterus and causes undue stress to the baby, according to an article on Smart Parenting. It can also lead to fainting and dehydration, so best to avoid these. 
ADVERTISEMENT - CONTINUE READING BELOW
6. Shaving or waxing legs
When Divine Lee was still pregnant, people couldn't get enough of her smooth hairless legs. Anyone who has been pregnant knows it's hard to bend down and shave legs, and it's risky to do it while putting one leg up while in the shower. (Divine didn't reveal her beauty secret—she may have just been genuinely blessed with those beautiful gams.)
ADVERTISEMENT - CONTINUE READING BELOW
For preggos who want smooth hair-free legs, avoid cream hair removers; they contain chemicals that seep into the pores to loosen hair follicles. Having your legs waxed is okay as long as you can bear the pain and are not suffering from hypertension, vaginal spotting, or uterine cramps. 
7. Wearing tight-fitting clothes
ADVERTISEMENT - CONTINUE READING BELOW
Practically every modern pregnant woman, celebrity or not, has worn body-hugging dresses. But less than five decades ago, tent maternity dresses were the norm because tight-fitting clothes and even pants were believed to restrict baby's growth. Now, these body-hugging clothes are manufactured to help support the baby bump and protect mom's lower back. Plus, it feels good to embrace pregnancy curves!
This story originally appeared on Smartparenting.com.ph.
* Minor edits have been made by the Femalenetwork.com editors.
Load More Stories