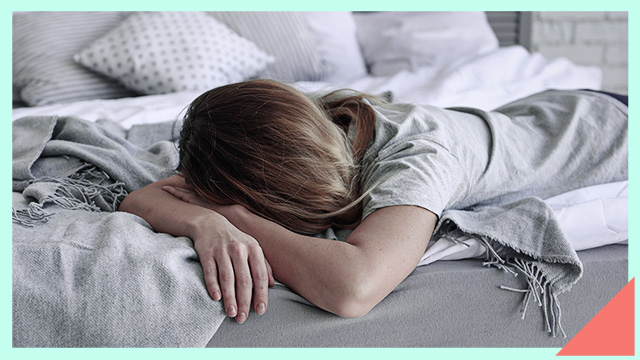 2020 has been harsh for everyone, and let's admit it—you probably can't wait to leave this crazy year behind even if you know that the first months of 2021 won't really be any different. It's just nice to flip the page and to begin on a new leaf, but before you get there, you still need to get through a few more weeks.
ADVERTISEMENT - CONTINUE READING BELOW
If you're already at a point of wanting to just mentally shut down and hibernate until the end of the year but you can't (because those bills won't pay themselves), here are a few, simple tips to give you that gentle push that you need to get going.
CONTINUE READING BELOW
Recommended Videos
Bathe.
Seriously, just hop into the bathroom and take a shower. Regularly. And when we say regularly, we mean daily, not every other day or every two days. Aside from it being a healthy habit, taking a shower has actually been proven to make you feel happier. According to psychologist Neil Morris on Medical Daily, "bathing makes you feel less pessimistic and helps you enjoy more pleasure." It's also a great way to start your day or to take a real, me-time break.
Buy yourself stuff.
We're past the 9.9 to 12.12 sales, but really, there's still a lot of discounted things you can treat yourself to. Retail therapy can make you feel better—even just momentarily—and if you purchase smartly, what you bought can actually keep you cheerful even past the purchase. An article on Healthline featuring a 2013 study notes that one reason why shopping can soothe you is that you feel in control: "Feelings of sadness, stress, or anxiety are often rooted in feelings of powerlessness. The authors of the 2013 study suggest that retail therapy offers people a sense of control that counteracts these feelings. Choosing to make a purchase (or not to make a purchase) helps people feel more empowered."
ADVERTISEMENT - CONTINUE READING BELOW
The key is moderation. As long as you don't abuse it, "The temporary mood boost associated with shopping can prevent you from seeking help that would offer more significant, long lasting benefits."
Reconnect with people.
There's nothing more discouraging than feeling alone when your life is all topsy-turvy. We know that you're probably already tired of all the Zoom meetings you have for work, but take time to go online with friends. If you wish (and with the proper protocols), have an actual meet up. Reserve a table at your favorite resto (support local businesses)! Trust us, this will definitely do wonders to your mood.
If all else fails, rest.
Acknowledge that you're tired. Acknowledge that you're not feeling great. As that popular K-drama goes, "It's okay not to be okay." We're not going to tell you everything will suddenly be alright again, but at the very least, know that you've got people around you who are willing to accompany you through all this. When you feel a little stronger, try to get up and do number 1: bathe. That's a good place to start. And remember, be kind to yourself. You're doing the best that you can.
ADVERTISEMENT - CONTINUE READING BELOW
Load More Stories