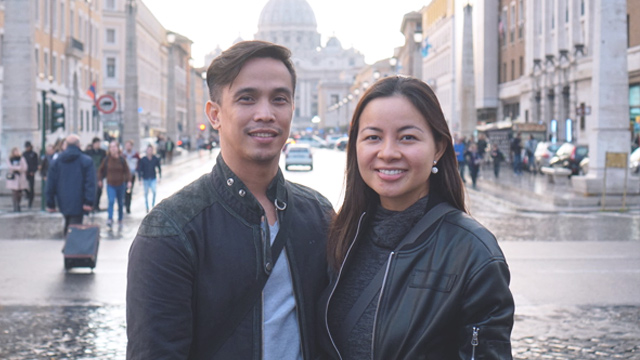 It was on May 29 when Sitti Navarro-Ramirez revealed that she's expecting her first child with her husband of three years.
ADVERTISEMENT - CONTINUE READING BELOW
Sitti was 30 years old when she married entrepreneur and triathlete Joey Ramirez in a lovely ceremony in Baguio, and it seems that the couple has been spending valuable time together since. "At the onset, I felt pressured to have a baby right away, but eventually saw the wisdom in taking our time and investing couple memories first," Sitti shares in an exclusive interview with FemaleNetwork.com. "[We'd travel when we could], save up for those trips, work in between, have dates, the usual."
There were instances, however, when the thought of getting pregnant would put pressure on the couple, but according to the bossa singer, they would always give themselves room to breathe after undergoing treatments. "As I've recounted in my blog, we were on-and-off with the 'trying for a baby' part; trying two IUIs, then taking a break after and not thinking about it."
Undergoing fertility treatments can get pretty tough, and it's not just about how your body responds to them. In fact, Sitti shares that she hardly felt any physical side effects. "It's really more of the weirdness of having cold instruments prodding your insides, and the uncomfortable feeling after. Also the humiliation of finding out that not everything in your body works as it should, but then you cry over it and learn to accept it over time."
On her blog, Sitti has shared that it was when they decided to take another break from tying to conceive that they found out she was finally pregnant, and they couldn't be happier. "I think the real gem I got from the experience is the wisdom one gleans from waiting that you would otherwise not learn had things been handed to you on a silver platter." Read on to learn more about her pregnancy, and the journey of self-acceptance that went along with it:
ADVERTISEMENT - CONTINUE READING BELOW
FemaleNetwork.com: What are you most looking forward to in your pregnancy and journey as a mom?
Sitti: Right now I'm really looking forward for all nausea to stop, haha! Seriously though, I love going to the OB and seeing our child's progress. I love measuring how s/he has doubled in size, etc. I look forward to all of the firsts: first kick, first look, first suckle, first touch, first steps... and I really hope and pray I'll be good at rearing this miracle that God has given us. I will love this child with all the love I can give.
FN: What's it like to be pregnant in your 30s? And what new habits have you developed since getting pregnant?
S: I would say that based on my peers' stories, my pregnancy is basically average. My first trimester I was just sleepy and hungry and lazy and unable to focus on anything the whole time (preggo brain). Those experiences were what to be expected, according to articles and other mothers. So I suppose my answer would be, to be pregnant in my 30s is the same regardless of age. If you're pregnant, you're pregnant.
ADVERTISEMENT - CONTINUE READING BELOW
I'm on my 17th week now, and weirdly my nausea has acted up on my second trimester instead of the first. I have the usual food and smell aversions, but not to the extreme where I throw up. I suppose I am lucky in that aspect.

New habits are just eating so much more than I'm used to that there are times it feels like a chore, haha. I have to eat every two-three hours, otherwise I get really hungry to the point where I feel faint, which is an entirely new experience for me. I don't have specific cravings. My husband has been asking me if there's anything in particular that I like but I just really generally eat whatever's on hand.
FN:
 

What kind of dad do you imagine Joey will become? And how would you imagine your parenting style to be different from each other?

S: Oh, I think he'll be a doting one if we're gonna have a girl, and the playful, cheeky dad if it's a boy. My gosh I haven't thought as far as parenting, I have no idea how we'll both be haha. But as with everything in our marriage, we talk about how best to approach anything, agree on that, and pray about it. It helps that we've both been disciplined as children, though. Our parents did not spare us the rod and we both agree that that works, so I'm pretty sure we'll be the same in terms of disciplining our children. Though I think I'll be far stricter than him, haha.

ADVERTISEMENT - CONTINUE READING BELOW
FN:
 

Do you have any tips for women in their 30s who are trying to conceive?

S: #1. Please do not feel pressured by yourself or by society. If I had only been stronger I would've saved myself a lot of disappointed tears. Live your life as best as you can, as healthily as you can. Invest in loving yourself, in your relationships, and hard as it is do try not to think about getting pregnant. Also, actually enjoy being intimate with your husband, not doing it for the end result but actually really enjoying.

#2. Wholeheartedly trust in God and in His timing. He is our Creator; He can create that baby in your womb anytime. Believe that He can.
Load More Stories