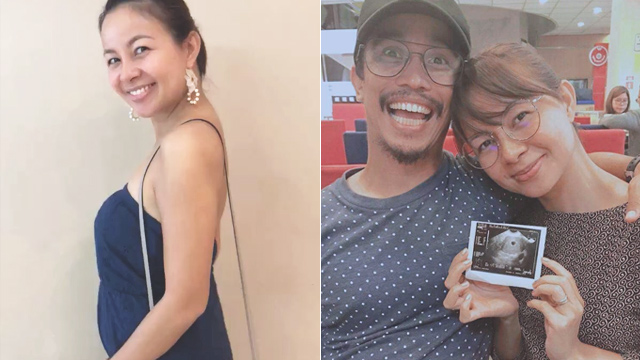 It's typical to feel pressured to get pregnant once you hit your 30s. Aside from hearing unsolicited comments about your "ticking biological clock," people seem to rely on motherhood to measure your worth as a woman. And while that should never be the case, it's not always easy to numb yourself from the pressure, particularly when you yourself are asking wondering why you haven't gotten pregnant yet. Sometimes, however, it seems all you need is a little breathing room to beat the stress:

ADVERTISEMENT - CONTINUE READING BELOW

CONTINUE READING BELOW

Recommended Videos

On her wedding anniversary, May 29, Philippine Bossa Nova Queen Sitti Navarro announced she and her husband, triathlete Joey Ramirez, are expecting their first child. 

The 33-year-old posted a photo of her and Joey as she held an ultrasound image on Instagram. A few days after, Sitti, at 14 weeks pregnant, flaunted a tiny baby bump via a boomerang video.

"We heard baby's heartbeat for the first time today!" Sitti wrote in the caption. "Thank You, Jesus, for taking care of our baby!" she added. 

On her blog, Sitti revealed how she had a hard time getting pregnant, and it didn't help that she felt the pressure to conceive right away. "Publicly, I would declare that 'Joey and I are a new couple, so we're taking our time, no rush,' but inwardly the doubts would compound with every monthly bleed," Sitti wrote.

Sitti feared she would never have kids when she saw a doctor 10 months into the marriage. The singer knew she had polycystic ovary syndrome (PCOS), but she didn't think it affected her efforts to conceive. The doctor prescribed an ovulation-inducing drug, and she underwent regular ultrasounds to monitor her follicles. She and her husband also had to schedule intercourse during her ovulation days.

ADVERTISEMENT - CONTINUE READING BELOW



"It was hard, this scheduled thing, and going to the hospital for checkups, and prepping yourself up on the examination bed and having all these cold instruments prodding inside you," Sitti admitted, so they decided to give it a rest.  

In 2017, Sitti switched to a more aggressive doctor. After an unsuccessful intrauterine inseminations (IUI), Sitti underwent laparoscopy surgery to check the state of her ovary and fallopian tubes. 

"I prayed and prayed that everything will be found all right inside," Sitti shared. The operation took less than an hour. The doctor found and removed a paratubal cyst and some polyps took out, but to Sitti's relief, the doctor pronounced her organs "beautiful."

However, Sitti and Joey underwent another failed IUI. The disappoinment made the couple decide to put everything on pause. "We'll just take it easy, travel, and enjoy our time together without pressure." 

After about a year and two months, on January 2018, Sitti's doctor suggested they go ahead with in vitro fertilization (IVF). The prognosis: unexplained infertility "I opened you up and found nothing wrong. I suggest mag-IVF na tayo," the singer wrote, recalling her doctor's words.

ADVERTISEMENT - CONTINUE READING BELOW



Sitti said she didn't really want to go through an expensive IVF treatment because the money would be of better use to "others who needed it far more than we did." They decided to move on and give the check-ups and hospital visits a rest. By February, Sitti was launching a new album and her blog, and Joey was joining the Iron Man race in Davao.

On Easter Sunday, April 1, a full week after her period got delayed, Sitti took a pregnancy test. "I remembered praying, 'Lord, Your Will be done. Be this positive or negative, I will be thankful, I will give You praise,'" she shared.

The pregnancy test kit showed two pink lines. Struck with disbelief, the singer took another test, which gave her the same positive result, before telling her husband the good news. 

Looking back at her pregnancy journey, Sitti reflected and found that she had varying reasons for wanting to have a bun in the oven. She wanted to get pregnant for selfish reasons—for the attention and pampering and then for wanting to feel a child's love. It was when she wished for a child not for her own reasons, but for her husband to be a father that her prayers were answered. 

ADVERTISEMENT - CONTINUE READING BELOW

This story originally appeared on Smartparenting.com.ph.

* Minor edits have been made by the Femalenetwork.com editors.
Comments
Load More Stories