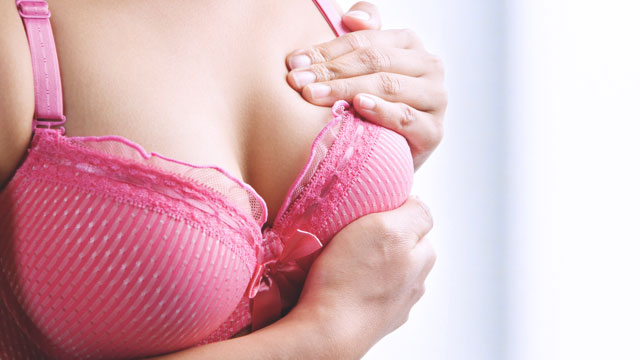 It may seem like breast cancer doesn't seem likely to happen to you or anyone you love, but while we all hope that it never does, information from a Cancer Research U.K. study funded by the Avon Foundation for Women reveals that there are 2.1 million cases of breast cancer worldwide each year, and over 626,000 deaths caused by this disease annually.
ADVERTISEMENT - CONTINUE READING BELOW
Sobering, isn't it? This is why it's important to know what women (and men) are up against; everything from the facts to false beliefs about the disease:
CONTINUE READING BELOW
Recommended Videos
No, deodorants don't cause breast cancer. Neither do underwired bras. According to BreastCancer.org, the risks of developing the disease include age (the chances are greater as you get older), family history (a small percentage of breast cancer has been thought to be hereditary), weight (obesity can increase the disease risk and recurrence), and bad habits (drinking and smoking can increase breast cancer risk).
Living a healthy life can help reduce your chances of developing the disease, but aside from this, you should also have be aware of what to watch out for. By this age, you should know how to do breast self-examinations and you should be doing it on a regular basis to catch any abnormalities early on. Here's a quick video on how to go about it:
ADVERTISEMENT - CONTINUE READING BELOW
When examining yourself, be on the look-out for the following signs:
Your breasts feel painful.
We often look out for lumps, but there are times when there won't be any. Instead, a part of or your entire breast may become swollen and tender, causing discomfort and pain.
Your nipples and/or the skin around it break out in rashes.
According to Healthline, skin rashes can be a symptom of inflammatory breast cancer, which is considered to be aggressive while not manifesting lumps. Watch out for insect bite-like inflammations and uncharacteristic warmness on your breasts.
There's a visible texture change on your breast.
It could be that one or both breasts are enlarged or have developed lumps and thickening in certain areas. Dimpling and pitting are also common symptoms of breast cancer.
You're experiencing nipple discharge, and you're not pregnant or breastfeeding.
Discharge that's clear or bloody should not be overlooked. Get tested if this happens.
ADVERTISEMENT - CONTINUE READING BELOW
The axillary lymph nodes near your armpits are swollen.
When previous symptoms combine with enlarged and tender lymph nodes, especially those that surround your breasts (those in the armpits, near the collar bone, etc.), then it may mean that the cancer has started to spread, according to Medical News Today.  Immediately consult a doctor.
Half of fighting breast cancer is being educated about it. For more information, visit the Facebook page of the Philippine Breast Cancer Society. You can also help out by contacting a representative or heading to Avon.com.ph and purchasing the limited edition 'Live, Love, Laugh' necklace for P299. For each purchase, P50 will go the Avon-Philippine General Hospital Breast Cancer Center.
Load More Stories