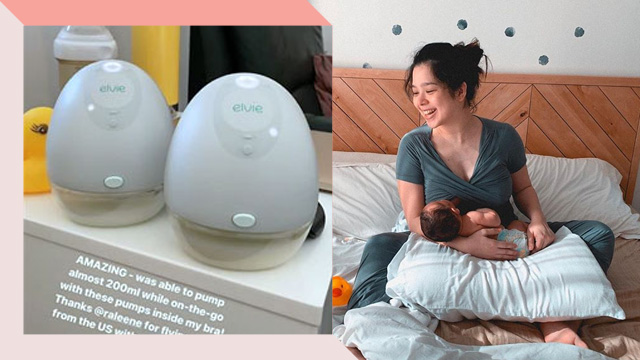 Pumping milk and transporting is a lot of work and may prompt logistical challenges and affect supply. That's why it's crucial to have the best breastfeeding support team and a reliable breast pump. New mama of two Saab Magalona is lucky to have both.
The Cheats singer recently gave birth to her second son, Vito, on September 16, 2019, and is settling into their breastfeeding routine. Her husband Jim Bacarro gifted her with a not-so-cheap but innovative breast pump she's been wanting to buy.
Last month, Saab told Jim she's thinking of buying a P25,000-worth hands-free breast pump. Based on YouTube reviews, she thought it'll make her life easier now that she's nursing and pumping again for her newborn, as well as care for her firstborn son, Pancho. But it's a big purchase.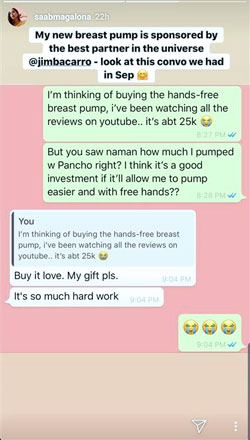 ADVERTISEMENT - CONTINUE READING BELOW
"You saw naman how much I pumped with Pancho, right?" Saab told Jim via an online conversation they had in September 2019. She was producing and expressing a lot of milk for her firstborn before that she was able to donate a lot of bags to the Philippine Milk Bank for the benefit of preemie babies. "I think it's a good investment if it'll allow me to pump easier and with free hands," the mom of two added. Her husband agreed.
Not only do we applaud Jim for doing what he can to give all-out support for Saab's breastfeeding journey, but we're also ultimately curious about this new breast pump.
The world's first hands-free pump
Saab was so amazed when she finally got to try her nursing investment. She "was able to pump almost 200ml while on-the-go with these pumps inside my bra!" the mom of two shared.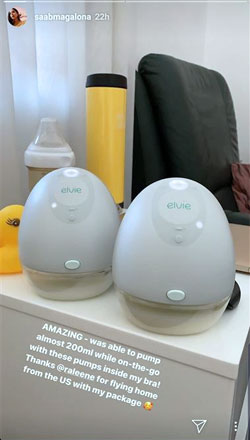 The Elvie Pump is, according to its website, the world's first silent wearable breast pump that fits in any nursing bra. Imagine the sticky silicone bra, only that it's latched to your nipple. It doesn't have any wires you have to plug in or tubes to connect and clean.
The pump runs on rechargeable batteries and only takes seconds to assemble. It only has a few parts: the Hub (motor), spout, valve, seal, breast shield, and bottle container that collects your milk, so they're easy to clean. You can sterilize the parts (except the Hub) by boiling them in water for five minutes or via microwave and steam sterilizer. You also need to let the parts dry thoroughly before use.
It comes in three breast shield sizes (based on nipple size) to ensure it fits. The Elvie Pump needs to be firmly pressed against the breast to work efficiently. Some nursing bras may not be as flexible to accommodate the pump, so the company also offers bra adjusters to create more room and provide more support.
ADVERTISEMENT - CONTINUE READING BELOW
Apart from being hands-free, the Elvie Pump "automatically switches from stimulation into expression mode when it detects let-down." It will also pause on its own when the milk container is full, so you don't need to worry about it. After pumping, just detach the bottle and seal it with a lid, or transfer the milk to a bag to store and transport.
It also comes with an app, which doubles as a remote control for the Elvie pump. The app lets you turn the pump on and off, manually adjust between pumping modes and seven levels of suction intensity, set a timer, and track your pumping history for each breast.
Should you buy the hands-free breast pump?
For its price, you already get a lot, even carry-on bags. The Hub is under a two-year warranty. Saab asked a friend to bring it home from the U.S. for her, but according to the website, it ships the product for free.
Like Saab, do your research and see first if the pump fits your lifestyle. The Elvie pump package is impressive, but not all people are raving about it. Some comments on the Elvie Pump's socials raise size and fitting issues and leakage if you bend down while using it. 
Looking for a breast pump? Here. are your many options.
Load More Stories