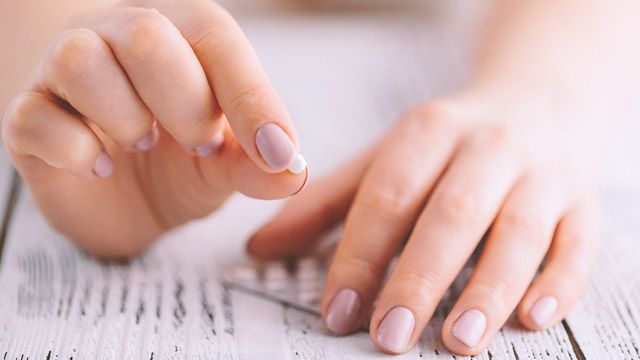 Great news! Pinays hopefully won't need to worry about the availability of birth control options in the country anymore, as the Food and Drug Administration (FDA) has declared 51 of them to be non-abortifacients. And following FDA's release, the Department of Health (DOH) and the Commission on Population (PopCom) announced the full implementation of the Responsible Parenthood and Reproductive Health (RH) law.
ADVERTISEMENT - CONTINUE READING BELOW
The FDA shared the official list on their website, overriding the opposition filed by the Alliance for the Family Foundation, Philippines, Inc. in 2015, which previously resulted in the Supreme Court issuing a Temporary Restraining Order (TRO) on certain contraceptives until they were recertified to be safe and non-abortifacient. This effectively put on hold the processing of applications and renewals of many contraceptive brands. Come 2017, the supply of legally registered pills dwindled, which left many Filipinas to wonder about where they can get their medication.
The recent move by the FDA is a victory for advocates of women's health, as the Supreme Court finally lifts its TRO.
Birth control pills aren't just for preventing unwanted pregnancies. They also help manage PCOS, regulate periods, and even treat hormonal imbalance. 
Here is the list of recertified products: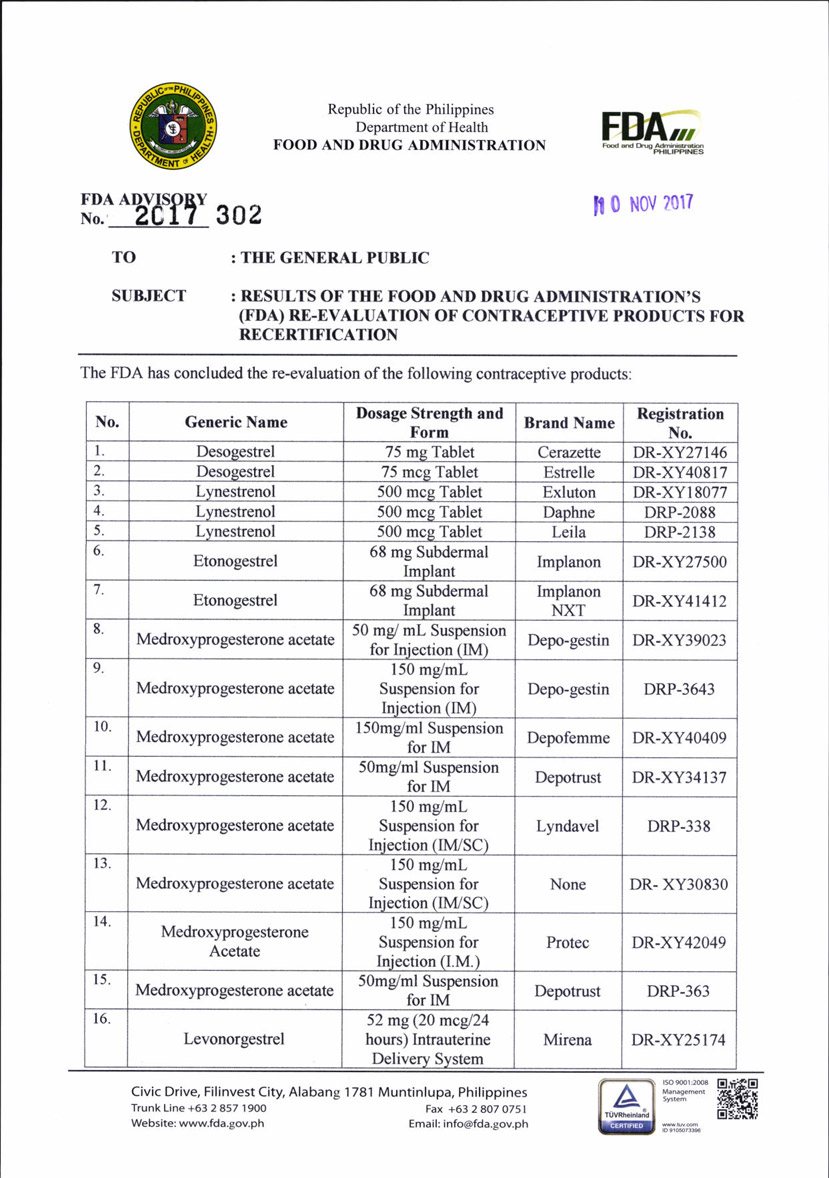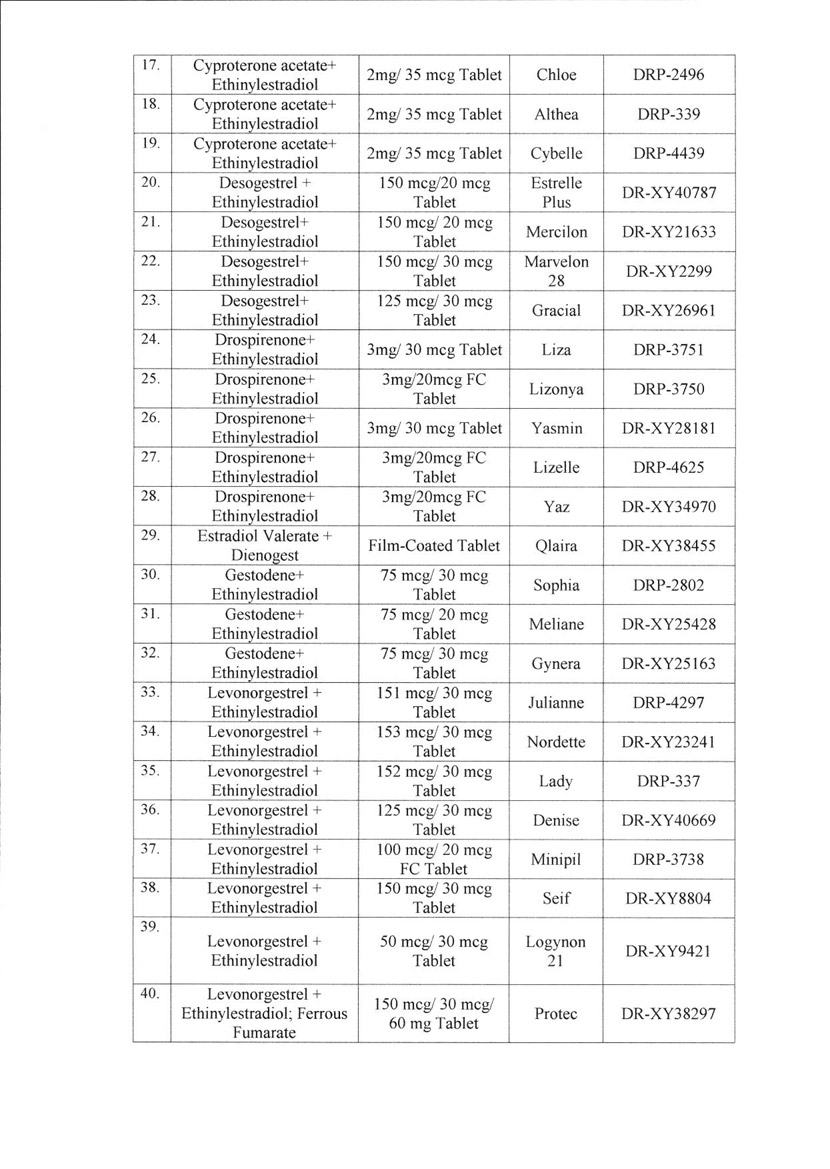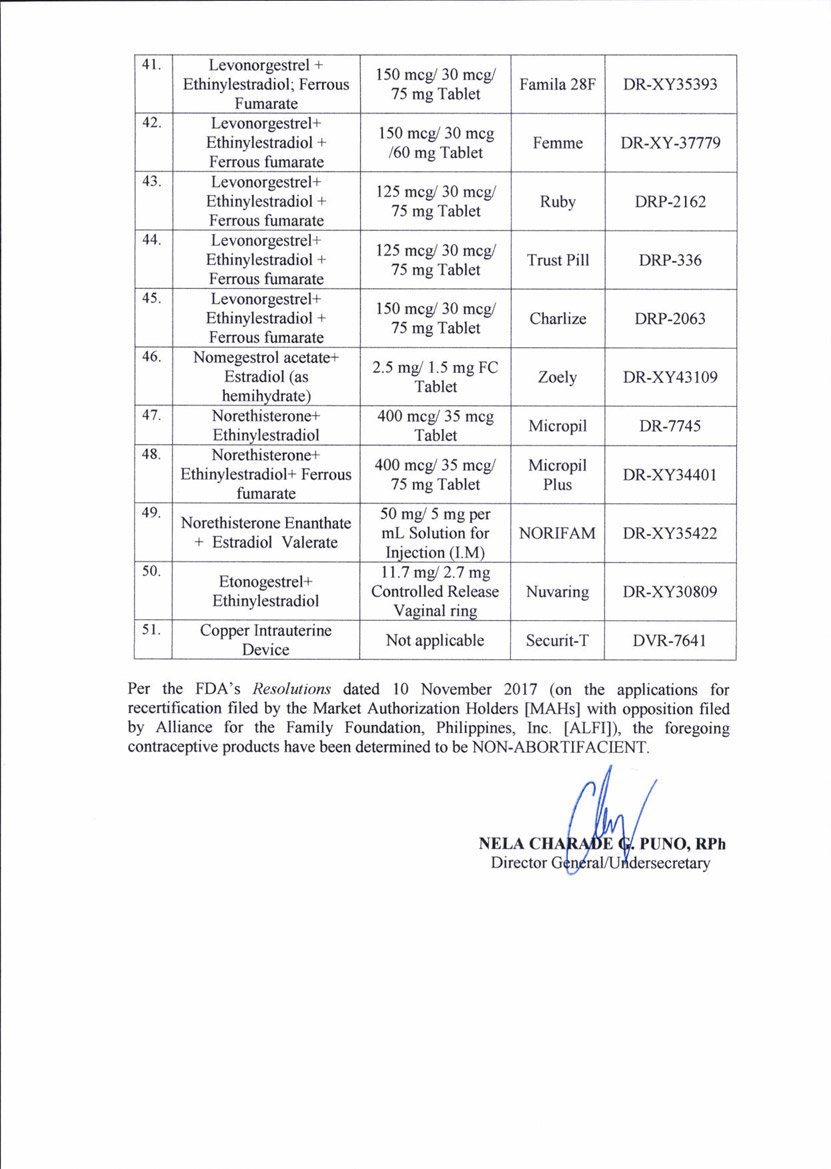 ADVERTISEMENT - CONTINUE READING BELOW
In a report on Philstar.com, PopCom Executive Director Huan Antonio Perez III said that his office and the DOH will be making up for lost time.
"The FDA action now means that the RH implementation team headed by former health secretary Esperanza Cabral has its work cut out in the coming year: fill in the gaps in the short term while DOH moves forward with the procurement of recertified contraceptives," he said. "All Filipinos working for women's health should rejoice at this development."
In February 2017, President Rodrigo Duterte has signed an Executive Order which pushes for the full implementation of the RH Law (via Cosmo.ph). Once the Supreme Court lifts its TRO, the EO will be enforced, pushing for "zero unmet need for modern family planning" by 2018.
So why should this matter to you?
Whatever your stand is on the RH Law, on black and white, it's primarily guided by the principles of allowing you "the right to make free and informed decisions, which is central to the exercise of any right," and "respect for protection and fulfillment of reproductive health and rights which seek to promote the rights and welfare of every person particularly couples, adult individuals, women and adolescents." Basically, the State will be charged by this law to promote and protect your reproductive health through education and access to safe, legal, and non-abortifacient reproductive health care products and services. As a woman, you are then given the chance to choose—and no matter what your beliefs are, isn't that kind of freedom something that everyone should have?
ADVERTISEMENT - CONTINUE READING BELOW
Load More Stories