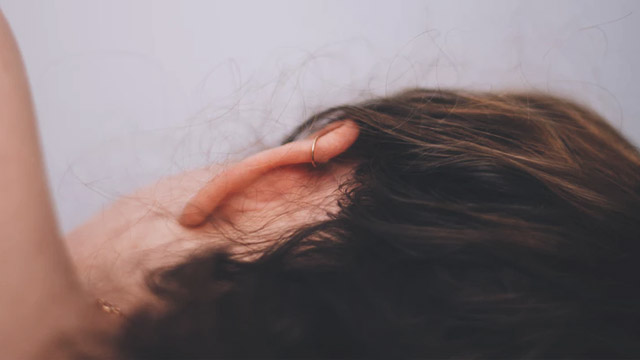 Imagine waking up one day hearing everything except for the sound of your husband's or boyfriend's voice. Seems impossible? It can happen, at least according to this report about one woman in China.

According to The Daily Mail, the woman, who was only identified by her surname, Chen, woke up one morning and found that she could no longer hear her boyfriend. She went to the hospital immediately and an ear, nose, and throat specialist (ENT) diagnosed her with 'low-frequency hearing loss,' a rare but real condition that affects only about 3,000 people in North America.
ADVERTISEMENT - CONTINUE READING BELOW
"She was able to hear me when I spoke to her, but when a young male patient walked in, she couldn't hear him at all," said the female ENT, Dr. Lin Xiaoqing, according to reports.
CONTINUE READING BELOW
Recommended Videos
How do you suddenly stop hearing male voices?
Low-frequency hearing loss is a form of sensorineural hearing loss. It is sometimes called "reverse-slope hearing loss" because of the shape that results on an audiogram (a graph of your ability to hear sounds of increasing frequency or pitch) when you test for it.
Apart from the inability to discern low-frequency voices, people who suffer from this condition may be unable to hear noises like the hum of the fridge or thunder. They may also have difficulty understanding speech on the phone or distinguishing vowels since vowels tend to have lower pitches than consonants.
It may also threaten the safety of those who have the condition because they will not hear environmental sounds like the honk of a car or that it is incoming, explains an article by The Hearing Center in California, U.S. "If someone some distance from you is trying to warn you away from something, you might not hear it, because volume is a product of the lower frequencies," the center said.
ADVERTISEMENT - CONTINUE READING BELOW
Will low frequency hearing loss ever happen to me?
According to reports, Chen said she felt nauseous the night before going to the hospital and heard ringing in her ears. She thought going to sleep and getting a good night's rest would make her feel better the next day.
Dr. Lin said that stress and fatigue could have contributed to the condition, as Chen told her she had not been sleeping well due to late nights at work.
Apart from genetics, there are other reasons why you might develop low frequency hearing loss so suddenly.
"Possible causes of low-frequency hearing loss include Meniere's Disease, viral infections, kidney failure, spinal anesthetics, and pressure changes in your ear from intracranial hypertension," explains Dr. Bruce Y. Lee, an associate professor of International Health at the Johns Hopkins Bloomberg School of Public Health, in his column for Forbes. "The duration and treatment of reverse-slope hearing loss depends on the cause. When the cause is permanent, hearing aids may help."
ADVERTISEMENT - CONTINUE READING BELOW
In Chen's case, Dr. Lin said she is expected to make a full recovery. (By the way, there is also such a thing as high frequency loss, and, well, female voices are heard at high frequencies. One of our colleagues has a friend who suffers from it, and he can't hear his wife most of the time.)
People who experience sudden and unexplained hearing loss should see a doctor as soon as possible.
This story originally appeared on Smartparenting.com.ph.
* Minor edits have been made by the Femalenetwork.com editors.
Load More Stories