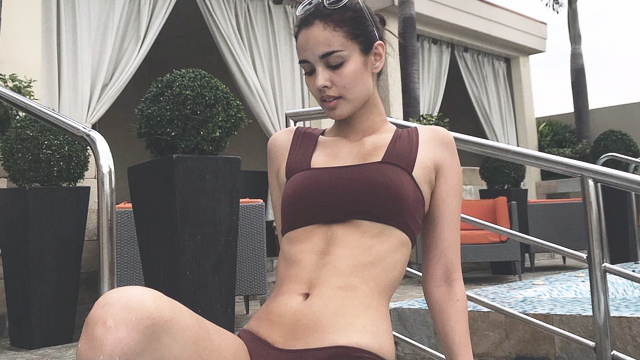 Here's a fact about bloating: "It's inevitable," says Jenaica Roman, a registered nutritionist-dietitian and an executive assistant at Ride Revolution.
So don't beat yourself up over it if you have a belly or puson, it's perfectly normal to feel bloated from time to time. But while every body is definitely beautiful, bloating also adds a feeling of discomfort that can be a hassle to manage when on the go.
ADVERTISEMENT - CONTINUE READING BELOW
"Bloating sensation with or without visible distension is one of the most common frustrations of women. Unfortunately, healthy, high-fiber foods are often the worst offenders."
Things can get confusing for us mere mortals, but here, Jenaica shares with us some tips to avoid a ballooned belly with the following remedies:
CONTINUE READING BELOW
Recommended Videos
1. Cut back on fried and fatty foods. 
Fat delays stomach emptying so food doesn't get digested as quickly. 
2. Reduce your use of dairy products. 
Use low-lactose dairy foods, such as yogurt, instead of milk.
3. Try having smaller portions.
 Check how much food your body can handle without creating excess gas.
4. Eat slowly and chew food thoroughly.
This is to make sure your brain has time to process whether you're satiated or not.
5. Avoid habits that increase swallowing air.
Examples: drinking through a straw, chewing gum, and gulping carbonated beverages.
6. Slowly increase fiber in your diet.
Fiber has many health benefits, but it can also lead to formation of gas. Allow your body time to adjust.
ADVERTISEMENT - CONTINUE READING BELOW
7. Try to identify and avoid the types of food that affect you the most.
Foods that cause bloating: Beans and lentils, onions, broccoli, Brussels sprouts, cabbage, cauliflower, artichokes, pears, apples, peaches, prunes, whole-wheat bread, bran cereals or muffins, milk, cream, ice cream, ice milk, sugar-free candies and chewing gum, salty foods, beer, sodas and other carbonated beverages
Foods that ease bloating: Probiotic yogurt, banana, cantaloupe, cucumber, papaya, ginger, honeydew melon, peppermint and chamomile tea, lemon water, celery, tomato, shrimp, zucchini, olive oil, watermelon, dark chocolate, kiwi, pineapple, green tea, eggs, almonds
This story originally appeared on Preview.ph.
* Minor edits have been made by the Femalenetwork.com editors.
Comments
Load More Stories