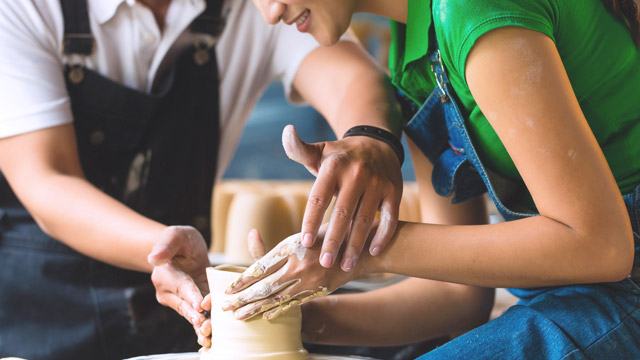 Admit it: when you look back at that iconic scene in the movie Ghost where Demi Moore and the late Patrick Swayze did pottery, your first thought probably is "That's hot," followed by "I want to do that, too"—the pottery, of course.

Pottery isn't only a great creative pursuit. As with a lot of output-based hobbies, it also does you a lot of physical, mental, and emotional good. According to a study published in Art Therapy, the cortisol levels of 39 men and women aged 18 to 59 were reduced by 75% after performing art-related activities that included modelling clay. Lead author Girija Kaimal believes that the reduction was due to the internal and external processing that occurs when one is engaged in something creative: "It helps us express things that we don't often have words for but are deeply felt and experienced... It helps us communicate to others this inner state, and when you communicate, you can build relationships. You are really communicating 'This is who I am and where I am.'"
ADVERTISEMENT - CONTINUE READING BELOW
So before you change your mind and say "It's too messy," here are perks of doing pottery sessions:
It teaches you how to focus.
If you feel like taking a step back from everything and everyone, pottery allows your mind to fully focus on the present, lessening feelings of anxiety and discomfort. Art and recreational therapist Randy Blume said in New York Times, "I realized that when you focus just on the clay, you're distracted from your problems, especially if you're in distress."
It calms you down.
Aside from facing the Tacsiyapo wall again, pottery can be your outlet for grief by putting you in a state of calm and increasing your self-esteem. Watching it can even zone you out. 
It develops your creativity.
Pottery can unleash your inner artist, and may even open you to the possibility of doing it full-time. (Career shift, anyone?)
It exercises your fingers, hands, and wrists. 
As you move the joints of your fingers and shape the mud with your hands, it strengthens your phalanges, metacarpal, and carpal bones.
CONTINUE READING BELOW
Recommended Videos
Here's a list of pottery studios where you can start your artsy therapy:
Clay Ave. Pottery Studio by Mia Casal, Blue Ridge B. Quezon City 
Inquire for rates
UPCFA Ceramics Studio, Diliman Quezon City
P6,500/7 sessions 
ADVERTISEMENT - CONTINUE READING BELOW
Mark your calendars for these limited-time pottery workshops:
Craft MNL Basic Pottery, Unit 302, 926 Pasay Road Condominum
June 16, 2018; P2,500
Hey Kessy Basic Pottery: Bowls and Plates, Alabang Town Center,
July 16, 2018, P4,250 
ADVERTISEMENT - CONTINUE READING BELOW
Load More Stories