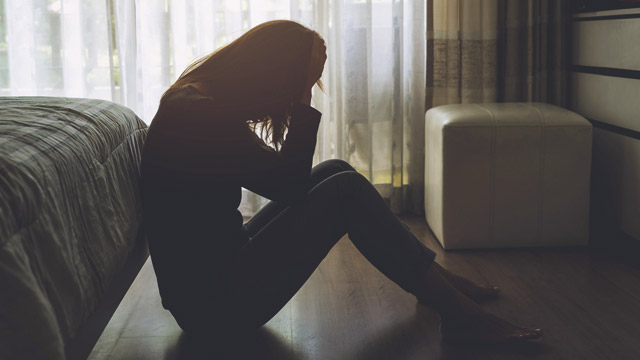 A new study confirmed what many experts have already been saying: Anger is a symptom of postpartum depression (PPD). And it doesn't even have to be a full-on rage.
After examining PPD literature over a 25-year time period, researchers from the University of British Columbia are recommending it to be included in the PPD screening checklist for new mothers due for their routine six-week postpartum appointment.
ADVERTISEMENT - CONTINUE READING BELOW
"Being both angry and depressed worsens the intensity and length of depression," says Christine H. Ou, a co-author of the study, nurse and a Ph.D. candidate at the University of British Columbia in an interview. "That can have many negative effects on the mother, child, and family, and on the relationship between parents."
Ou and her colleague Wendy Hall, also a registered nurse and Ph.D. candidate, found that it's not just anger per se. The study showed that feelings of powerlessness, realizing a mismatch between the reality and expectations of motherhood, and seeing that those expectations are not met contributed to anger in the context of PPD.
"Mothers may feel that they have not met their own expectations and that also others may judge them because, for example, they're formula-feeding instead of breastfeeding. Many mothers have also expressed feeling let down by others in terms of support from partners, family members, and health-care providers as well."
It's not exactly a surprise. Postpartum rage has been reported and identified as one of the symptoms of PPD. "Anger is one of the most troubling symptoms of PPD," said Karen Kleiman, founder of The Postpartum Stress Center in the U.S. "It can make you feel as though you're slipping out of control. Even moms who say they would never hurt their baby, or themselves, may fear that something dreadful will result from their anger," she explained.
The widely used postpartum screen checklist has yet to include questions about a new mother's anger issues if any. The Edinburg Postnatal Depression Scale (EPDS) asks the patient 10 questions, and they mostly tackle laughter and having fun, self-blame or self-harm, being anxious, worried or panicky, feeling overwhelmed, difficulty in sleeping, and feeling sad or miserable. Questions about feeling angry are noticeably absent on the list.
One of the possible reasons why anger has not made it to the PPD screening checklist is some cultures dismiss anger as a symptom that there is something wrong with one's health ("it will pass"). But, "we know that children who are exposed to parental anger or depression are at greater risk of developing emotional problems," said Hall. 
ADVERTISEMENT - CONTINUE READING BELOW
The immediate thing new moms can do when they feel angry is to give themselves a time out. It would be helpful, too, to keep a diary of anger episodes, complete with the reason why they felt mad, what they did, how long they think the emotion persisted, and what made it go away. "It can help to clue you in on the underlying issues that are being expressed in your anger," says Wagner.
If you feel like you don't have a hand in the situation, don't hesitate to ask for help from family and friends, and a professional. Your ob-gyn, midwife, or doula can help refer you to a psychologist and help you cope and address PPD.
This story originally appeared on Smartparenting.com.ph.
* Minor edits have been made by the Femalenetwork.com editors.
Load More Stories