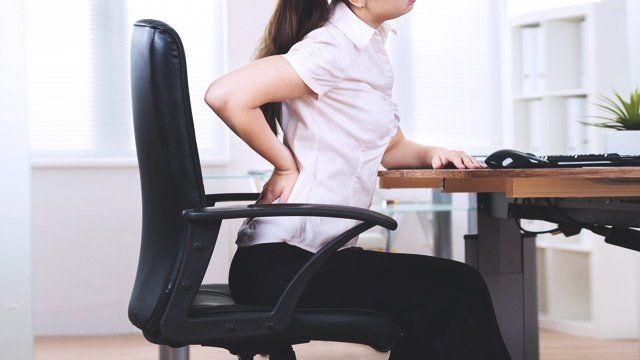 Most of us have probably been told, "Stand up straight. Don't be kuba!" multiple times by our mothers growing up. As it turns out, there is much wisdom behind those reminders. Being hunched over for long periods of time places a lot of stress on your spine that can lead to long term damaging effects on your blood vessels, nerves, muscles, discs and joints. Hence, the excruciating back pain.
ADVERTISEMENT - CONTINUE READING BELOW
When you sit or stand upright, the bones in your body stack up properly and your muscles are able to work together more efficiently. This allows the proper support for your organs to function and a steady base for movement. When the body is misaligned or in bad posture, the natural structure of your spine is askew, causing some of your muscles to work overtime while others lay dormant. This imbalanced activity causes tension that later on causes pain and discomfort.
With that in mind, here are ways to be mindful of your posture and reasons why you should do it:
1. Work on Your Balance
We all have a dominant side. Whether you're a righty or a lefty, it's important to build strength and exert the same amount of work on both sides.
How: Stop carrying a heavy handbag. One-sided toting can wreak havoc on your neck, shoulder and overall back alignment.
Why: According to a study featured in the Journal of Biomechanics, there's a growing body of evidence that the asymmetry in our physical posture increases and appears more with age. Working on improving your balance can make you appear slimmer, younger and more energetic and can help decrease the chances of you appearing tired or slumped in the long run.
2. Strengthen Your Core
According to Medline Plus, a resource produced by the US National Library of Medicine, exercise is one of the best ways to slow or prevent problems with the muscles, joints and bones including diseases like osteoporosis or arthritis.
How: Try exercises such as yoga or pilates which focus on spinal health and strengthening core muscles.
Why: Regularly incorporating exercises that build your core muscles help to build strength and improve flexibility in postural muscles so that you are able to maintain proper posture naturally and with minimal effort.
ADVERTISEMENT - CONTINUE READING BELOW
3. Open Up
These days, most of our time is spent in front of the computer screen. When your shoulders are hunched, your posture causes your head to thrust forward. This causes a redistribution of your weight, which then causes your muscles to compensate. Back, neck, chest, and shoulder muscles are all stressed and respond by trying to keep the balance, even if they have to maintain a less efficient position.
How: Take hourly stretching breaks especially when staying still for long periods of time.
Why: Visually hunched shoulders can cause your belly to stick out more, adding about 10lbs to your perceived weight. Making an effort to stretch and open up the shoulders makes a difference in how you feel (think less strain and more energy) and in how others see you.
Camille Romero is a Holistic Health Coach and Yoga Instructor. For classes and consultations, contact her at cmf.romero@gmail.com.
ADVERTISEMENT - CONTINUE READING BELOW
Load More Stories